Spartacus, Bolshoi Ballet, Royal Opera House review - no other company could pull this off |

reviews, news & interviews
Spartacus, Bolshoi Ballet, Royal Opera House review - no other company could pull this off
Spartacus, Bolshoi Ballet, Royal Opera House review - no other company could pull this off
Visiting Russians transform wooden material into muscular spectacle
Mortal combat: the Bolshoi Ballet in Yuri Grigorovich's 1968 'Spartacus'
The Bolshoi juggernaut has rolled into town and will be dominating the thoughts of ballet fans in and around the capital for the next three weeks. And what could be more dominating - or more quintessentially Bolshoi - than Yuri Grigorovitch's 1968 Spartacus?
From the moment the curtain rises on the Roman soldiers' muscular, triumphant caperings in front of their captured slaves, you know that subtlety is not the aim in this story of freedom fighters versus decadent imperialism.
Despite the many 'monologues', solos for the main characters to express their feelings, there is little of authentic emotion here, or of formal variety. Grigorovitch's choreography semaphores everything from lust to loyalty, frustration to battle ardour with swagger and upraised arms, and it sticks almost metronomically to the beat. These tactics have their highly effective moments - see especially the final defeat of the slaves and the death of Spartacus on a forest of Roman spears - but their unrelieved deployment over a three-hour running time tests one's patience, and one's suspension of disbelief.
Only the tremendous commitment with which the company attacks this hokey material keeps it closer to spectacle than farce. Surely no dancers but Bolshoi dancers could pull off wide-legged skipping given to the Roman soldiers in the first scene, a move straight from a jazzercise class that would look utterly ridiculous on any other company.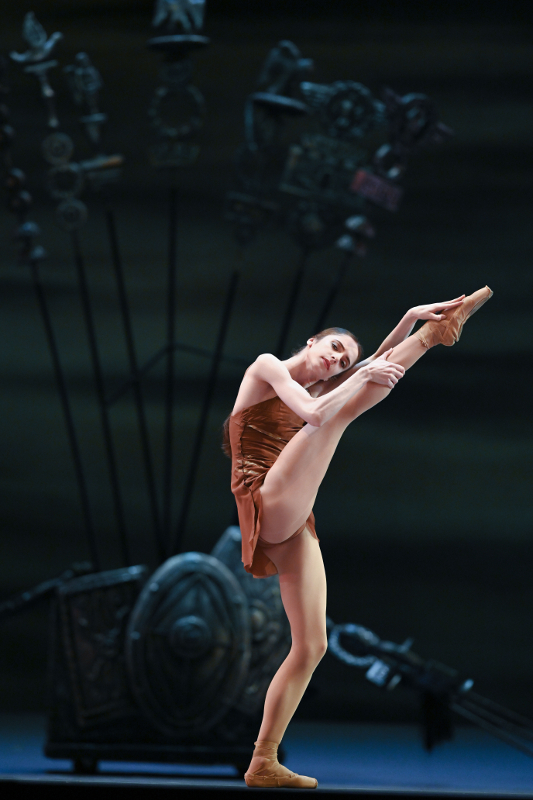 Commitment certainly makes all the difference between the four principal dancers: Denis Rodkin as Spartacus, Anastasia Denisova as his lover Phrygia, Artemy Belyakov as the Roman leader Crassus and Svetlana Zakharova as his concubine Aegina. Rodkin is pretty and athletic, but his Spartacus is one-dimensional, expressing love, grit, martial valour and commitment to freedom with the same limited repertoire of gurning and hair-tossing. Denisova (pictured left) doesn't manage to transcend her material either, but steps from prescribed pose to prescribed pose as if the choreography is dancing her rather than the other way around. In fairness, they are not helped by Grigorovich's pas de deux style, which favours men hefting women across their shoulders like barbells, but flickers of greater feeling in the final act suggest it is not impossible to give these characters, clichéd as they are, more life than Rodkin and Denisova do.
In a ballet like this, the only way is OTT.
Belyakov and Zakharova, by contrast, throw themselves into the baddie parts with delicious gusto and thereby — Rickman-like — steal the show entirely from the insipidly noble goodies. Belyakov (pictured above right) plays Crassus like the crassest of frat bullyboys, in thrall to his animal instincts: when he first sees the beautiful Phrygia, he sniffs her like a dog on heat. He looks like a man who subsists entirely on raw beefsteak, black coffee, neat whiskey and wham-bam sex. Zakharova's Aegina is a fit match for him: a woman who has elevated the pelvic thrust to a weapon of war, she stalks the stage with one nipple picked out in scarlet sequins like an evil third eye. In a ballet like this, the only way is OTT.
Villains are juicier parts, it's true, but Belyakov and Zakharova also deliver an object lesson in dancing: they prove it is possible to break the fetters of Grigorovich's leadenly rhythmic choreography and actually move through the music. Top principals both, they dance here with a finely-judged carelessness that conveys the moral decay of this violent, slave-owning society far more effectively than the 'woe-is-me' head-holding of the slaves themselves.
Under Pavel Sorokin's baton, the Bolshoi orchestra found more delicacy and emotional range in the music than the dancers did. Khachaturian's score may major on thumping beats and strident brass, but there are also haunting passages in the low woodwinds, and a filmic little love theme that one wants to hear more of.
The commitment and feeling shown by dancers and musicians alike rescues this epic Soviet warhorse from itself; that alone makes it a more than fitting opener to this Bolshoi season, if not the most transporting night at the ballet. No company but the Bolshoi could possibly do it; what other company would want to?
The Bolshoi Ballet perform Spartacus at the Royal Opera House until 10 August and other ballets at the same venue until 17 August.
The company attacks this hokey material with tremendous commitment
rating
Explore topics
Share this article