Russell Kane, Hammersmith Apollo |

reviews, news & interviews
Russell Kane, Hammersmith Apollo
Russell Kane, Hammersmith Apollo
High-energy stand-up delivers a high-concept show about fatherhood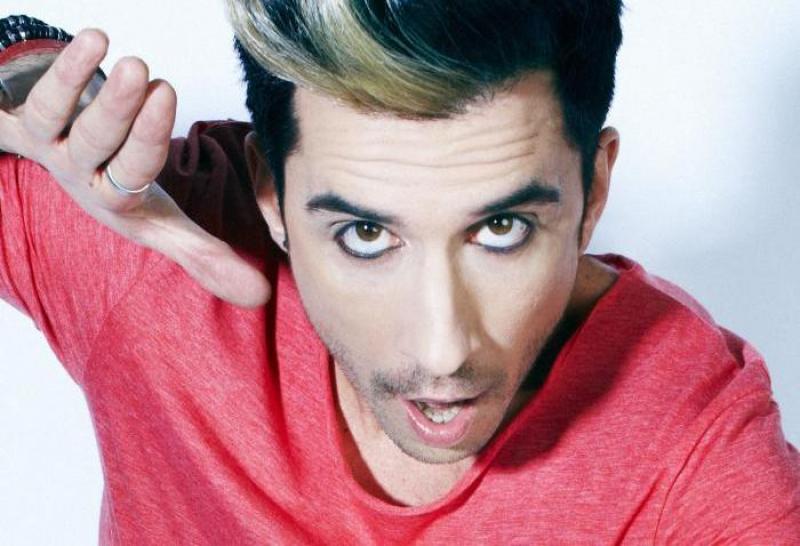 Would this man make a good father? Russell Kane ponders paternity
For the past few years Russell Kane has mined much of his comedy from his fraught relationship with his father, now dead. It's a neat twist then to postulate his latest show, Posturing Delivery, on his relationship with "Ivan", Kane's entirely imaginary son.
It's high concept, and in many a comic's hands it simply wouldn't work, but Kane - as ever flouncing and skittering across the stage, energetically acting out much of the comedy, complete with perfect mimicry and a lot of campery - pulls it off, drawing us expertly into his fantasy world in which he wonders what kind of dad he would be now that his "boyvaries" have started their biological countdown (he's seeing 40 on the horizon).
Would he be able to bring up his son in the opposite way to his knucklehead, BNP-supporting dad?
But before the show proper begins, Kane does a riff on the audience missing The X Factor to be here, accusing them of taping it - "you vacuous dicks" - and then addresses the Jimmy Savile story. Now doing Savile jokes is like shooting fish in a barrel but Kane expertly fillets the media response to the story and questions how a paedophile was able to perpetrate his crimes with impunity, even if he cleverly used the cover of raising huge amounts for charity. But Kane is not, as he reassures us, Frankie Boyle, and so the material is not offensive, just near enough to the knuckle to cause a frisson.
The starting point for the show was a split with his girlfriend in February when Kane wondered if he would ever be a dad. And if he were, would he be able to bring up his son in the opposite way to his knucklehead, BNP-supporting dad? And Kane takes us through the important stages of "Ivan's" life - who might be the child's mother, the difficult toddler stage, siblings, puberty and the values he would like his son to have by the time he sends him off to university.
Along the way we learn that Kane was never a hit with the girls when he was a teenager - "I took up Dungeons and Dragons and decided to check in again when I was 20" - was truly horrible to his younger brother and inherited his love for words from his mum, whose turn of phrase he delights in (she sounds a riot); when water once spilled from a glass, it caused "a deluge across the table", she said.
There must have many a parent in the room who would take umbrage at what a single man without children might have to say about the art of parenting, but Kane has enough charm to win people over even when he is ripping them apart. As with so much of Kane's comedy, class is never far away, and his riffs about overindulgent middle-class parents are a joy - he likens allowing children to run around "expressing themselves" in family-friendly pubs to allowing your dog to menace people in dog-friendly ones, and he passes on the method his working-class Essex mum used to prevent her sons becoming faddy eaters, saying it really is very simple. As Kane neatly points out, few Somalian kids fuss over what they eat.
High-concept comedy needs razor-sharp timing and I suspect on other nights that's exactly what Kane delivers, but here he fatally lost momentum an hour into an 80-minute show and it became a bit of a self-conscious ramble through his childhood memories. What a shame, as the rest, which has a high laugh quotient, is witty, intelligent and thought-provoking.
Russell Kane is touring until 4 May 2013
Kane has enough charm to win people over even when he is ripping them apart
rating
Explore topics
Share this article