Listed: The laughter and tears of Robin Williams |

reviews, news & interviews
Listed: The laughter and tears of Robin Williams
Listed: The laughter and tears of Robin Williams
From Mork to mawkish, the clips that define a brilliant career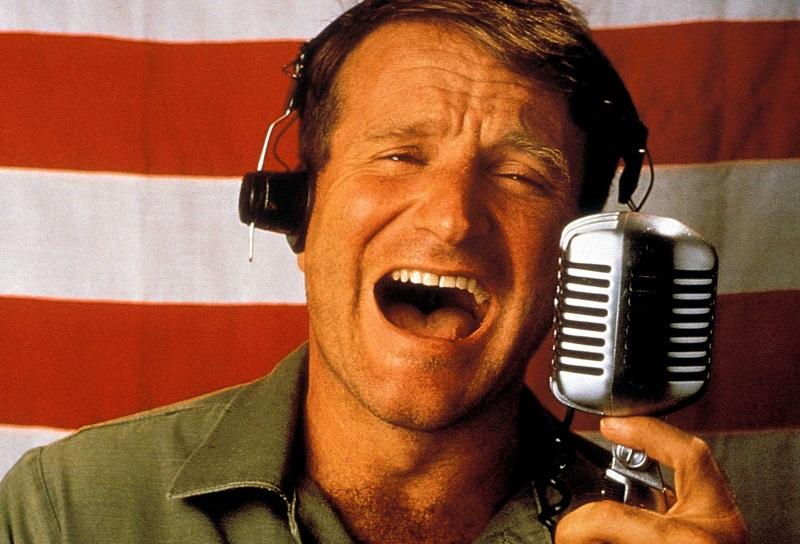 Good night Vietnam: Robin Williams, 1951-2014
Robin Williams, who has died at the age of 63, was a very American comedian. The flow of invention that erupted from inside him had an unstoppable, domineering, emetic brilliance. In chat shows, performing stand-up, and in his greatest role as a DJ entertaining the troops in Vietnam, he was a not quite human force of nature.
Williams had his first starring role in the sitcom Mork and Mindy, as an alien learning the ways of earth. The role lingered over his career as a kind of definition. He never played regular guys: instead he was a shoo-in for shrinks, outcasts, weirdos, penguins and, most popularly, a crossdresser. It was as easy for directors as for audiences to buy into his otherness: for Spielberg he was natural casting as a holograph in A.I. Artificial Intelligence, and in Deconstructing Harry Woody Allen amusingly chose him to play a man who can feel himself morphing into an unfocused blur.
The wild flights of comic fancy felt like a defence, beyond which there was pure uncut pathos. Few comedic actors could move an audience to empathy and pity like Williams, above all in Dead Poets Society. Sometimes he veered off-piste into the deeps of mawkishness. After he won his Best Supporting Oscar for Good Will Hunting, there was too much dross. But he had the lot: he could make you laugh, and make you cry. In this edition of Listed, theartsdesk celebrates Robin Williams's genius for laughter and tears.
Mork and Mindy (1978)
The show that got him noticed was the perfect showcase for his otherworldly aura of charmed innocence. Williams was cast after being spotted in an episode of Happy Days. Everything flowed from Mork. Watch this entire pilot episode, co-starring Pam Dawber as Mork's earthling roommate Mindy McConnell.


Tonight with Johnny Carson (1981)

Williams was always an ideal guest on chat shows. The format lent itself to his brand of unscripted, licensed mania. He never told the host a thing, including in this, his first appearance on Tonight with Johnny Carson.


Live: At the Met (1986)
Williams was never afraid to lay his cards on the table as a stand-up performer. Having foresworn alcohol for three years, in Live: At the Met he mined the subject of addiction for laughs with a section about booze and weed.
Good Morning, Vietnam (1987)
Williams was Oscar-nominated for his performance as an USAF DJ in the first year of the Vietnam War who ruffles the feathers of authority. The role was ideal for an actor who knew all about comedy as a distraction from pain. He improvised his broadcasts, including this, his first to the soldiers heading out to the jungle.
Dead Poets Society (1989)
Peter Weir's film about a teacher who inspires a love of poetry in the pupils of a stiff East Coast boarding school was tailor-made for Williams. Another Oscar nomination ensued. The message of the film is contained in perhaps the most famous line of Latin ever uttered in the movies.
Awakenings (1990)
This was Williams trying something different: a fictionalised Oliver Sacks, name and nationality changed to US neurologist Malcolm Sayer. A comedian keeping a straight face proved on this occasion to be a stretch, but his performance as a doctor bringing catatonic patients back into the world was nothing if not all heart.
Mrs Doubtfire (1993)
Williams never had a bigger success at the box office in a role that gave ample scope to tug at the heart strings in a farcical context. He played a voice actor and bad dad who loses custody of his children in a divorce, but gets up in drag and becomes their nanny. In this scene, his identity is unveiled.
Good Will Hunting (1997)
For all the aura of derangement he projected, in Awakenings and in this film written by the young Matt Damon and Ben Affleck, Williams was twice cast as a carer for the mentally afflicted. This wasn't therapy as the world knows it, but he played a shrink helping Damon's wayward maths genius to lower his defences. This scene pretty much won him his one and only Oscar.
One-Hour Photo (2002)
It's amazing that Williams was only ever cast as an out-and-out creep once. His air of separateness was cleverly exploited in this psychological thriller about a solitary photo developer whose interest in a female customer turns obsessive.
World's Greatest Dad (2009)
This was Williams's final role of any substance, and a reminder of what he could do after appearing in too many infantilised entertainments like Jumanji and Night at the Museum. As a single father whose loathsome teenage son accidentally asphyxiates himself, Williams played a nice comedic line, reinvigorating his failed career as a writer after the fake suicide note he writes for his son triggers outpourings of synthetic grief from classmates who used to loathe him.