10 Questions for Ventriloquist Nina Conti |

reviews, news & interviews
10 Questions for Ventriloquist Nina Conti
10 Questions for Ventriloquist Nina Conti
What makes a postmodern vent act tick?
Monkeying around: Nina Conti with Monkey
Nina Conti is a postmodern visitor from a previous era. Ventriloquism, the remarkable skill of vocal misdirection, was a staple of yesteryear's mainstream. Its practitioners were odd men pedalling flaccid Saturday-night humour. And indeed she inherited her skill from a much older man.
Ken Campbell, the polymathic entertainer who for a time was her lover, introduced her as a young actress to ventriloquism and devised a play called
Let Me Out!!!
for her which she took to the Edinburgh Fringe in 2001. When he died in 2008, Conti inherited his collection of puppets.
Conti has built her act around the idea of sending up the illusion of a two-headed hydra that is a vent act. She has a variety of voices to call on to inhabit her puppets (pictured below) – among them her own gran, a sweet bulldog with violent DNA, as well as a puppet self-portrait. A showstopping highlight of her act finds her sticking volunteers from her audience into a mouth mask and putting lewd thoughts into their heads (see video overleaf). In the delightful and surprisingly elegiac film A Ventriloquist's Story: Her Master's Voice, in which she took her puppets to a ventriloquists' convention in Kentucky, there's even a freaky scene in which she swaps pillow talk with the puppet head of Campbell.
But her chief supporting player remains a small, morose and rather foul-mouthed monkey named Monkey, who shared her cameo in Christopher Guest's Oscar satire For Your Consideration (2006) and popped up on her arm in the same director's HBO/BBC comedy Family Tree (2013). As ever Monkey is the co-headliner of Dolly Mixtures, Conti's latest touring show, which she is recording for posterity in two performances at the City Varieties in Leeds on 15 April. The DVD will be out later this year. Catch it in the flesh if you can. In the mean time, Nina Conti tells theartsdesk what makes a postmodern ventriloquist tick.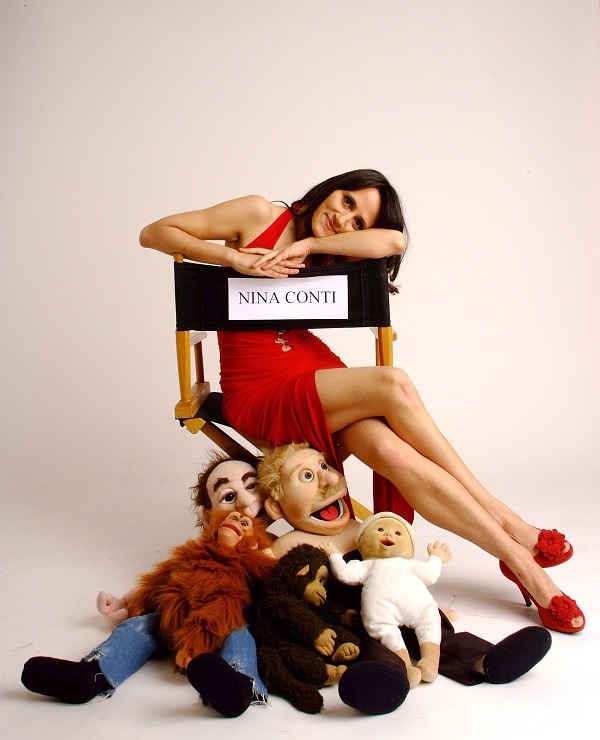 JASPER REES: Have you always gone in for metatextual commentary on the form – ventriloquism with a twist of lime?
NINA CONTI: For a very, very long time ventriloquists have been making self-referential jokes. It just lends to that very quickly. You're you and you're pretending it's not so straight away you go into that territory. But I used to start, rather than being meta, by being self-effacing – the monkey saying he hated ventriloquism and wanted to do straight stand-up. And it was because I felt an uneasy shifting in the audience when I took a puppet out of the bag, I just wanted everybody to know that I owned that discomfort and that we were all going to be all right.
Did Monkey swear very early on?
I used to find it very funny and so he was very sweary. He still is. Swearing has often made me laugh and I do try to raise it above just that. The monkey would call me the C-word and I would go, "Ah, he seems so unevolved." Ken Campbell came to my Hackney Empire New Act of the Year final [in 2002] and saw this four-minute act in which the monkey did call me a cunt and he said that was why I lost it. I came third. He said, "You came third because of that." Barry Cryer also said, "Cut the cunts and you'll be mainstream."
Is there always a script or do you quickly get to a point where the characters are improvising?
I am in control up to a point but it all happens very, very fast when I go off script when I'm talking to the audience. Just like in a normal conversation. Things slip out that you regret or don't stand by and they're coming from the character which your head is going into. I don't find it particularly odd really. I can liken it to situations in life where I don't have the puppets on. But to think through the head of a different character it might happen a little more. And I really do try not to get in the way of what the character would say. They can respond. I can apologise after if necessary. If I'm thinking about what Nina would say then it would really fall apart. It's best to think what Monkey would say.
You have to relearn the alphabet because some words require your lips to be closed
You laugh at your own jokes?
I do find the absurdity of the position I've put myself into funny. I find that it's funny to be doing what I do as a proper grown-up who hasn't lost their mind completely. Talking to a monkey. Thank goodness or I would have to give up. Sometimes it's funnier than others. It's not always hilarious. Maybe sometimes my laughter at Monkey is polite. Sometimes I'm doing it to chivvy him along. I usually have a good time onstage. I find it a nice place to express yourself.
How did you learn to be a ventriloquist?
There's no training. I'm self-taught. It all happened in my bedroom of my old flat of Belsize Park. I got a box of 30 booklets – a book a day it's supposed to be. A lollipop stick, a mirror and a couple of other gizmos. But Ken had told me on the phone the entire contents of that kit. So I skipped quite quickly onto booklet 30. Really you have to relearn the alphabet because some words require your lips to be closed. So you replace those letters with other ways of making those sounds, ways that work for you. Like a parrot might. "T" is the most obvious one.
What is the most difficult word for you to say?
"Get back in the bag." That comes up all the time. But he has no problem pronouncing the "b" in "bitch". Maybe it's because bag sounds like gag and there's no such word as gitch.
Can you recall the first time you entertained a paying audience?
My first time of doing ventriloquism onstage was not my first time as a stand-up onstage. They were quite different. The very first time I was doing a play that Ken Campbell had written for me. As soon as I went on the audience responded to me in a way I had never known as an actor. It was much more vibrant. I thought, this is amazing. And the first time I did stand-up I had gone round to Arthur Smith's house who I picked up in a bar in Soho. He said, "Come down and do five minutes in Balham." I went his house first and we cobbled together a few minutes and it was absolutely terrifying. I couldn't remember what happened. Then at the end of the night I won the competition so it had gone well. But I was in a zone of fear. I wasn't present. Actors are always going on about how "I could never do stand-up". I was one of them. I made a really big deal about it. Now I don't find it frightening at all. If you put the fourth wall back up then I'd be terrified. I wouldn't know what to do.
Has acting been a good grounding?
Very good, I would say. Fantastically helpful. Some people come to ventriloquism from non-acting backgrounds: just keeping your mouth really still and if you do that, that's all. That's kind of irrelevant. If you're acting naturally and making the whole thing plausible even if your lips are moving there's an authenticity to it. If you're pretending you're not speaking and that's the whole thing you're doing, if you're too focused on the lips, it just wouldn't have any authenticity. The acting is what makes it, to my mind. If you laugh at what the puppets say, that's what I like to watch.
Are you always in control of your hand-to-mouth coordination or does it ever go wrong?
It does go wrong. Actually there is something about me that kicks against the ceremony of doing it properly. I like to undermine it. I don't know why I do that. I blur that line so much and make out, I'm doing this, Monkey talks with my voice and lets undermine it. Sometimes I push it too far. But sometimes it's quite fun to play with the errors. I don't think of it as the end of the world when I slip up.
Have you ever been spooked by a puppet?
I'm not frightened. In fact I'd really love that to happen. I'd invite it. I love those moments where I look at Monkey and it looks as if he's real. Not enough. Not as much as I'd like is the answer.
How did you and Monkey end up having a cameo in For Your Consideration, and then Christopher Guest went on to cast you both only last year in Family Tree?
Chris was interested in ventriloquism and had asked to see some puppets. His ancestor was a ventriloquist who I think performed for royalty. I sent him some of my stuff and he liked it, offered me a part. And then that was quite a long time ago. It came out of the blue and was a lovely surprise that he was writing Family Tree and he'd written a part for me in it. We didn't have to justify why I was talking to the monkey all the time. They had some funny comic premise where a puffin had upset me as a child. It was an absolutely ludicrous thing. That was given to me, that back story. It was just quite easy to play this daft person who is mentally ill.
Can you go on holiday without Monkey and not miss him?
Yes, I could but now my three-year-old son won't let me. He even comes on holiday now. He absolutely loves him. It's a better behaved monkey that you meet with my three-year-old, but he's essentially the same character.
Nina Conti is recording the DVD of her show Dolly Mixtures at the City Varieties, Leeds in two shows at 7 pm and 9pm on 15 April
Overleaf: watch Nina Conti host Live at the Apollo
I really do try not to get in the way of what the character would say. I can apologise after if necessary
Explore topics
Share this article