RLPO, Koopman, Philharmonic Hall Liverpool |

reviews, news & interviews
RLPO, Koopman, Philharmonic Hall Liverpool
RLPO, Koopman, Philharmonic Hall Liverpool
Smiling maestro's first visit extracts Baroque splendour
Ariel Hernández Roque: a silky-voiced singer with great diction and good presence
It was rather like a trip home to see long-lost relatives. Ton Koopman took to the stage at the Liverpool Philharmonic with a broad smile. That smile both greeted the audience and, from what the audience could see, told the orchestra that they were on form. Or, on the other hand, it might have been encouraging them to try harder.
The latter was hardly necessary. There have been times when the Royal Liverpool Philharmonic Orchestra reduced its ranks to become a Baroque ensemble and, in so doing, failed to realise that it needed to leave behind the 19th century bluster and become that bit more focused. That was certainly not the case when Koopman (pictured below) stepped onto the rostrum. He was in charge and he made that clear, in a smiley sort of way. But the results he achieved were magnificent.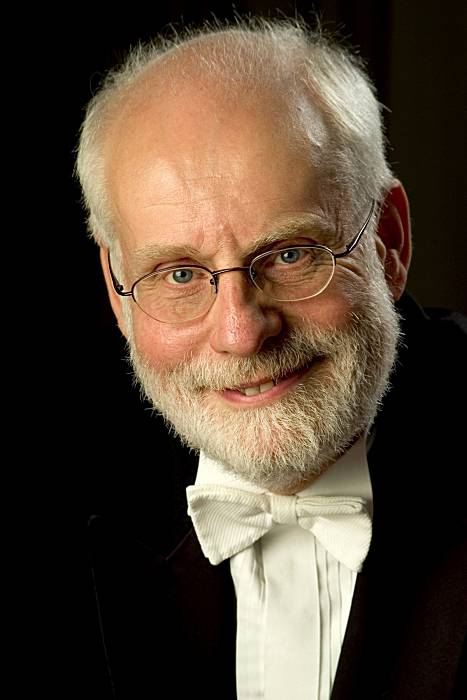 The stylish introduction to Bach's Third Orchestral Suite in D proved the point. There was a rather untidy, indistinct start to the piece but it soon came together and the rest was inspired. A particularly furious fugue rather proved the point: this piece is going to have punch. The famous Air contained some seriously stylised phrasing while the four dance movements which closed the work were particularly explosive, especially after that restful number.
As if that was not enough, there followed Handel's Music for the Royal Fireworks. It started in a solid, almost staid, manner that soon gave way to a furious fugue. That continued: anyone attempting to dance the Bourrée might have needed assistance to breathe. And so this lively suite went on. Joyous, uplifting, call it what you will. It pleased the audience, to the point that they had no idea that the suite had ended and Koopman almost had to walk off before the first ripple of applause went through the hall.
There were serious balance problems with the Haydn "Heiligmesse", his Missa Sancti Bernardi von Offida. The full forces of a splendidly rehearsed Royal Liverpool Philharmonic Choir were pitted against the reduced Baroque forces of the RLPO. It's not often that the choir drowns out the orchestra, but this was the case here. Halving the size of the chorus would have worked better, possibly.
The choir was bright, its diction was perfect, and it was ever lively. It's a great piece to sing: it sounded fresh, full of inventive passages and sufficient challenge to keep the chorus on its toes. And they rose to the challenge without question. The four soloists were, like Koopman, first-time visitors to the stage of the Philharmonic. Star of the quartet was Cuban tenor Ariel Hernández Roque: a silky-voiced singer with great diction and good presence. The bass, Jasper Schweppe – from Zwolle, the same city as Koopman – felt weak, while the Polish mezzo Bogna Bartosz and Cuban soprano Yetzabel Arias Fernandez gave adequate, if rather run-of-the-mill performances.
Haydn's 'Heiligmesse' sounded fresh, full of sufficient challenges to keep the chorus on its toes
rating
Explore topics
Share this article