'Josquin has defined our career': The Tallis Scholars' Peter Phillips on the end of a major recording project |

reviews, news & interviews
'Josquin has defined our career': The Tallis Scholars' Peter Phillips on the end of a major recording project
'Josquin has defined our career': The Tallis Scholars' Peter Phillips on the end of a major recording project
Celebrating an epic on the eve of the Renaissance Mass master's 500th anniversary
Saturday, 07 November 2020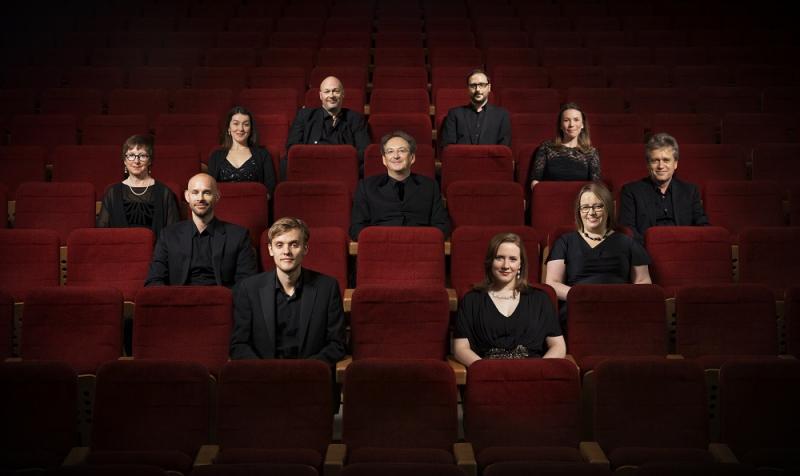 The Tallis Scholars with Peter Phillips at the centre
I have never been a fan of recording "Complete Works". These projects almost inevitably include music that one would not normally spend time and money on, just to claim that one has done it all. For this reason the Gimell catalogue, from the earliest days, will be found to have marked out the Renaissance territory, one disc per composer, each disc a distillation of the best of the writer in question.
By going about it this way I was able to show how broad the
polyphonic achievement
was, and supply us with masterpieces for concert use for the next 40 years and counting.
It was through this policy that we came to make our first Josquin disc. In 1986, when we recorded the most celebrated of all his mass-settings, the Missa Pange lingua, it was a wide-open field, and Josquin was an obvious candidate for a single exploratory disc. This went on to be so successful – winning the Gramophone Record of the Year Award in 1987 – that we decided to follow it up, in 1988 with the two L'homme armé masses.
And there the project would have languished if I hadn't taken a shine to Josquin, both on disc and in concert. I came to think that his very difficulty in execution was a challenge that we, of all groups, should shape up to. He was consistently avoided by ensembles of our type in those days, yet he was the most renowned composer of them all. I was intrigued, keen to do the big motets like Praeter rerum seriem, the Pater noster and the Miserere, but wary of the masses, which I already knew were very hard to put over in a modern concert-hall on account of their voice-ranges. There was also the bickering chaos of Josquin scholarship, which prevented anyone from definitively stipulating how many masses he had actually written. Our next attempt – the third disc of the series – wasn't made until 1999. (Pictured above: manuscript page of the Kyrie of the Missa de Beate Vergine).
It was in about 2005 that I finally realised that the Josquin masses I already knew were so different from each other – despite setting exactly the same words, and effectively using exactly the same line-up of singers – that to feature all of them in a series would be the most fascinating project available to me. No other composer that we regularly performed – not Palestrina, Lassus, Victoria, Isaac, nor Obrecht, provided anything like the variety of sound-world and technique that Josquin did. Comparisons with Beethoven's symphonies began to be made in print (not by me). We counted up and noticed that the 18 masses Josquin could reasonably be credited with (plus Bauldewijn's Missa Da pacem, once thought to be the quintessential "Josquin" setting, which we also recorded) made a manageable series, six of them already done. I also noticed the 2021 anniversary. In fifteen years I reckoned we might just have finished recording the set, and would have the perfect marker for the 500th anniversary, a marker which would also encapsulate the career of the Tallis Scholars and Gimell Records.
We duly set about it. The editing of the last and ninth disc was finished in 2019, and is now available [see Graham Rickson's review on theartsdesk today]. The previous eight are all available too. Josquin will be properly celebrated, as he deserves, and not just on disc: the Boulezsaal in Berlin hopes to stage all 18 masses sung by the Tallis Scholars, in eight concerts on four consecutive days between 25 and 28 August 2021 – Josquin died on the 27th. This is what may be called total immersion. (Pictured above by Peter Adamik: the Tallis Scholars in the Bouezsaal during the Edward W Said Days).
It now remains for lovers of Renaissance polyphony to experience the genius of the greatest composer of his time through these discs, and see whether my intuition of 35 years ago has been realised in practice, his difficulties and challenges mastered. It has not been easy, but there is no other repertoire from the renaissance period worthy of so much specialisation. Josquin has defined our career.
Berlin's Boulezsaal hopes to mount all 18 masses sung by the Tallis Scholars, in eight concerts on four consecutive days
Explore topics
Share this article