Classical CDs Weekly: Mark Padmore, Lutosławski, Bartók, Denner Ensemble |

reviews, news & interviews
Classical CDs Weekly: Mark Padmore, Lutosławski, Bartók, Denner Ensemble
Classical CDs Weekly: Mark Padmore, Lutosławski, Bartók, Denner Ensemble
Folk-inspired modernism, three famous British song cycles and some invigorating baroque music
Britten: Serenade for tenor, horn and strings; Nocturne; Finzi: Dies Natalis Mark Padmore, Britten Sinfonia/Jacqueline Shave, with Stephen Bell (horn) (Harmonia Mundi)
Britten's Serenade and Nocturne are still indelibly associated with the voice of Peter Pears. His tenor, undeniably characterful, could never be described as a thing of beauty, and his 1960s recordings of both works show him sadly past his prime. Mark Padmore's new recording is terrific - his voice is expressive, beautiful and terrifying by turns. Britten's unique talent for word-setting deployed unnerving skill in the Serenade, a song cycle which did much to re-establish his reputation after returning in 1942 after self-imposed exile in the US. Padmore's athleticism is exhilarating in the Nocturne and Hymn, and he's chilling in the Dirge. Best of all is the closing Sonnet, four of the most exquisite minutes ever composed by Britten. Padmore's partner, horn player Stephen Bell, is absent in this song, to be heard again in the offstage Epilogue. The horn part was famously composed for Dennis Brain; Bell's performance is spectacular.
Britten's Nocturne is a chillier proposition – eight dark, dream-related songs, six featuring obbligato instrumental parts. Scott Bywater's timpani and Nicholas Daniel's cor anglais solos are highlights, but are nothing without Padmore's cool, intelligent delivery. The third work on this disc occupies another world entirely; Finzi's Dies Natalis suggesting exactly the type of fey pastoralism which Britten was rejecting. But this song cycle is still a lovely work – Finzi's unforced melodic gifts are balm after 50 minutes of death-haunted Britten, and Padmore sings with such sweetness that you'll convince yourself that Finzi was an underrated genius.
Musique funèbre: Music by Lutosławski and Bartók Stuttgarter Kammerorchester/Dennis Russell Davies (ECM)
Pairing these composers always makes good sense. Bartók's brilliant absorption of Hungarian folk idioms into a radical modernist style is one of 20th-century music's greatest achievements, and it's surprising how few great composers followed his lead – an exception being Lutosławski, whose own early works manipulate Polish folk melodies in intriguing ways. Yet Lutosławski's Musique funèbre, dedicated in 1958 to Bartók's memory, marks a shift towards 12-note writing, though the piece always feels more tonal than you'd expect. Predictably, it's not a joyous listening experience but still a compelling, impressive one.
Bartók's pre-WW2 Divertimento is the most substantial piece here. I'd like a little more bite and astringency to the Stuttgart Kammerorchester's sound, but the tension rises in the closing Allegro assai. The violin solos are brilliantly played, and the bittersweet mood is nicely conveyed. We get the well-known Romanian Folk Dances in an arrangement for strings. Yes, they're lighter in tone, but perfectly proportioned. The welcome rarity is a selection of two- and three-part childrens' choruses setting folk texts, written for Kodály's music education program in the late 1930s. They are stunning, "written in the style of folk music" rather than using existing themes. They exude a sunny, wide-eyed optimism that's unusual in this most troubled of composers, and the Hungarian Radio Children's Choir make them sound easy. Good notes, and typically high-class ECM sound.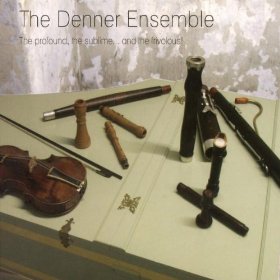 The Denner Ensemble: The profound, the sublime… and the frivolous! (Denner Ensemble)

The title of this anthology derives from the writings of Enst Gottlieb Baron, who pronounced in 1756 that Italian music sounded "Profound, Splendid, Lyrical, Serious and Flowing". As opposed to French composers, whose music was "Free, Lively, Playful and Frivolous and appealing to ladies rather than those of a more serious disposition". Neither statement stands up to much scrutiny, though I still recall being told years ago that Couperin and Rameau were lightweights when compared to Bach and Vivaldi. The five-piece Denner Ensemble joined by David Hatcher on bass viol give us this comprehensive survey of music composed in French and Italian styles. Read the track listing and you're slightly apprehensive, worrying that you're about to hear a tedious Open University lecture about baroque composers you've never heard of. Fret not – the playing is as sharp as the scholarship, and the music charms.
Nothing outstays its welcome. Jean-Fery Rebel's Les Caractères de la Danse, a sequence of 14 tiny dance movements, is pure joy, some of the pieces lasting barely 20 seconds. Yet each one is so boldly characterised, my favourite being the more extended Musette with droning viol pedals. Extracts from Philidor's 1ere Livre de Pieces are deliciously lightweight, the comical Sarabande made me laugh out loud. Works by Telemann (technically assured but slightly dry), Boismortier, Fasch, Lalande and Lully complete the disc. And the performances are pretty marvellous. Mark Baigent's oboe playing is declamatory and soothing by turns, and Nathaniel Harrison's baroque bassoon makes the sort of sounds you'd like to bottle up and save for a rainy day.
Explore topics
Share this article