Clemens Meyer: Dark Satellites review - eccentric orbits |

reviews, news & interviews
Clemens Meyer: Dark Satellites review - eccentric orbits
Clemens Meyer: Dark Satellites review - eccentric orbits
Overlooked stories from the fringes of contemporary Germany
In Clemens Meyer's new collection of short stories Dark Satellites (translated from German by Kate Derbyshire), the lonely frequently enter into each other's orbit. Their loneliness is intensified by every rotation they make of one another. These are people at the very margins of society. It is here where the author plies his trade. In this worthy follow-up to the Booker International Prize-nominated Bricks and Mortar, which was set in Leipzig's red-light district in the days of the former GDR, Meyer returns to Germany's fringes. His stripped-back prose is suffused with meaning.
The short, dark tale which opens Dark Satellites sets the tone for what is to come. When road workers down their tools and are directed towards a patch of woods behind a petrol station, they discover a group crouched over the lifeless corpse of a migrant boy. This boy, it is recalled in painful detail, had vomited blood "and there were pine needles and grass and a bit of earth stuck around his mouth." The foreman suspects that the child may have eaten a poisonous flower.
Everywhere present in the stories of Dark Satellites is the arbitrary hand of fate – the sheer randomness of life. The stories told through the eyes of Meyer's characters leave us, like them, groping in the darkness for an explanation. Over the next two-hundred or so pages, love, joy, loss and a lifetime of rumination spring from their chance encounters. Happenstance rules the day.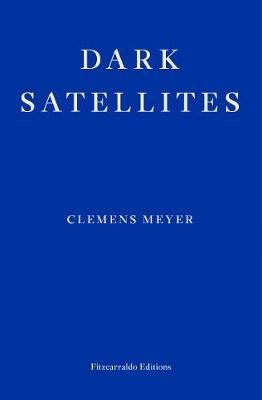 Far-off wars bring together fated lovers – if only for a while. A security guard takes his night rounds, treading broken glass beneath his feet in a satellite town called Unit 95. Glimpsing from afar a woman with red-brown, medium-length hair, he remembers a short but intensely lived love affair with a young refugee woman who was fleeing a small country in the collapsing Soviet empire. The man remembers their conversations – spoken in halting German and broken Russian – through the mesh of a reception centre fence. She wore a coat, too big at the sleeves, "that made her look strangely lost and small." They shared a brief kiss in the gap between the fence and the wall.
Meyer somehow grasps hold of a slippery paradox – that the fleeting and the momentary leave a deep imprint in the individual psyche. He has a Heraclitan regard for the constancy of change – of death and rebirth – but is all too-knowing of the trauma and anguish that accompany it.
A burger-bar owner recalls an old customer, a neighbour in the high-rise where he used to live. Hamed was a devout Muslim whose stern piety and prophetic warnings were humoured by the man who served him steak sandwiches. When he introduced him to his young wife who had "acne scars that ploughed red lines across her face," they began to snatch time with each other in clandestine meetings in a neon-lit stairwell where they smoked by the window. She said that before she met Hamed she hadn't believed in anything. They prayed together in the direction of Mecca. He remembers their secret meetings with affection and loss, hoping that one day she will return.
In 'Late Arrival', two middle-aged women bond over miniature bottles of wine in a train-station pub. Christa cleans trains for Deutsche Bahn and Birgitt cuts hair in the station salon. Both yearn for intimacy but seem almost unable to allow themselves it. At one meeting, Birgitt is overcome with affection for the cleaning lady. She wants to place her hands in Christa's raw, chapped palms, but doesn't. Their fragile friendship always seems to be hanging in the balance. They meet only when their shifts happen to coincide. When Christa sits at the bar fretting over Birgitt's absence, her anxiety is palpable. Can their friendship be sustained beyond the confines of this last-chance saloon?
Somewhere in all of these stories looms the soul of Germany – a unstable entity which has come apart more than once. Old borders and old divisions mark Meyer's stories, but they are often, if not always, overcome. 'In Our Time', the final and strangest story in the collection, follows a scholarly German communist in wartime Moscow who has buried himself in the cellar of the Lenin Library with his papers. As the Nazi bombers pass overhead, he wanders the aisles and shelves of the library with a comrade, dreaming of utopia and of building of a "new Germany" when the war is finally won. He remembers the horrors and comforts of the front, the fairy-tales that the soldiers told each other. Exhausted, he finally comes to his senses and returns to his desk, "on which the pages of his manuscript waited for him, always blank and always new."
Subscribe to theartsdesk.com
Thank you for continuing to read our work on theartsdesk.com. For unlimited access to every article in its entirety, including our archive of more than 10,000 pieces, we're asking for £3.95 per month or £30 per year. We feel it's a very good deal, and hope you do too.
To take an annual subscription now simply click here.
And if you're looking for that extra gift for a friend or family member, why not treat them to a theartsdesk.com gift subscription?