Interview: Martin Crimp in the Republic of Satire |

Theatre reviews, news & interviews
Interview: Martin Crimp in the Republic of Satire
The innovative playwright discusses his unseasonal new play for the Royal Court Theatre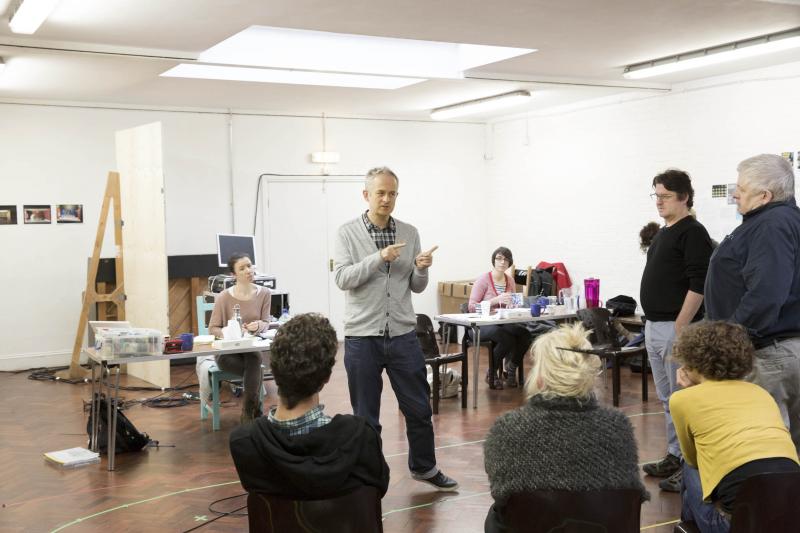 Making a point: director Dominic Cooke and the cast of Crimp's new play
Playwright Martin Crimp defies labels. He has been called obscure and oblique, too difficult and, worst of all, too Continental. But although he is feted on the European mainland — George Benjamin's opera Written on Skin, with text by Crimp, comes to the Royal Opera House next spring but it began its much-lauded European tour in Aix-en-Provence — he is also a quintessentially British playwright: his style is colloquial, socially aware and politically acute.
When I meet him at the Royal Court, where his latest play opens this week, he seems almost part of the furniture. His work is the great tradition of experimental modernists such as Samuel Beckett, Caryl Churchilll and Sarah Kane. But, alas, that too is a label. And perhaps misleading — at first, his new play is mysterious. It is intriguingly titled In the Republic of Happiness and it's running during the Royal Court's Christmas slot, which typically features more light-hearted fare such as Get Santa!. Has the austere playwright become a writer of festive jollities?
The tall, grey-haired, bony-faced, 56-year-old Crimp (pictured below, © Grégoire Bernardi) chooses his words with great care, yet maintains a friendly air. He despises lazy journalism, but I have done my homework. In the Republic of Happiness is his first full-length play since The City, which was staged here in 2008. It reads like it's his most experimental work since his 1997 masterpiece, Attempts on Her Life. But surely, isn't it much too abrasive to be a Christmas show?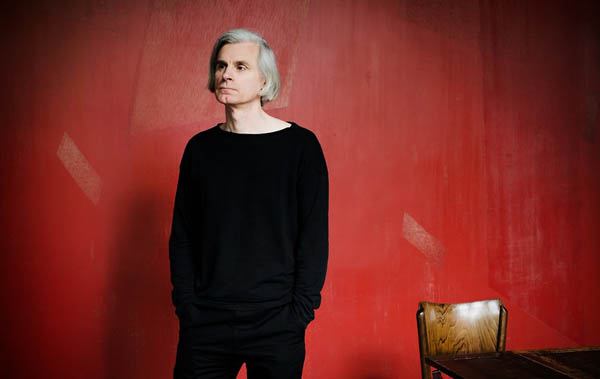 "The fact that the play is being staged at Christmas is a coincidence," says Crimp. "Of course, in my mind it follows on from my play The City, of which the last scene is a Christmas scene. So in a way I am revisiting that, and carrying on from where I left off at the Christmas moment. And I suppose for years and years I've had this plan of somebody interrupting a meal with very long speeches. So now I finally did it." So although the publicity says that "a family Christmas is interrupted by the arrival of Uncle Bob", this, he reiterates, is not a Christmas play. It is not a festive play - although it is an entertainment, and naturally he hopes it will be entertaining.
When I ask Crimp where it comes from, he casts an over-the-shoulder glance at his recent work. "As you know, I wrote The City in response to my The Country, which started me thinking of plays as pairs. So they were two psychological plays that formed a pair. And for years I have been trying to write a play that would go alongside Attempts on Her Life, which is the kind of play that sets out to create a sieve in which you could collect all the residue, all the psychic shit that flows through us all." So Attempts on Her Life (pictured below, © Ivan Kyncl) is "one collection of psychic debris" and the central section of this new three-part play is another collection of psychic debris: it's more about a contemporary mentality than about character and plot.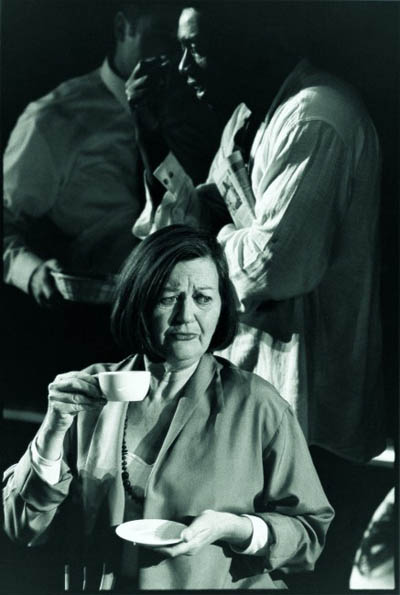 Looking at the opening scene, which is imbued with a feeling of dark hilarity, I ask the playwright to tell me something about this unfestive family. "I do have some clear ideas about them," he says, "and they are present within the text, and when you analyse it — as we have to do in the rehearsal room — we can see there's something quite specific there. We know that the father in the family processes planning applications so he has a reasonably middle-class profession. We know that his mother, the grandmother on stage, talks about her time as a GP. And grandad talks about the fact that he's run a number of businesses, or enterprises, which have failed."
That's a good thumbnail sketch, but what is the message? Crimp isn't keen on explicating meaning, but he has a clear idea of this family. "I suppose that in my mind they are suffering from generational entropy, if you like. So the grandparents are the wealthy middle class, who both had good professional standing and a steady income, but their children have moved down the social scale, either because they have chosen to rebel against their parents, or simply because that's how life has turned out. And we don't really know how their children, the newest generation, will turn out. But the signs are not particularly good. One of the girls is already pregnant at a young age."
Instinctively he's tapping into a phenomenon that even sociologists haven't quite grasped: reverse social mobility – that future generations will be poorer than we are. "Social entropy is a downward social mobility, and the opposite of the idea of upward social mobility, and the opposite of my own trajectory," he says. "But I don't want the audience to condescend towards my family so I think that the mother and father should be normal people, which the audience might recognise as themselves."
Disadvantaged or vulnerable people are thrust into the limelight and their experiences of abuse are exploited in order to sell newspapers or boost television programmes.
Share this article
Subscribe to theartsdesk.com
Thank you for continuing to read our work on theartsdesk.com. For unlimited access to every article in its entirety, including our archive of more than 10,000 pieces, we're asking for £2.95 per month or £25 per year. We feel it's a very good deal, and hope you do too.
To take an annual subscription now simply click here.
And if you're looking for that extra gift for a friend or family member, why not treat them to a theartsdesk.com gift subscription?