10 Questions for Playwright James Graham |

Theatre reviews, news & interviews
10 Questions for Playwright James Graham
The author of the National's hit This House on the arcane world of Parliamentary whips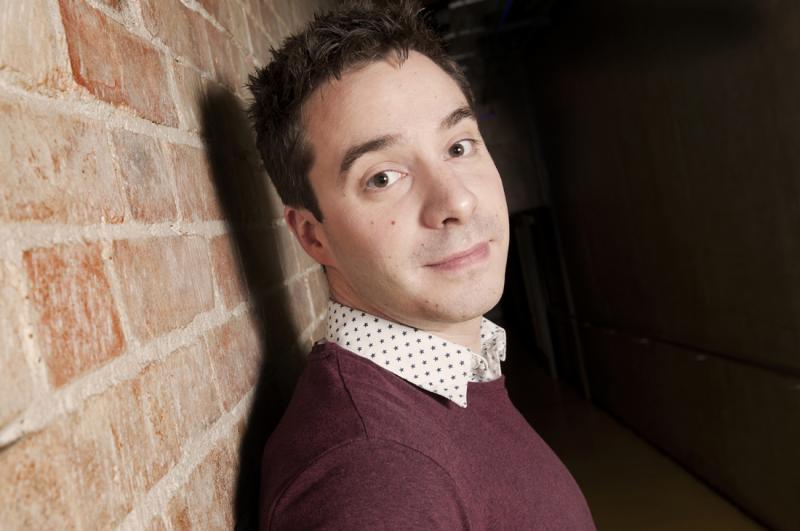 James Graham: 'I'm aware that I look basically 14 years old. I think that disarmed them'
Coalitions make for drama, and for comedy. We know that from, respectively, Borgen and the final series of The Thick of It. It is little wonder therefore that soon after the 2010 election delivered a hung Parliament, the National Theatre commissioned a play. And yet the drama that emerged was not about deals struck in back rooms by the current government. Instead, This House spirits its audience back to 1974, the year Labour embarked on five years' of horse-trading as it sought to govern the country with an overall majority of three.
James Graham was born in 1982, the year of the Falklands War. But his work so far suggests a fascination with post-war political history: he has written plays about Ted Heath's sexuality, Margaret Thatcher's youth, the Suez Crisis and the Winter of Discontent. The germ for This House was a 2009 radio play about the vote of no-confidence which finally sank James Callaghan's government in 1979. Graham revisits its climactic moment in This House, when the Tory deputy chief whip Bernard "Jack" Weatherall (who later became Speaker) made his opposite number Walter Harrison an extraordinary offer: to pair up with a Labour MP who was too ill to attend the House. Had Harrison accepted, Labour would have survived the vote. As it was they lost by one.
In Graham's telling, an air of febrile desperation hangs over the entire Parliament
This House tells the story of the intense dramatics of the 1974-79 Parliament through the machinations of the two whips offices. The newly installed Labour whips have a battle on their hands to keep the party in line and also lure Liberal, Scottish, Welsh and Irish MPs – the so-called odds and sods - into the fold. Meanwhile the patrician, pinstriped Tories are just as adept at Machiavellian skulduggery. In Graham's telling (and as staged by director Jeremy Herrin), an air of febrile desperation hangs over the entire Parliament. Labour's John Stonehouse faked his own death and went to prison for fraud. Michael Heseltine in the midst of a heated inter-party dust-up infamously swung the mace after Labour were deemed to have cheated. The system of pairing was suspended, requiring doddery MPs ad to be wheeled and sometimes ambulanced in to vote. No fewer than 19 MPs died, while all three main parties changed their leaders, Jeremy Thorpe was tried for murder and, to cap it all, Big Ben ceased ticking for the first time in its history. By 1979, Old Labour's heart had stopped beating too and the Conservative Party had had a makeover.
For anyone intrigued by the cut and thrust and intensity of political drama, This House is richly rewarding evening in the theatre: it's nail-biting, jaw-dropping and, with Graham as ventriloquist, wonderfully funny. The production recently moved from the claustrophobic intensity of the Cottesloe to the wide-open spaces of the Olivier, and will be shown in cinemas as part of NT Live on 16 May. James Graham tells theartsdesk how This House was built.
JASPER REES: The amount of research is hugely impressive. How much talking did you do and to whom, and for how long?
JAMES GRAHAM: To start off it took about a year, while writing the first draft, to get all the anecdotes, all the facts, all the research. It wasn't that easy to be honest. In the end it was like bowling pins. Once the first one went down they all started going. As a lot of people know they have this code of secrecy and of honour whereby no whips publish memoirs, no one talks about the events that happen in that cabal. It's all about camaraderie and absolute secrecy. Because if you don't have absolute secrecy then you can't have trust.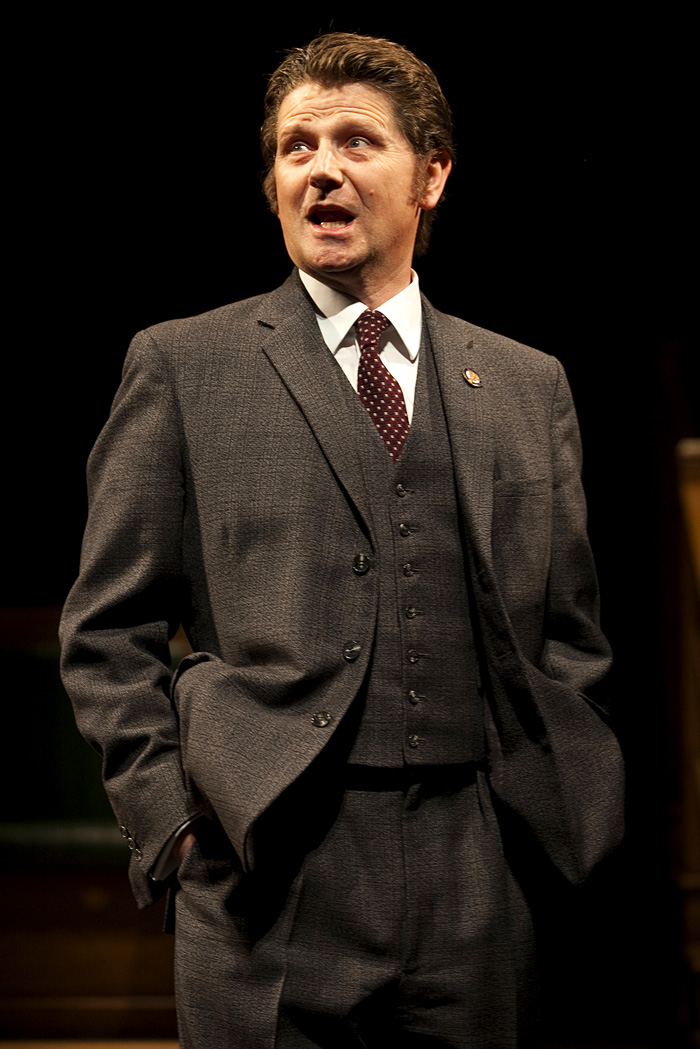 I spoke to junior members before I sort of hit the heart of it which was Walter Harrison (pictured right, Reece Dinsdale as Walter Harrison in the Olivier cast of This House). I built up a picture in my head of Walter, this legend. People spoke about him in Parliament as being the greatest deputy whip there has ever been and he became this figure for me that I was a little bit about anxious about finally meeting because I'd started writing the play. Once I spoke to him more followed. I spoke to Ann Taylor (pictured below, Lauren O'Neil as Ann Taylor in the Labour whips office) who is one of the very few characters alive from the Labour whips office and she was baffled about how I had got people to talk so openly. The truth is I don't know how I did it. My guess is it's nothing to do with my skill as a researcher. I think it's that period is far enough away now for people to start talking about it. She was great. She came in, saw a preview, and has been in rehearsals in the Olivier and she just gave us a sense of atmosphere and tone and wherever possible encouraged us to be tougher and harder, to not worry too much about making people sympathetic because she couldn't stress enough how hard these men were and what a tough world it was.
I'm aware that I look basically 14 years old and I think that sort of disarmed them a bit. They weren't patronising me but it felt like they wanted to teach me and help me learn about the period, not like a schoolchild, but they started to find it exciting that I was interested and wanted to tell their story.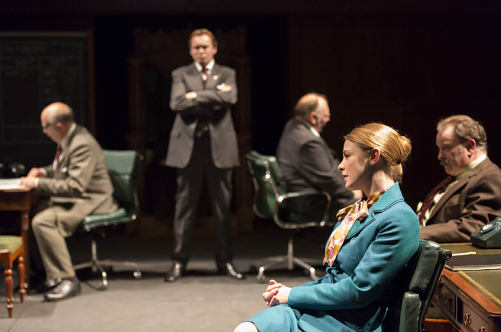 To what extent was the genesis of the play powered by the result of 2010 election?
Obviously a little bit, but not as much as I think people would assume. I had this play in my head for a couple of years. I'd come across the stories of how intense and pressurised that five-year Parliament was and I'd always thought that if you wanted to look at that building - Westminster - and if you wanted to test our system of Parliamentary democracy that we take for granted then this was the Parliament to do it in. Hopefully my aim was always to write a play that was more timeless and universal than just a response to this particular election. But it was only about two weeks after the election that I plucked up the confidence to knock on the National's door. I assumed they who would have a queue of the great and good British playwrights far more famous, older and more successful queuing up to respond in some way to the fact that we had a coalition government. I just wanted to chuck my hat in the ring in a way that was more interesting than just a piece of responsive theatre. For me it's just a no-brainer: if you want to get to the heart of people in politics then it's the whips office. It's where policies and the boring side of politics doesn't matter. It becomes about people with problems and flaws and weaknesses. And that's what drama is.
It could be argued that the play has less sympathy for the Tory whips than their Labour counterparts. How do you respond to that?
I am aware that people either assume my politics are to the left because the Labour whips in this story arguably are seen as the underdogs and heroes, maybe, that we're meant to root for. But I was so keen and passionate to try and make the Conservatives - in a way that you don't always see, especially in modern plays by young writers - more empathetic and engaging and human and it was a very conscious choice to make Jack Weatherall, who is played so beautifully by Charles Edwards (pictured above left), portray that decent honourable side to old-fashioned patriarchal Conservatism as a way in. I am aware that I have lots of fun and I don't apologise for it with the class boundaries that I think very truthfully did exist in the Seventies in Parliament far more than they do now. So conceivably yes, it might feel like I'm taking the piss out of lots of eccentric silver-tongued toffs. But some of the most enjoyable and most tender moments hopefully come with the Conservatives.
I couldn't believe, the more I researched, how history itself had almost perfectly constructed a Hollywood structure to this Parliament
Explore topics
More Theatre
Share this article
We at The Arts Desk hope that you have been enjoying our coverage of the arts. If you like what you're reading, do please consider making a donation. A contribution from you will help us to continue providing the high-quality arts writing that won us the Best Specialist Journalism Website award at the 2012 Online Media Awards. To make a one-off contribution click Donate or to set up a regular standing order click Subscribe.
With thanks and best wishes from all at The Arts Desk