theartsdesk in Zanzibar: The Nightingale Still Sings |

New music reviews, news & interviews
theartsdesk in Zanzibar: The Nightingale Still Sings
Performers at the Sauti Za Busara Festival argue that music has never had a more vital role
Khaïra Arby, the Nightingale of the North, performs at the Busara Festival
A crowd of men and younger women in full burkahs gathers, bewildered by the sight: an African woman, in West African "Mumu" (khaftan) and a covered head, playing Ghazals (Islamic calls to prayer). Accompanied by an acoustic guitar, a clear voice, sitting on a café terrazza, Nawal transports us: until it is broken. "How dare you use the name of Allah in a song?!" cries out a dishevelled street vendor, visibly upset. "But you use keyboards in your praise of Allah" she retorts calmly.
It is 1pm, several hours before the Sauti Za Busara festival is about to begin. From the 12th-century Omani fort behind us, the sound of musicians doing sound checks. It's a few days before the rainy season is due to start, it's unbearably hot and dusty. Nawal (pictured below) however, who has just flown in from the Comorros, and wrapped in several layers of cloth, seems unperturbed.
I've seen friends who've had their hands cut off for the ring tones on their mobile phones
Even now, in 21st-century Zanzibar, population 99 percent Sunni Muslim, music has the power to inflame, just as it did in the sixth century in Persia, when music, mosaics and poetry were created or invoked to be "nearer to Allah/God". The ancient divisions remain. The more tolerant Sufi branches of Islam believe arts and music are expressions of meditation. The more conservative factions believe devotion should be silent, personal, contemplative reverberate with existential questions. What is faith? What is your relationship to spirituality? What does it mean to follow a true path?
In Sudan the vibrant and dynamic musical group Camiraata tries to address these problems: bringing together families, tribes, clans from Sudan, North to South, they sing their way through serious political and domestic issues. "Music and culture is about understanding," says band member Da'Affallah, who is also director of Sudan's Music and Culture Academy in Khartoum. "If you know my music, my religion and my culture, you respect me."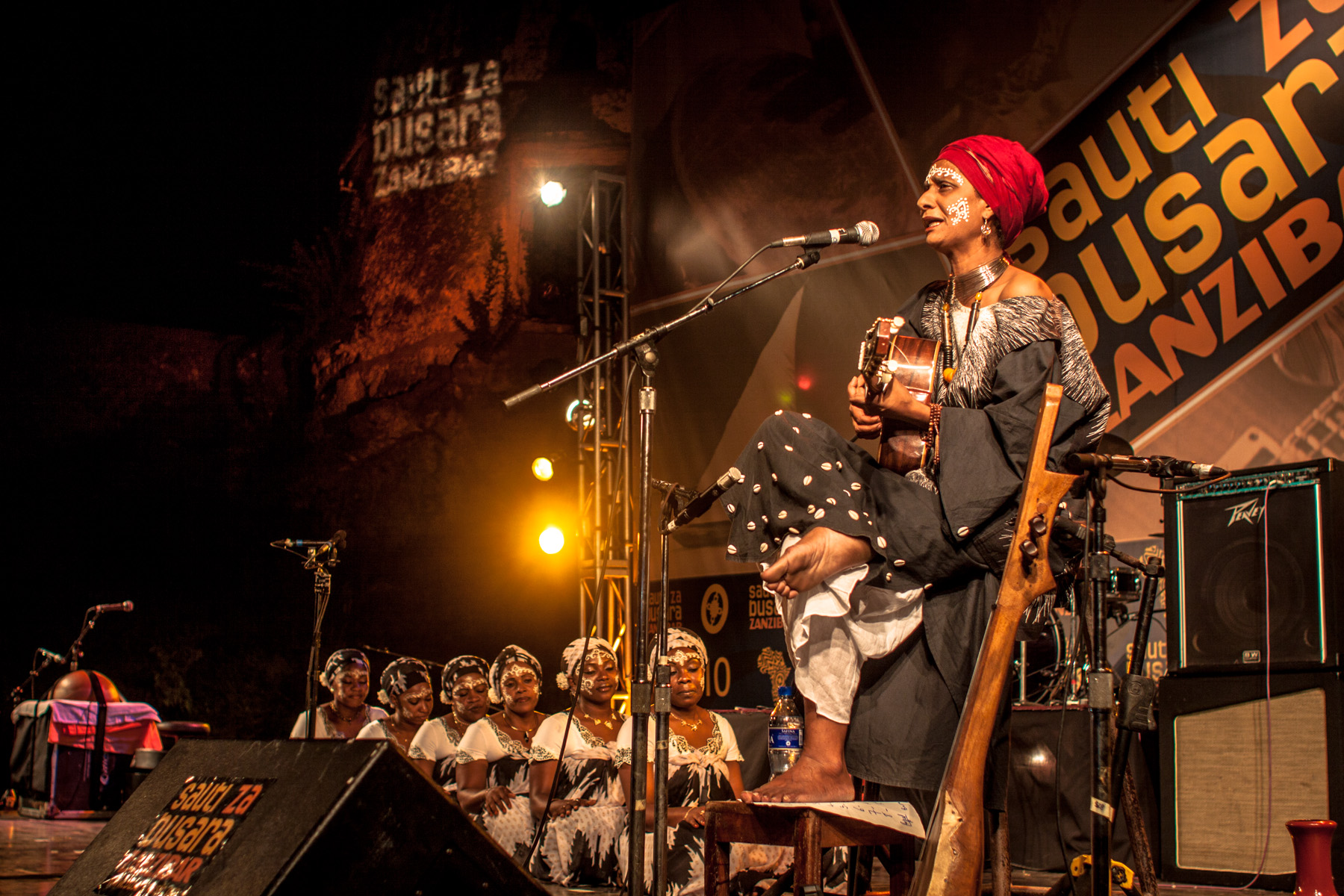 For the Sudanese, as for many across Muslim Africa, music is integral in community disputes, initiation rituals, the unusual and the everyday. "We never ever stop singing!" Da'Affallah explains, and as if to illustrate the point he breaks into song. "Music in Sudan is absolutely everywhere, and has been for many, many centuries. Music is life in Sudan, from birth to death. When the woman makes tea or coffee in the morning she has a special song [he starts singing]. She has a song and she grinds out the pestle in time as she grinds coffee. Then we have special 'albaramka' for tea, this is a group song, using our voices." It sounds like Mongolian throat singing. "We sing love songs to our camels, because we depend on them. We sing to the desert, so it won't kill us. If we have problems in the community, we bring together everyone to solve the problem, we consult the elders, we talk, we sing, we talk more!"
Khaïra Arby (main picture) looks regal with her plush blue dress plumped out, and dramatic head wrap. She sits on a wonky plastic chair which is incongruous in a 12th-century fort. Her face is lined and tired. She has just got off a plane, after 14 hours' travel from West Africa. Just stepped out of a war zone and a country that is dominating the headlines: Mali. "Yes, it's true, I've seen it myself, they will cut off your tongue if you sing. I've seen friends who've had their hands cut off for the ring tones on their mobile phones".
Adored by Malians north and south, Khaïra is affectionately called the Nightingale of the North. She was born in the village of Abaradjou in the Sahara Desert north of Timbuktu, her parents came from different ethnic backgrounds, mother Songhai and father Berber. Her music, which is vastly more popular at home than that of her internationally famous cousin Salif Keita, captures the numerous ethnic groups, styles and poetry of the north of Mali.
We at The Arts Desk hope that you have been enjoying our coverage of the arts. If you like what you're reading, do please consider making a donation. A contribution from you will help us to continue providing the high-quality arts writing that won us the Best Specialist Journalism Website award at the 2012 Online Media Awards. To make a one-off contribution click Donate or to set up a regular standing order click Subscribe.
With thanks and best wishes from all at The Arts Desk