Kiss the Day Goodbye: Marvin Hamlisch, 1944-2012 |

Film reviews, news & interviews
Kiss the Day Goodbye: Marvin Hamlisch, 1944-2012
Nobody did it better: the speed-songwriter who wrote the music for A Chorus Line
Wednesday, 08 August 2012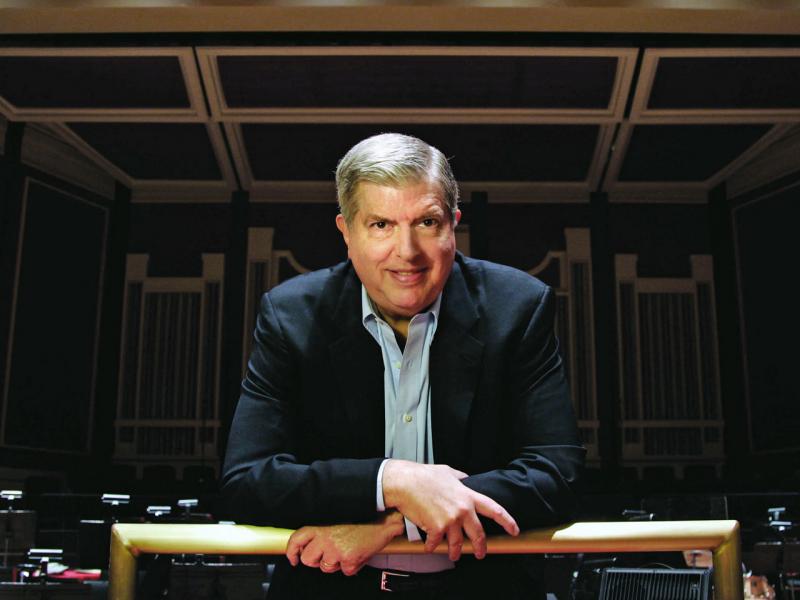 'Let me tell you about the word great': Marvin Hamlisch
Marvin Hamlisch's three Oscars all came in 1974. "I think now we can talk to each other as friends," he said as he accepted his third award of the night. He composed the winning song "The Way We Were" (and the film's score) for Barbara Streisand, having started out on Broadway as rehearsal pianist in Funny Girl. A wizened sage warned Hamlisch that it didn't do to win so much so young, but he paid no notice and a year later went and wrote the music for A Chorus Line, his Broadway debut. When the inevitable Tony followed, Hamlisch had achieved every target he'd set for himself by the age of 31.
Over the years, a lofty ambition to have 10 Broadway hits, nurtured even as he trained as a classical pianist at the Juilliard in New York, was gradually revised downwards. "What I want to do is have one more show which for me is as innovative as A Chorus Line," he told me when I met him some years ago. "That's what I want. One." "One", coincidentally, is the title of the stirring, aspirational number which closes A Chorus Line, which tells of young hopefuls auditioning for a role in a Broadway show. While he waited there was They're Playing Our Song, based on his relationship with lyricist Carole Bayer Sager, a huge if less musically mould-breaking success on both sides of the Atlantic. The Goodbye Girl, adapted from the 1977 film scripted by Neil Simon, was a slight romantic bauble. In 1983 Jean Seberg went belly up at the National Theatre and never made it back across the water; and then Smile, from the caustic 1975 movie about beauty pageantry, failed to put the eponymous expression on the faces of the few Broadway-goers who caught it. Both shows, he insisted, were good ideas bloodlessly done. He kept their names off his theatrical resumé.
Packaging sizeable self-esteem as geeky schlemiel wit, Hamlisch was a natural talker
"Let me tell you about the word great," he told me. "There are two types of great. One great is you sit down with Michael Bennett [the director of A Chorus Line who died of Aids], you set this incredible goal and you succeed. The other kind of great is you set a very modest goal: we're putting on this show, all we want is people to have a good time. And if you achieve it it's also great, but it's great in a different way."
Packaging sizeable self-esteem as geeky schlemiel wit, Hamlisch was a natural talker and and even more natural composer, kinetically driven by a compulsion he no doubt inherited from his parents, who were Jewish refugees from the Anscluss. He talked, and worked, like an express train. He could write songs at the drop of a hat, the most famous being "Nobody Does It Better", the Bond theme sung by Carly Simon which, he was painfully aware, did not win the Oscar. A popular booking on the cabaret circuit, Hamlisch used to do a medley of "all the greatest songs that have lost the Academy Award. It has 'Cheek to Cheek', 'I've Got You Under My Skin', and the third one I do is 'Nobody Does It Better'."
Nobody had a greater facility to write songs - some witty pastiche, some unadulterated schmaltz - and there were awards galore, many of them for his numerous soundtracks: only Richard Rodgers also won an Oscar, a Tony, an Emmy, a Grammy and the Pulitzer Prize. But a return to Broadway's Olympian heights never quite happened. To cite another song from A Chorus Line, he never kissed the day goodbye. "To revisit the mountain without Michael Bennett and without Ed Kleban [the show's lyricist] is very difficult. Most people just go back to their collaborators and say, 'OK let's do it again.' I didn't have that chance. They both died. I'm not giving up. I refuse to give up."
Carly Simon performs 'Nobody Does It Better'
JASPER REES: What is the secret of a great musical?
MARVIN HAMLISCH: The great shows are the ones that broke the formula. West Side Story, that's a great show. From another point of view, you'd say it only ran 14 months. A Chorus Line, there's a case in point: no scenery, no costume.
How early in your life did you realise that writing musicals was what you wanted to do?
Very early. I remember in my sixth grade, I bought the album to My Fair Lady. At the age of 16 I had seen West Side Story five times. I saw Gypsy easily 15 times. On the first show I ever worked on, which was Funny Girl, I was the rehearsal pianist, I was 19 years old, and I would get on that stage and go, "I gotta do this." I think the reason I like Broadway the most is when you do a film it's over. And now you put on the music. You're an adjunct. With a Broadway show, it's manipulation of an audience, and you can change it night to night, so that it's like almost a game. How can me make it so that it's more poignant. It's malleable, you're one of the daddies and mommies. You're a parent. In the other thing you're just a kind of bystander. Where do you want the music. OK I'll be back. You're basically a gun for hire. I'm here, where do you want your carpet?
Subscribe to theartsdesk.com
Thank you for continuing to read our work on theartsdesk.com. For unlimited access to every article in its entirety, including our archive of more than 10,000 pieces, we're asking for £2.95 per month or £25 per year. We feel it's a very good deal, and hope you do too.
To take an annual subscription now simply click here.
And if you're looking for that extra gift for a friend or family member, why not treat them to a theartsdesk.com gift subscription?