theartsdesk Q&A: Choreographer Christopher Wheeldon |

Dance reviews, news & interviews
theartsdesk Q&A: Choreographer Christopher Wheeldon
How the Royal Ballet extravaganza Alice's Adventures in Wonderland was brought to the screen
Saturday, 15 October 2011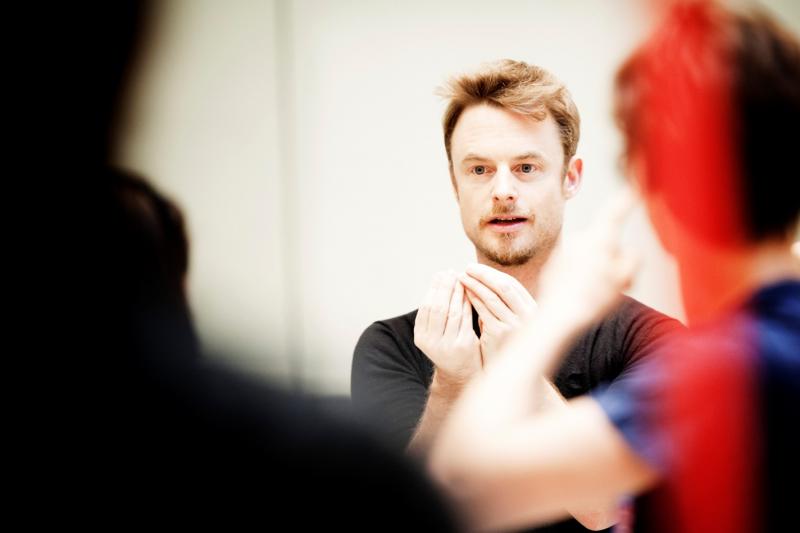 Christopher Wheeldon in Royal Ballet rehearsal for 'Alice's Adventures in Wonderland'
Those of us un-Zeitgeisty enough to miss the Royal Ballet's first new full-length ballet in 20 years during its first run can now catch up. Opus Arte's DVD release of the televised Alice's Adventures in Wonderland tells a different story from the one any audience members other than front-of-stalls ticket holders would have caught. With more focus on the characters and less on the potentially overwhelming special effects, we probably get a better deal.
Jonathan Haswell's stylish screen direction is dominated, as it should be, by the loveable mug of Lauren Cuthbertson's Alice. She guides us in glorious close-up through the Carroll labyrinth according to choreographer Christopher Wheeldon, composer Joby Talbot and Nicholas Wright, deviser of a better scenario than countless garbled, overstuffed versions of the Wonderland experience.
So when I finally spoke to Wheeldon, not yet 40 and recently announced part of the Royal Ballet's starry choreographic team headed by Kevin O'Hare, I was able to enthuse quite sincerely, as many of my colleagues had not – a helpful starting point which he took very graciously before summing up the pros and cons.
DAVID NICE: I've enjoyed reading everything you had to say about the new ballet leading up to the premiere; the difference is of course that this is after, and now you've also seen the film. Were you pleased with the end results and would you change anything?
CHRISTOPHER WHEELDON: Well, I think a big production like Alice in Wonderland is inevitably going to be a bit of a work-in-progress for a while, if not for ever, because there's so much in it and as time passes there will be things that I'll probably go in and tweak a bit. But I think that I'm very pleased with the way that it's turned out as a production over all - it feels whole and seems to work well. Never say never, I probably will go in and make some tweaks, but that's not going to happen for a while.
It's scheduled for revival in March 2012 and will probably come back every season for the foreseeable future, don't you think?
I think the hope is that it will eventually take its place in the repertoire as a Christmas or a holiday ballet of some sort, so yes, I'm sure they'll probably roll it out once in a while.
Let's talk about the structure of it, which came in for some criticism but seems to make sense to me in the film: the fact that in the first act you deal with a sequence of fluid scenes and then in the second it tightens up, that seems pretty perfect to me – was that something you conceived from the start? Was it purely through working with Joby Talbot and your scenarist Nick Wright?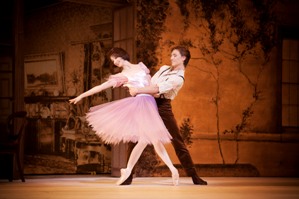 Yes, it was – we really wanted to make sure that the ballet came together dramaturgically in the last act. The book itself is very episodic and that's why we decided to create this second narrative and to give Alice a purpose going through Wonderland following the Knave of Hearts and setting up that little relationship at the beginning [the Liddells are seen in Oxford, where a little scene develops with the gardener's boy who will metamorphose into the Knave (Lauren Cuthbertson pictured with Sergei Polunin)]. And that trial sequence at the end, it's completely mad in the book and our concern came from the observation that on stage historically Alice hasn't worked very well, and part of the reason why it hasn't worked very well is that there's never been a satisfying conclusion or for that matter a satisfying journey for Alice through Wonderland – on the page it feels like a lot of little episodes full of wordplay and crazy characters.
And the wordplay's the very first thing to go, isn't it?
The wordplay is of course the very first thing to go, and that's a large chunk of the charm of the original Lewis Carroll novel. So we needed a glue to pull all of those episodes together, and it is a journey, that first scene, so she has to be introduced to all the characters in order for them to come together in the second act, in order to help bring the story to a conclusion. It did naturally take that kind of structure.
It strikes me that the wonderful sequence in the court room where everybody gets their little reprise is like a big Fokine number, isn't it, with the ensemble where everyone is marked out by their musics and they all do their bits. It comes together as a finale and you don't have to force it, because that's actually in Carroll, isn't it – the Mad Hatter and the Duchess do come back.
It is there, yes, and what we decided to do was to pull all of the characters into the trial – the Caterpillar's not there in the original, for instance, and the Dormouse and March Hare aren't involved, but that scene did give us almost a traditional classical ballet third act, only in the second, where everybody comes to the ball and dances a little solo. But what we did want to do was to continue the narrative through that rather than just make it a sequence of variations that start and finish and then everyone applauds. This gave the characters an opportunity to continue the storytelling and have their 11 o'clock number, as it were.
The characters in Wonderland are all beautifully drawn in the book and lend themselves very well to dance
The idea of concentrating on the first Lewis Carroll book, I find that refreshing. Obviously you can'