theartsdesk Q&A: Ballerina Leanne Benjamin |

Dance reviews, news & interviews
theartsdesk Q&A: Ballerina Leanne Benjamin
Feisty, evergreen Royal Ballet star sums up as she prepares to retire tomorrow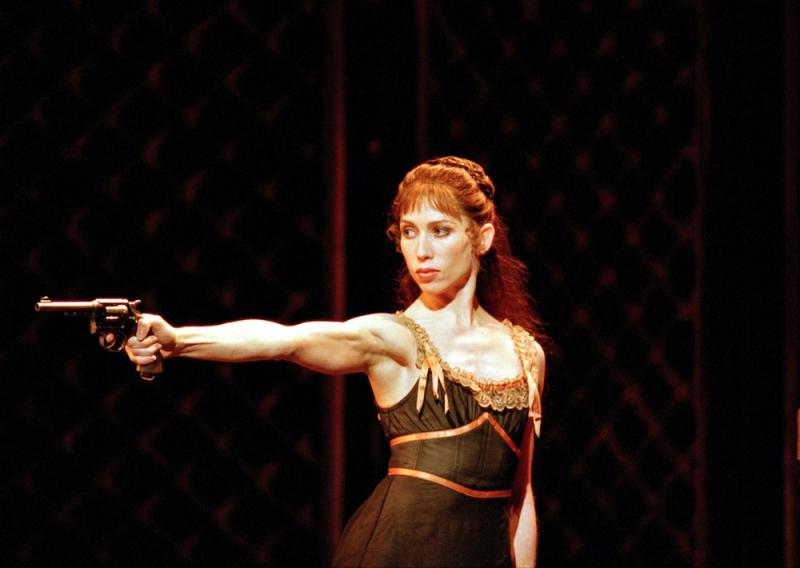 The last MacMillan girl: Leanne Benjamin's Mary Vetsera fires her final shot tomorrow night
It's the uniqueness of the Royal Ballet ballerina Leanne Benjamin that tomorrow night at Covent Garden, aged nearly 49, she will be playing a sex-mad teenager, and no one will have the slightest difficulty believing it. Then she'll retire. Not for her a soft swoop into long dresses and matronly gestures, easing decorously into the sunset, but an all-out assault on physical and emotional extremes that is typical of the career of this tiny stick of dynamite from the Australian outback.
In a season full of goodbyes - Mara Galeazzi, Alina Cojocaru, Johan Kobborg and Tamara Rojo have all signed off during the year - Benjamin's will be the one that marks an era's end in the Royal Ballet. She was the last MacMillan girl, a new muse in the fertile imagination of the Royal Ballet's great choreographer, who pulled the levers to steer her into a company packed already with talented ballerinas, with plans of his own for her, and who died suddenly the night before her first performance with the Royal Ballet 21 years ago.
It was a bodyblow for a 28-year-old outsider, and Benjamin - in among a pack of more famous names: Sylvie Guillem, Viviana Durante, Darcey Bussell - faced a hard climb up a rockwall to get up there into the big roles as a star in her own right. It took another decade before this sparky, urchin-bodied woman anchored herself. Then she took the career risk of having a baby late in her thirties.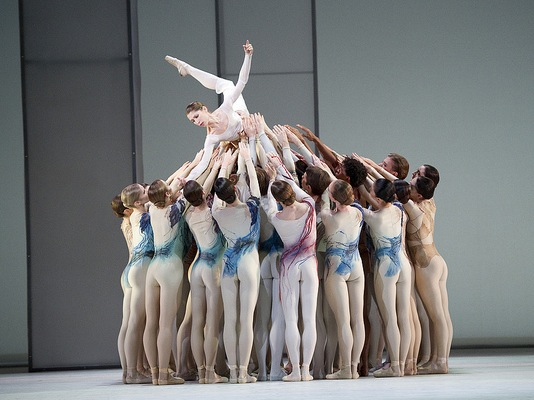 Once again, that could have been it, but Benjamin still wasn't finished. In the past 10 years, she has become a world-class ballerina, a must-see artist acclaimed around the world, with her own vibrant dramatic directness and an uninhibited physical appeal, not just in the MacMillan dramatic ballets, but in his more allusive contemplative parts - the soaring embodiment of innocence and compassion in Gloria and Requiem (pictured right by Tristram Kenton/ROH), to offset her brilliantly stroppy performance in The Judas Tree. And what MacMillan had spotted in her, a new generation of choreographers battened on, Wayne McGregor and Christopher Wheeldon in particular - this compelling individualist inside the malleable, childlike physicality.
Then again, I also think how effective she is when she is cast against type - her romanticism in Balanchine's Emeralds, her electricity in Fokine's The Firebird (she flashed through the air like a shaft of lightning) and even Ashton, where her big, mischievous feet have zipped through the delicate complexities of Rhapsody and The Dream like a hummingbird's wings. Really, a ballerina of parts.
Big feet were one of the topics in a characteristically fresh and amusing conversation Benjamin had with me earlier this week as she contemplated her last performance. So were the joys of a beer after a show, and family life with husband Tobias Round and son Thomas.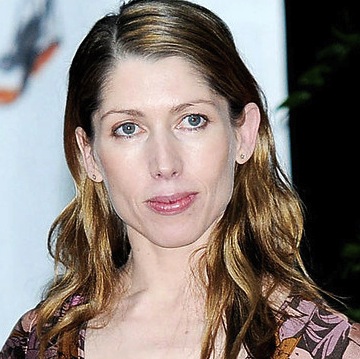 She talked of how she strode over setbacks, of the men and ballets who got away, and those that didn't, and the secret of making a brilliant career. She sat in the Royal Ballet canteen with me, a pint-sized, grasshopper creature with legs folded up in an origami arrangement, her mobile face without make-up or artifice, and a serene, sane conversational approach. (Left, Benjamin at the BBC last month for a Woman's Hour interview.)
In brief, she was born in Rockhampton in the Queensland outback on 13 July 1964, trained in Australia and won an Adeline Genée scholarship to the Royal Ballet School. She joined Sadler's Wells Royal Ballet under Peter Wright aged 18 and was a Principal at 23. She was headhunted by Peter Schaufuss for London Festival Ballet in 1987, and went with him, after his sacking in 1989, to Deutsche Oper Ballet in Berlin. There Kenneth MacMillan picked her out when he staged Different Drummer and in 1992 she joined the Royal Ballet (directed by Anthony Dowell) as a First Soloist, becoming Principal the following year. While she stamped her derring-do on the MacMillan ballets, she also became a particular focus for new choreography by Twyla Tharp, Wayne McGregor, Christopher Wheeldon, Kim Brandstrup, Mark Baldwin and, this spring, Alexei Ratmansky. She married theatre producer Tobias Round in 2001 and bore Thomas in 2003. She was made OBE in 2005.
ISMENE BROWN: What's it been like realising that every step is about to be the last?
LEANNE BENJAMIN: Every step since I had my child has felt like the last! For the last 10 years I've thought if I do another day that's great - and if I do another day, that's great. It's been artistically fulfilling since then, and feeling more relaxed - choosing my repertoire more to suit me. I think it was a natural progression. The ballets that I didn't want to do any more were the ones the younger ones need to do: Swan Lake, Sleeping Beauty, Nutcracker. You don't really want to be around at Christmas when you have a child. You rehearse non-stop 12 months a year, and unlike most athletes we dancers don't really get any time off. So it gradually meant I could get a little bit of time in Nutcracker season to recuperate the body a bit. School holidays are always difficult, juggling what we do - we're great jugglers. It's difficult to make allowances for someone with a child in this industry. He just turned 10 last week. He's still alive! We kept him alive that long.
Is he bigger than you yet?
Not yet, but it won't be long. [Benjamin is "a hair under" 5ft 2in tall.]
I used to enjoy those triple bill curtain calls with you, Viviana, Miyako and Alina in a line. All tiny five-footers.
I know. It's difficult sometimes to show width and breadth on stage when you're a small person. I've always danced big - I can't stand it when people don't step out.
Is that because you're Australian?
[Laughs.] Probably. No, I was always told to step out and that's what I do.
Why on earth are you stopping?
It's time. It came from within. I knew that I was going to stop at the end of this year. I've had a tear in my hip and I had an operation last summer. What I never wanted to do was let ballet take over my life - there is life after ballet. And I do have other interests. I've been doing this for an awfully long time and I don't want to go over old ground. I don't really need to get up and do another Juliet or Judas Tree. The last few years have been vibrant for me because I've done a lot of new work - working with Wayne McGregor, with Chris Wheeldon, and with Alexei Ratmansky. And I felt this was the perfect way to go, because it was Mayerling when I was brought into the company for the first time 21 years ago. Begin with Mayerling, end with Mayerling.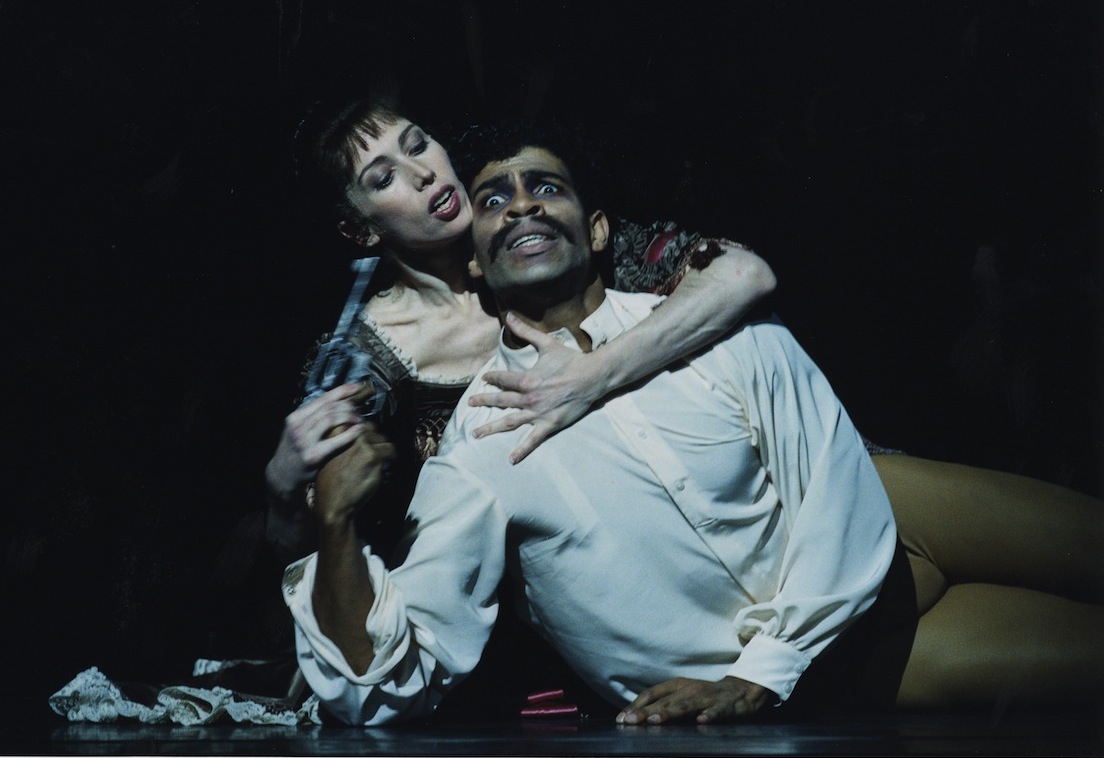 A morbid end considering who Mary Vetsera is…
No! Not morbid. This is my pure state of being, I love throwing myself at Carlos Acosta! You know that. That's what I thrive on.
Bitter and twisted!
Absolutely. All the way. Which is why one makes a good Kenneth MacMillan dancer. (Right, Benjamin and Acosta in Mayerling, pictured by Bill Cooper/ROH)
How has being a dancer shaped your personality and way of thinking?
I think it's given us a lot of freedom and that's the one thing I will have to be careful of in the outside world is how I behave! Because we are so free with each other and the world has changed to become so much more politically correct. We don't adhere to those rules in a ballet company. You can pinch someone's bum in the company and you don't think anything of it, but you can't do that in the outside world. And I've done so much travelling - meeting exceptional people along the way, heads of state, visiting fascinating new countries, particularly in my early days with Sadler's Wells. Having that capacity for endurance was great, being out on the road and having to get up for performance.
Here in the Royal Opera House these kids have to get up and produce top-notch performances straight off, whereas I was doing my first Swan Lake or my first Sleeping Beauty out on the road at Sadler's Wells and not being too stressed by it. People pay a lot of money here, and it must be a difficult line as a director - you do have to put your best dancers on but you must also give younger ones opportunities. But if you have a substandard performance - well, the audience have paid a lot of money. I was actually doing all my big roles when I went into Sadler's Wells, but you have to be a certain personality to be able to take it on.
Did you ever have any doubts about being a dancer?
No. I always knew. Well, it wasn't a dream as a child to be a ballerina, I just suddenly realised I was good at it, and then I instantly thought, if I'm good enough I'm going to London, and if I do dance I'm going to do it at Covent Garden or Paris or New York. It was just an inner conviction. I loved working. I knew I had something special. I came over here to the school and on arrival I didn't know how I stood among the White Lodgers, then I realised I was right up there. And that was great.
My parents told me I could be whoever I wanted to be
You seem a very well-balanced person. Some performers need to complete themselves psychologically in a way by being on stage.
No, I don't approach it like that at all. My parents told me I could be whoever I wanted to be, and I think that was it. I really came from nowhere, the back of beyond in Queensland, and so I always had a hunger to do well. I think it was also our upbringing - everyone in my family is an achiever. My parents fed us a lot with encouragement to get on and do things, and not give up. As a kid I went to ballet at 6.30 in the morning, then I went to school, then I went back to ballet, then I did my homework, and then I did my piano and singing after dinner. You got up and you worked hard. It was when I started doing competitions that I got the bug and thought, ooh, I could make some money!
Are your family coming over for your last show?
Yes, they're all coming over - father, mother, two sisters, my baby brother - and friends from America, so I'll have a lot of people in to see me. I'm going to have to prep them! And my son, Thomas - though he doesn't want to come because he hates it when Carlos takes my top down. I've toyed with not having him at the show, but [husband] Tobias particularly thinks it's important for him to see my last performance.

He won't understand it all, will he?
Oh, yes, he will. He's on it. He really is.
Are you scared about it?
A few weeks ago I was feeling it wouldn't be easy. But it's kind of nice - I feel like I've organised my repertoire quite cleverly, so that even though people say you're still dancing extremely well, maybe it's that I've brought it down to the performances that my body likes doing. For me this is not too demanding, this ballet. Juliet and Manon are much more difficult than Mayerling. And it's nice having a strong man to hold me up!
We'll talk about men in a minute.
How long have you got?! [Cackles.]
I've always danced big. I can't stand it when people don't step out
Explore topics
Share this article
Subscribe to theartsdesk.com
Thank you for continuing to read our work on theartsdesk.com. For unlimited access to every article in its entirety, including our archive of more than 10,000 pieces, we're asking for £2.95 per month or £25 per year. We feel it's a very good deal, and hope you do too.
To take an annual subscription now simply click here.
And if you're looking for that extra gift for a friend or family member, why not treat them to a theartsdesk.com gift subscription?