Still Shocking - The Rite of Spring 100 Years On |

Dance reviews, news & interviews
Still Shocking - The Rite of Spring 100 Years On
Nearly 200 versions have tried to follow Nijinsky and Stravinsky's impact in 1913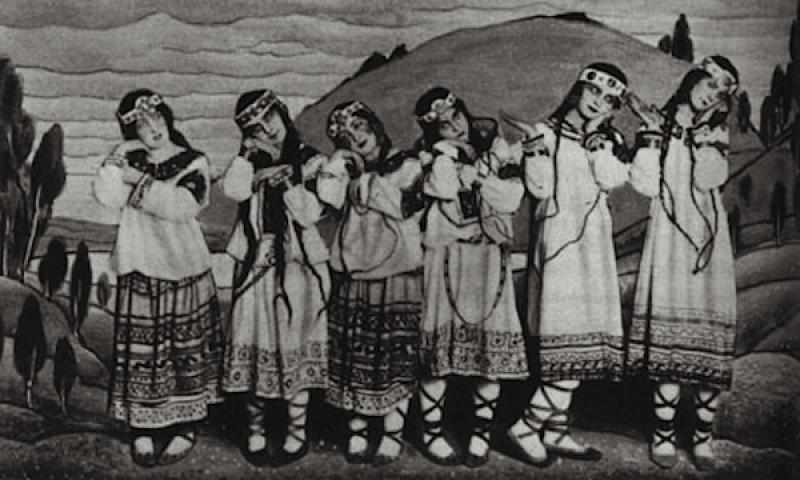 Rite of Spring 1913: 'the fearful regrouping of the cells'
Victims driven to death by the mob, women and men violently rutting in animal costumes, a black comedy about a snatched baby, a naked man dancing alone in his own fantasy - many and varied are the images in the nearly 200 danceworks created to the notorious Rite of Spring since its premiere exactly a century ago.
Nothing created in performance art in the 100 years since has had so decisive an aftermath as this seismic work. Nothing has liberated creators from rules quite as emphatically as the uncategorisable theatre piece put before shocked audiences in Paris and London in the late spring of 1913.
Igor Stravinsky's harsh ballet score changed ears, and with it his choreographer Vaslav Nijinsky changed eyes. Is it a ballet or a piece of music? Is it proto-punk agitprop or a gigantic PR stunt? Does it matter? The fact is that a work performed only eight times threw together music, dance, thought, art, instinct, the exhaustion of the old, the reaching for the new, in a clash so fresh and primally frightening that its audience lost control of itself, let its veneer of civilisation slip, and threw missiles at the stage as if defending itself from invasion by devils.
One hundred years on and it still demands the utmost from choreographers, and more than many listeners can give, but its hold on creative artists hasn't slackened. Choreographers great and small have tackled the music's rhythms, the theme's violence, and the myth - above all, the myth of a night when everything was thrown up into the air and landed in a different pattern.
Newspapers called it 'Le Massacre du printemps'. Diaghilev's satisfied comment was, 'Exactly what I wanted'
This weekend in Moscow the Bolshoi Ballet have launched a terrific festival for the centenary of a piece Russians never saw, though it emerged from the fertile minds of four Russians. Three of the most significant of the 190+ stagings are being shown there: the superb 1975 one by Pina Bausch - probably the greatest of the past 50 years - Maurice Béjart's effective primitivist rout, and a dubious attempt made to reconstruct the lost Nijinsky version from photographs and drawings. There was to have been a new Rite by Britain's own Wayne McGregor over there, only the vicious attack on the Bolshoi's artistic director Sergei Filin made working circumstances impossible, so instead there is another first out there - Russian modernist Tatiana Baganova has made her debut in the Bolshoi at very short notice.
Meanwhile in Britain Sadler's Wells leads the celebratory tribes: the week after next Michael Keegan-Dolan's Fabulous Beast company returns with his Irish-animalistic sex ritual, and in late May Akram Khan tackles the subject in a world premiere ITMOi (the letters stand for "In The Mind Of igor"). The London connections are apt - the English capital was one of only two cities to see the phenomenal work that seized both its own time and the future in one avid grasp.
It was the year before the First World War began, and a startling year in art. It was the year of D H Lawrence's Sons and Lovers and Marcel Proust's A la recherche du temps perdu, the year that Niels Bohr applied quantum theory to the atom, the year in which Pablo Picasso made his revolutionary Guitar and Marcel Duchamp the first "readymade", Bicycle Wheel. And, four years after his first foray out from Russia, the adventurous impresario Sergei Diaghilev was by now acquiring legendary status for his Ballets Russes, a freelance company of geniuses such as the ballerina Anna Pavlova, choreographer Michael Fokine and house composers Ravel, Debussy and Stravinsky. But of no one, probably, was more being said than about the very young man who had joined Diaghilev on his expedition (and in his bed) at the age of 19, and who by 22 was the most brilliant male dancer of his era.
Vaslav Nijinsky was small, with heavy legs and an odd, peasant face, and an equally awkward manner in company. Yet when he possessed the stage in Fokine's ballets (then seen as radically new), he underwent inexplicable transformations - from romantic (Les Sylphides) to pathetic (Petrushka). His jumping ability appears to have defined all reality. In most ways he was a figure of mystery.
His first choreography was the short but unforgettable L'Après-midi d'un faune in 1912, in which he harked back to ancient Egyptian art offering a peculiar new kind of hieratic movement with feet parallel rather than turned-out ballet-style. It astonished viewers - although they were more upset about the openly masturbatory ending.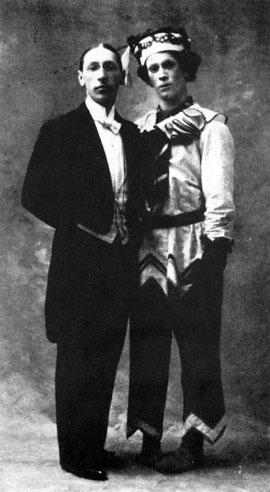 Delighted, Diaghilev urged his fast-rising composer Stravinsky to develop his latest piece into a huge orchestra work for Nijinsky to choreograph, about a primitive ritual culminating in a human sacrifice (Stravinsky and Nijinsky, in Petrushka costume, pictured together). Fokine had quit, jealous at his young star's threat to his own position. This relieved Stravinsky: "New forms must be created, and the evil, the gifted, the greedy Fokine has not even dreamed of them," he wrote to his mother in 1912.
Now a 22-year-old one-ballet wonder would take over Stravinsky's monster score - along with a new Debussy piece called Jeux. (The hungry Diaghilev wanted two successes, not just one, for his summer season in Paris and London.)
If Stravinsky saw Sacre as his decisive break with the melodious tradition of Rimsky-Korsakov, for the nervy, unstable Nijinsky the choreography was an almost blind journey into the unknown. Using every note and phrase of the composer's astounding sounds, Nijinsky intended to make a barbaric vision that threw out civilised beauties and showed a pagan mob whipping themselves into a frenzy, with pigeon-toed movements that had no recognisable connection with ballet or even with folk-dance.
Diaghilev's dancers loathed performing it. The audience's reaction at Paris's brand-new Théâtre des Champs-Elysées at the premiere on 29 May 1913 was polarised. Lulled by the opening ballet, Fokine's delicate Les Sylphides (revolutionary in its own subtle way), they were jolted after the interval by Sacre's quavery opening cry of a bassoon, moaning like an animal in pain - and then battered by a percussive rhythmic assault like nothing they had heard or seen before. Hostile shouts drowned the music, and the deafened dancers continued only by watching the ashen Nijinsky gesturing from the wings. Police were called to throw out the more violent objectors in the short pause between the score's two parts.
On the other hand, there was the likes of Jacques Rivière, editor of La Nouvelle Revue Française, who enthused: "If we can but stop associating grace with symmetry and arabesques, we shall find it everywhere in Le Sacre du printemps. This is not the usual spring sung by poets, with its breezes, its bird song, its pale skies and tender greens. Here is nothing but the harsh struggle of growth, the panic terror from the rising of the sap, the fearful regrouping of the cells."
Richard Buckle, Nijinsky's biographer, observed drily: "The bejewelled Parisian public of the stalls and boxes did not go to the Russian Ballet to watch the regrouping of cells."
The writer and avant-gardist Jean Cocteau descried a certain amount of Diaghilevian manipulation of the whole thing: "All the elements of a scandal were present," he wrote in his cultural pamphlet Cock and Harlequin. "The smart audience in tails and tulle, diamonds and ospreys, was interspersed with the suits and bandeaux of the aesthetic crowd. The latter would applaud novelty simply to show their contempt for the people in the boxes... Innumerable shades of snobbery, super-snobbery and inverted snobbery were represented... The audience played the role that was written for it."
The newspapers dubbed it "Le Massacre du printemps". Diaghilev's satisfied comment was, "Exactly what I wanted." And yet within weeks - after just a handful of performances in Paris and London - he threw the ballet out, incandescent when his beloved boy announced his marriage to a blue-blooded company groupie. The dancers gratefully forgot the work, leaving no note or memory of the choreography.
Sacre was the high point for its begetters. Nijinsky would go mad, Diaghilev played safer in future, and Stravinsky's standing as one of the century's most influential musical geniuses stems from this pivotal creation.
Even 100 years on, the score retains its ruthless capacity to disturb the concert public, despite being the touchstone for all modern music, foreshadowing rock, punk, jazz and world music too. It destroyed the old order, and today we live sometimes uncomfortably with our resultant uncertainty as to where the "classical" and "popular" categories divide.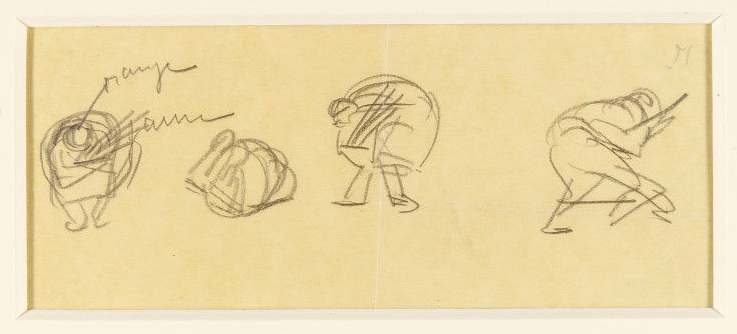 As for Nijinsky's dance - we can't assess it, not even from a dubious attempted reconstruction by the Joffrey Ballet in the 1980s, because we do not have the 1913 record, and we do not have the 1913 eyes. (Above, Nijinsky's movements sketched in performance by his contemporary Valentine Gross in 1913, courtsey V&A Museum)
But Richard Buckle wrote: "I am convinced that even Diaghilev and Stravinsky did not entirely appreciate the power of Nijinsky's Blake-like vision, or recognise how far ahead of his time he was, and I acclaim Le Sacre not only as a masterpiece [...] but also as a seminal work, a turning point in the history of the dance, the ballet of the century."
Nearly 200 Rites of Spring productions have been choreographed since, but it was Nijinsky's vision that cracked the perfect egg of classicism, allowing it to hatch new modern fledglings, from Martha Graham to Bausch to Michael Clark to Klaus Obermaier. What is indelible, finally, is the way that May night reminded the world of the dangerous liberating force that theatre had come near to forgetting it possessed. Nijinsky and Stravinsky, inspired in parallel, seized the chance to show not the familiar but the unknown when the curtains parted. That moment, curtain-up, is the instant in which for a second our hearts lurch, as we wonder whether we will see what we know or be led into darkness, reliant on someone else's alien images.
The images of Le Sacre du printemps may now be wraiths in faded photographs, yet the event of the summer of 1913 has never been surpassed as a triumphant declaration of theatre's awesome power.
Next page: Choreographers Paul Taylor, Kenneth MacMillan, Martha Graham, Javier de Frutos and Michael Clark on the challenges of making a Rite of Spring. And conductor Michael Tilson-Thomas, Stravinsky's student, talks of the risk of over-familiarity
Is it a ballet or a piece of music? Is it proto-punk agitprop or a gigantic PR stunt? Does it matter?
Share this article
Subscribe to theartsdesk.com
Thank you for continuing to read our work on theartsdesk.com. For unlimited access to every article in its entirety, including our archive of more than 10,000 pieces, we're asking for £2.95 per month or £25 per year. We feel it's a very good deal, and hope you do too.
To take an annual subscription now simply click here.
And if you're looking for that extra gift for a friend or family member, why not treat them to a theartsdesk.com gift subscription?