Q&A Special: Matthew Bourne and the making of Swan Lake 3D |

Dance reviews, news & interviews
Q&A Special: Matthew Bourne and the making of Swan Lake 3D
Exclusive discussion with the choreographer and film-makers about a vital new film technology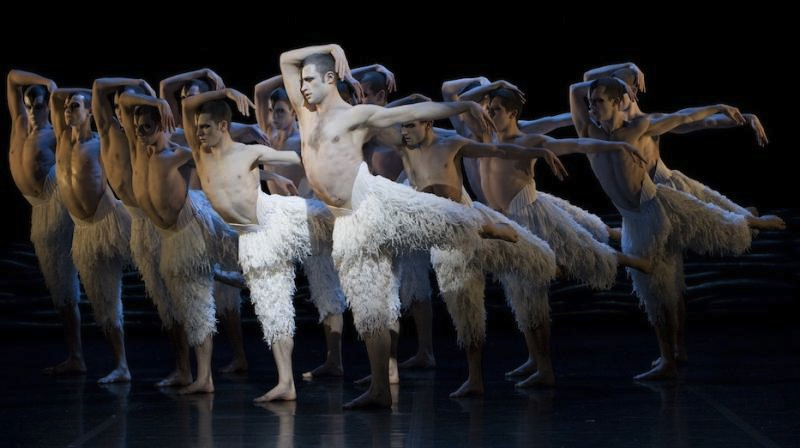 Feral dimensions: Richard Winsor leads the corps of male swans
A boy alone in his vast white bedroom has a recurrent haunting dream, frightening yet somehow comforting - a swan invades his mind, simultaneously menacing him with its power and wildness, and yet wrapping its great wings around him to shield him, with some ambiguous kind of love. It's the opening scene of Matthew Bourne's tremendous modern version of Swan Lake, and that resonant image and the tale he unfolds from it has made it a classic of modern theatre, marvelled at around the world. But why it works is the emotion generated by the palpably strange and authoritative physicality of the male swans, not obeying human lines, crossing spaces where they shouldn't be, emerging from under beds, killing their own, refusing to be contained or understood. And even though the magnificent original cast of Adam Cooper and Scott Ambler were filmed soon after the 1995 premiere, many people would say you can only really get the full swan effect from a live performance.
No longer. From this week anyone within reach of a cinema with a 3D screen will be able to see a striking new film made of Bourne's Swan Lake that seizes advantage of the huge changes in film that have occurred since the show opened in 1995. Changes which show decisively that dance, which has always been fighting a losing battle with the flattening camera, now has a new and eloquently responsive film partner, now that they added an extra dimension to it.
While Bourne has worked extensively in the West End, it is for his modernisations of classic tales that he is most famous
Last night Swan Lake 3D was premiered in Soho, London, to launch the nationwide release of the newest in what is a cheeringly growing list of dance, opera and musical theatre films making it to cinemas. It isn't quite the first 3D dance film - StreetDance 3D and Wim Wenders' Pina 3D beat it to release by a year or two - but it is the first attempt to film a live dance performance in 3D, which many people speculate may turn out to become the key to broadcasting the experience of dance on a screen so that it actually feels like being at a performance, rather than simply watching a flat animation of dancing behind a wall. And because the film is the enormously popular Swan Lake, the experiment has had enough backing and commitment bouncing off it to emerge triumphant on behalf of 3D as well as on behalf of dance.
After the screening last night, the choreographer Matthew Bourne joined the film's director and producer, Ross MacGibbon and Fiona Morris, in a public discussion about their hopes, aims and frustrations as they got to grips with applying 3D to what is already an unorthodox stage work.
Bourne's interest in film started when he was a youngster and an avid movie fan. He was a late starter in dance, not entering training until he was 22, but he rapidly made up for it. Only eight years after he launched his company, characteristically (and prophetically) titled Adventures in Motion Pictures, he had created Swan Lake which made him a world name. This year marks 25 years since he launched AMP with a small group of people and some amusing ideas - some of his early work is being performed this week and next as part of a sizeable retrospective that climaxes at Christmas with a new Bourne recreation of The Sleeping Beauty, completing his three Tchaikovsky ballet rewrites. While Bourne has worked extensively in the West End, it is for his modernisations of classic tales that he is most famous, Nutcracker!, The Car Man (a film noir rethinking of the opera Carmen), Edward Scissorhands and Dorian Gray among them. Swan Lake was his second Tchaikovsky ballet rewrite - unveiled in 1995 on stage, filmed in 1996, it became a smash hit around the world showered with amazement and acclaim ever since.
The new 3D film was filmed by director Ross MacGibbon, probably the leading dance film-director in Britain today, with a large number of films for the Royal Ballet under his belt, at Covent Garden and in the O2 Arena, made for live transmission as well as DVD recording. His past career as a Royal Ballet dancer gave him an inside track on how to understand dance onstage and he directed the film of Bourne's The Car Man. This has been his first 3D film.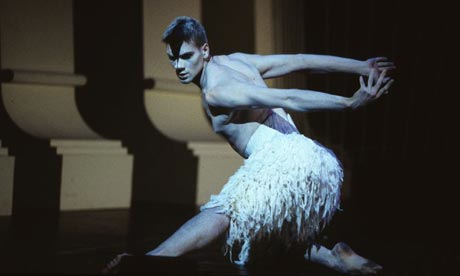 Fiona Morris was the person who got it made at all despite an unexpected potential scuppering by last year's Japanese tsunami (of which more). She produced the first Swan Lake film in 1995 (pictured left, Adam Cooper, the first Swan) and since then has had extensive BBC and indie sector experience in making dance and opera films, including the first live 3D opera last year - Mike Figgis's Lucrezia Borgia at English National Opera.
Between the three, they addressed the three essential aspects involved in the Swan Lake 3D film, artistic, technical and commercial. And they were honest that it wasn't perfect. But they also know, honestly, that this is a very striking film. I began by asking Bourne what he felt about doing his second version in 3D, rather than 2D.
What we came out with was extraordinarily involving, in a new way. What 3D brought it was intimacy
Explore topics
Share this article
Subscribe to theartsdesk.com
Thank you for continuing to read our work on theartsdesk.com. For unlimited access to every article in its entirety, including our archive of more than 10,000 pieces, we're asking for £2.95 per month or £25 per year. We feel it's a very good deal, and hope you do too.
To take an annual subscription now simply click here.
And if you're looking for that extra gift for a friend or family member, why not treat them to a theartsdesk.com gift subscription?