Q&A Special: Choreographer & Ballet-Restorer Pierre Lacotte |

Dance reviews, news & interviews
Q&A Special: Choreographer & Ballet-Restorer Pierre Lacotte
How The Pharaoh's Daughter was raised from the dead by a world-renowned dance archaeologist
Saturday, 10 November 2012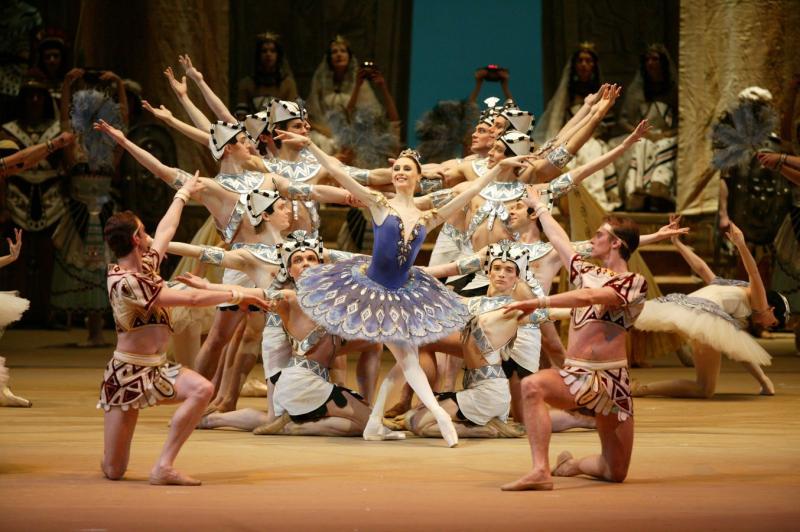 The mummy returns: Svetlana Zakharova and the Bolshoi in the rediscovered The Pharaoh's Daughter
On 25 November cinemas all over Britain and overseas will host a live relay from the Bolshoi Ballet of a rampantly OTT and enormously entertaining ballet set in ancient Egypt, The Pharaoh's Daughter. It has mummies coming to life, English tourists in timewarps, frenzied cobras, underwater ballets, jaunty tunes, and phalanxes of delectable archeresses. The original ballet premiered exactly 150 years ago, and what you'll see is a recreation of the fantastical, surreal exotica of the kind of theatre provided at the dawn of classical ballet. It is a sight that had been thought lost until 12 years ago; for it's not just the pharaoh's daughter who's coming to life in the story, the ballet itself is a bit of a mummy too.
As any archaeologist knows, digging up a sarcophagus is a nailbiting business. What are the chances that inside the shredded linen wrappings will lie a recognisable body with some scant flesh upon it? Enough to reconstruct the living person's age, state of health, status - perhaps even enough detail on the face to bring the dead features back to life and a guess at personality? Properly mummified, a human body can yield an extraordinary amount of living information after thousands of years. Ballets vanish far quicker.
Stop performing a ballet for a decade and a generation of dancers is lost who knew it. Stop performing it for 25 years, and a generation of audience and new leaders has hardly any idea it had existed. Even the most opulent, luxurious ballets of the masters are not invulnerable, as ballets have never adopted the written traditions of classical music and drama, where texts are set down on the record. And nowhere does this perishability more crucially affect the art of ballet than the fate of the works of its greatest master, the Frenchman who over half a century created the gold reserves of the 19th-century classical ballet artform from his position in the courts of the Tsars of Russia in St Petersburg - Marius Petipa.
The choreography we see has been handed across decades from one memory to another, with a rewrite here, a substitution there
We know Petipa (or think we do) from a very small number of familiar landmarks - The Sleeping Beauty, La Bayadère, Don Quixote, the brilliant court acts of Swan Lake, less familiar glimpses of Raymonda and Paquita. But the choreography we see in various productions has been handed across decades from one memory to another, with a bit of this and a bit of that, a wholesale rewrite here, a modern substitution there. Perhaps one sees two-thirds of the original text, if one's lucky; less than half of it is common enough. This is why Nutcrackers and Sleeping Beauties vary so much from company to company.
Not until the discovery only a dozen years ago that some aged volumes of code, stored in the Harvard Theatre Library in the US, actually held verbatim notations of two dozen of Petipa's ballets (notes made on his command) did the possibility surface of decoding, recreating, reconstructing his productions in their original style. Since then a new movement has arisen (amid considerable argument) to consolidate and fix the true Petipa choreography of the 19th century, and even to try to reclaim ballets thought lost, such as his first major ballet, The Pharaoh's Daughter.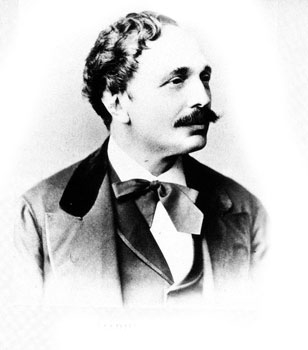 It was Petipa's choreographic debut in his adopted new homeland of Russia, in 1862 (left, young Petipa). Its colourful travelogue location and fast-footed romantic comedy made Petipa's name, and set a pattern that he cannily capitalised on with his next two smash-hit ballets, Don Quixote (the Spanish one) and La Bayadère (the Indian one). These two ballets made it through time to future eras, but not The Pharaoh's Daughter, which was thrown out with the trash when the Russian Revolution caused a swift revisionism across all cultural artefacts.
Being the maestro's wildly lauded opus 1, The Pharaoh's Daughter became the equivalent of a lost royal tomb in Luxor, the subject of curiosity as, late in the 20th century, the notion of doing some ballet archaeology started to become current.
Pierre Lacotte was a former Paris Opera Ballet star who had won himself the gratitude of balletomanes worldwide when in 1972 he recreated the first Romantic ballet, the original La Sylphide - not the one known to stages today by August Bournonville, but its predecessor by Filippo Taglioni, the ballet that introduced to the public the ethereal, floating figure of his daughter Marie Taglioni, a vision that became the icon of a whole cultural movement across the arts, from literature to opera.
He had found historical texts for that groundbreaking Sylphide in the Louvre Museum. In the late 1990s the news that the original ballet texts of Petipa had been found, stored in America, and were being decoded set alight a flare of curiosity about the possibility of retrieving dozens of St Petersburg's legendary balletic pageants.
While the Kirov Ballet hastened to clean up existing known ballets, The Sleeping Beauty and La Bayadère, the Bolshoi Ballet hatched the idea of retrieving Petipa's Egyptian fantasy-romance from the lost tombs of time - and they called on Pierre Lacotte. The result charmed the public and dancers alike, and has become, after its long oblivion, the most durable yet of all the reconstructions attempted.
Yet what is it that we see? The name on the credit is not Petipa's but Lacotte's. That curious fact betrays a fascinating story of the caution, honesty and daring creativity that ballet reconstruction entails. It is 40 years since Lacotte did his first reconstruction; since that beguiling Sylphide appeared from the darkness in 1972, he has disinterred - as faithfully as he believes possible - several works from that elusive first half of the 19th century when ballet was in high Romantic period. But as he explained to me when we met in Paris in 2004, the pitfalls are many when you go digging.
This year Lacotte turned 80, and the presence of The Pharaoh's Daughter in the Bolshoi Ballet repertoire this year as well as his similarly reconstructed Ondine at the Mariinsky Ballet are apt birthday tributes to the ingenuity with which he tackles trails into ballet's history, trails as convoluted as any journey to find a lost pharaoh's tomb.
Q&A with Pierre Lacotte starts on the next page
Stop performing a ballet for 25 years, and a generation of audience and dancers has hardly any idea it ever existed
Share this article
Subscribe to theartsdesk.com
Thank you for continuing to read our work on theartsdesk.com. For unlimited access to every article in its entirety, including our archive of more than 10,000 pieces, we're asking for £2.95 per month or £25 per year. We feel it's a very good deal, and hope you do too.
To take an annual subscription now simply click here.
And if you're looking for that extra gift for a friend or family member, why not treat them to a theartsdesk.com gift subscription?