The Blue God/ The Firebird, Les Saisons Russes du XXI Siècle, London Coliseum |

reviews, news & interviews
The Blue God/ The Firebird, Les Saisons Russes du XXI Siècle, London Coliseum
The Blue God/ The Firebird, Les Saisons Russes du XXI Siècle, London Coliseum
Russian Diaghilevfest kicks off with half-authentic homage to artistic fantasy
Ilze Liepa as the goddess in the Lotus Flower entwined with Nikolai Tsiskaridze's Blue God
Anyone who feels, as I do, that the Aesthetic Movement's "cult of beauty" now on display at the Victoria and Albert Museum can't compare with the fabulous Ballets Russes exhibition which went before it can dine again on a feast of Russian colour at the Coliseum. You'll eventually be rewarded, in this Kremlin Ballet-based company's first show, with the closest to the spirit of 1910 a recent London Firebird has ever come. Whether the choreography and the music for The Blue God have more than the loosest connection with Diaghilev is another matter.
The argument goes that Le dieu bleu, as it was known at its 1912 Paris premiere, quickly sank without trace because of the palely Massenet-ish score by French society darling Reynaldo Hahn. That might still be heard, if only as a period piece, whereas Fokine's choreography, by all accounts a pale shadow of his work on The Firebird, Scheherazade and Petrushka, has vanished. But Bakst's decor of blues and oranges for Cocteau's pseudo-Indian scenario, with its beetling gods carved out of blazing sandstone, undulating snakes and azure sky, and his predominantly white costumes for a pack of temple-wallahs (costume design for a pilgrim pictured below) were obviously worth resurrecting. So what did Andris Liepa's company do? Turned to a much more advanced figure on the musical scene of the 1910s than Hahn, Alexander Scriabin, whose music Diaghilev had featured in his first Paris concert series but whom he quickly came to detest, and saddled Wayne Eagling with the problem of providing dances for two vast, alternately developing and repeating symphonic movements.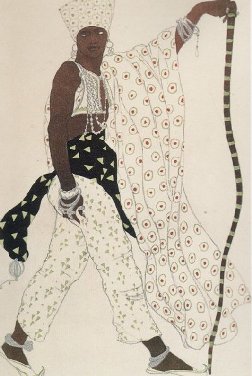 So the portentous first 20-plus minutes of Scriabin's Divine Poem, decently played by the full St Petersburg State Academic Symphony Orchestra under Alexander Titov, are allocated to parade before us Bakst's mixture-as-before of Persian and Indian fabrics. That's fine when Scriabin's second, lyrical thematic group is given to the three bayadères or temple maidens with peacocks on their shoulders, less helpful when the same music in the symphonic recap has to involve what little drama there is, between a temple initiate, his wicked master and the former girlfriend who tries to keep him from the order. All this was unfolded last night with a tentativeness and lack of focused panache unworthy of an international company. The Poem of Ecstasy, that solipsistic masterpiece which wasn't quite ready for Diaghilev's 1907 concerts, then makes a shimmering introduction to the goddess who emerges from a creaking lotus and our divine hero. Ilze Liepa and Nikolai Tsiskaridze don't have much to do beyond posturing, looking mysterious and/or gracious and imitating temple dance with elaborate arm movements. Fokine would have done that, too, and according to Cyril Beaumont his choreography for Nijinsky in 1912 was curiously flat; no doubt the static quality was dictated by the encumbrance of Krishna's crown.
Even so, we should have had the quaint monsters Fokine loved springing on his audiences, supposedly there to harass the mortal heroine before the gods come to save her. Here we got some tacky, laser-show Jabberwock undulating in the background - fitter companion for the temple steps as seemingly silver-giftwrapped by Paperchase than for the bits of Bakst that made it onto the stage. Silks, pattern-prints and headdresses were certainly worth a gape, though, and many of us would have been perfectly happy if we could instead have had a narrated mannequin parade on the set, complete with Hahn's music as pretty background. With much better lighting, preferably.
You couldn't take quite seriously the leaping smurfs and strutting gimps. But then perhaps we were never supposed to
There's more justification for a complete Firebird, and it was almost as much fun to see a ragged company going through Fokine's childlike routines as it has been to watch the far more polished Royal Ballet article over the decades. The gain for London here is to see some attempt at recreation of the original 1910 designs by fin-de-siècle Russian master Nikolay Golovin; the Firebird we know and love, graced by the much more avant-gardist Natalia Goncharova, was Diaghilev's 1926 replacement. And something was lost in that, above all the several layers of the original set - the captive princesses glide down and flee up a ramp behind ogre Kashchey's golden gates - and the final scene: hieratic in 1926 against Goncharova's onion-domed backcloth, highlight of the V&A exhibition, but much more in keeping here with the fairytale naivety of the rest as the warriors come to life from their stone imprisonment against the castle wall and the maidens greet them (pictured below) before honouring their chief prince and princess; a new, Orthodox palace finally rises where Kashchey's mushroomy phallic towers were before. Anna and Anatoly Nezhny had done sterling work on the recreation, though again the garish lighting threatened to wreck it.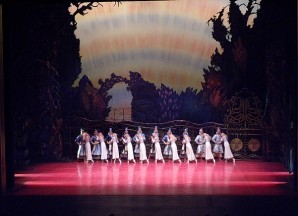 So by no means everything is authentic in this recreation. Karsavina originally danced in one of Bakst's elaborate creations, not the familiar flaming tutu sported by Alexandra Timofeyeva - a strong-featured but not especially otherworldly or birdlike creature. Ilya Kuznetsov kept the smiley, undaunted countenance of a picturebook Prince Ivan throughout, and the Khorovod with the princess of his dreams (Natalia Balakhnicheva) had much of its usual charm: a shame the other princesses couldn't always catch their golden apples and chucked them noisily into the wings. Goncharova's designs for the bellyboshkies and myrmidons of Kashchey's retinue were obviously an improvement; here you couldn't take quite seriously the leaping smurfs and strutting gimps. But then perhaps we were never supposed to; Stravinsky's infernal dance is far more explosive than the quaint routines Fokine gives his corps de ballet, though it's always good to see as well as hear how the music delineates the component groups.
Again, Titov drew mostly sturdy playing: the familiar Russian tone of Scriabin's trumpets yielded to the more kaleidoscopic palette of Stravinsky's farewell to the Russian fairytale. Shostakovich would have dubbed the orchestral performance mezzofortist, neither overwhelmingly powerful nor ever quiet enough - the aural equivalent to the evening's undernuanced dancing. And the slightly ramshackle circumstances surrounding the 180-strong visit were again very much à la Russe, with a long (Gaz)promotional preface from the rather charming Liepa, photographers clicking away during the Blue God's undulations and no programmes for the critics (buy your own, the rest of the audience might say, but £8 for a couple of extra facts? Nyet, spasibo). Expect a similar Slavic curate's egg throughout the other two programmes, but go with an uncritical, relaxed open mind and you'll find something to enjoy.
Ilze Liepa and Nikolai Tsiskaridze don't have much to do beyond posing, looking mysterious and/or gracious and imitating temple dance with elaborate arm movements
Share this article
Subscribe to theartsdesk.com
Thank you for continuing to read our work on theartsdesk.com. For unlimited access to every article in its entirety, including our archive of more than 10,000 pieces, we're asking for £2.95 per month or £25 per year. We feel it's a very good deal, and hope you do too.
To take an annual subscription now simply click here.
And if you're looking for that extra gift for a friend or family member, why not treat them to a theartsdesk.com gift subscription?