Artifact, Royal Ballet of Flanders, Sadler's Wells |

Dance reviews, news & interviews
Artifact, Royal Ballet of Flanders, Sadler's Wells
Cutting-edge Eighties ballet by William Forsythe is a fabulous offering of dance theatre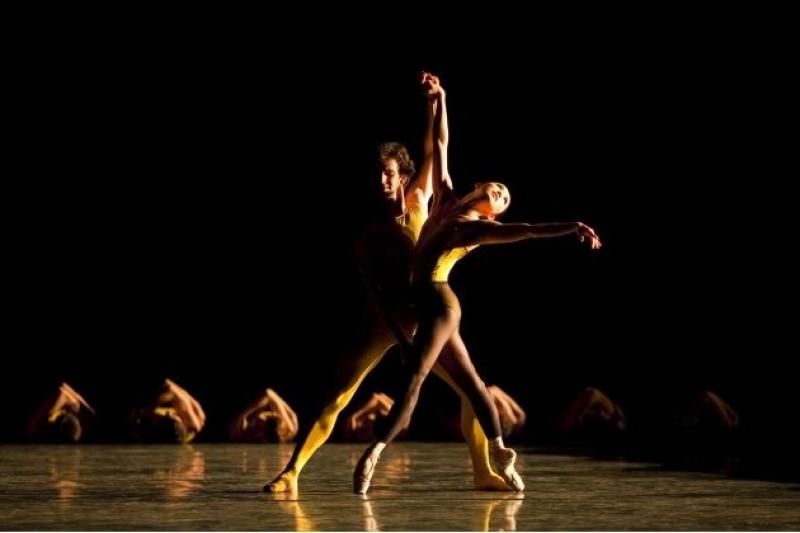 William Forsythe's Artifact: dazzling, maddening, engrossing
William Forsythe's position as the most articulate, fascinating, provocative ballet choreographer of the past 25 years is demonstrated by the Royal Ballet of Flanders' brief visit to Sadler's Wells for three nights with his epic, maddening, engrossing creation, Artifact. The cutting edge of theatre and ballet at its premiere in 1984, it is a four-act ballet, no less, that pays homage to the early court spectacles out of which ballet was born, and the superb physical elegance into which classical ballet then evolved.
I append below Forsythe's own explanation to me of what it's about, but in terms of what you see - Sadler's Wells strips back its stage to a black brick box, like a vacant warehouse waiting to be lit and filled, into which step three odd characters beamed in from past eras and a troupe of modern ballet dancers.
Two of them are speaking parts. The "Character in Historical Costume" is a woman out of her wits, or out of her own time period, or dreaming, urging herself (or us) to "step inside" again and again (pictured left, Kate Strong). A "Character with a Megaphone" is an old man who looks like a gardener, murmuring through his megaphone suggestive ideas for word association, rocks, sand, dust (pictured below, Nicholas Champion). "The Other Person" is a slinky dusty creature prowling barefooted through the action, who, if you are of a fanciful turn of mind, you might imagine to represent a primitive movement idea learning to be born. Or you might just think, to hell with all this clever-clever philosophising, shut up and dance.
However, that would be to miss much of the fun. "Welcome to what you think you see," says the regal lady at one point. Games are being played throughout, with Bach's Chaconne, which is constructed, reconstructed and deconstructed - for piano, for violin, chopped up, run backwards and overlapped - and with all sorts of tricks and ideas from balletic eras. Given that the huge corps de ballet are such a magisterial feature of the piece, you aren't shortchanged for the ballet itself either - no one that I've seen since can match Forsythe's Eighties ballets for voluptuous attack and strictness of form. I weep with joy just to see the rigour of it in these starved times.
In their dark second-skin leotards and semi-opaque tights they hit a perfect equilibrium between athleticism and sensuous expression. There's a sublimely simple ensemble built as if out of classroom exercises that suddenly recaptures the poetry of the 19th-century Kingdom of the Shades from the classical ballet La Bayadère, another that echoes a Balanchine Symphony in C finale, yet another that seems to hint at the inchoate militaristic terror of the Wilis' underworld in Giselle, in which The Other Person plays a haunting, perplexing part (pictured below, Eva Dewaele). I think the second part of the four, a ravishing ensemble for two couples and the corps de ballet - with the Chaconne now played in full by that most human of violinists, Nathan Milstein - may have to enter my list of Desert Island Dance.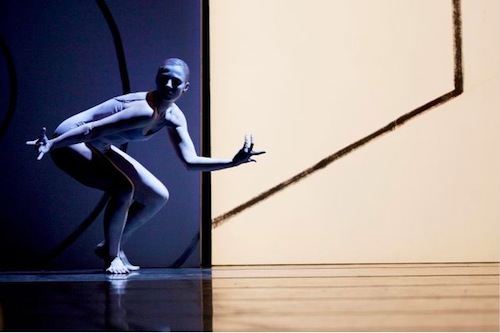 "Artifact" means a thing made of art, and this is precisely a ballet about ballet. So if you already love and know some ballet (and have a certain threshold of tolerance for a choreographer's theatrical idiosyncrasies) you may be gladdened, as I am, to see the amusing and often poignant homages Forsythe deploys, alighting swiftly on this or that reference in the library of ballet. If you don't know anything about ballet, you will be amazed by the luscious vigour of the choreography and the élan of the Royal Ballet of Flanders' performance. If you want to revel in the sheer sophistication of theatrical stagecraft, go and look at that visual space, that lighting, that barely perceptible trelliswork of spotlights rising out of the pit, meshing across the front of the softly muzzy air, the sharp ways that Forsythe drops the curtain mid-action, like an eyelid casting doubt on the view, or just saying, I'm tired, give me something else now.
The entire creative kudos for the show goes to Forsythe himself, as choreographer, director, writer, designer and lighting man, which demonstrates just what a good mind the man has. It's a piece that should claim classic status in the future, a landmark in its theatrical and balletic range. But apart from Forsythe's own now-dissolved Frankfurt Ballet, the Royal Ballet of Flanders have been one of only two other companies he's fully trusted with his work, directed by his former assistant Kathryn Bennetts. The passion and focused intent of last night's performance speaks highly of her abilities as she leaves this troupe this year, but it leaves also the question of just who will be there to keep a protean creation of modern ballet theatre like Artifact alive. Too challenging for the mainstream, but so much more alive than the mainstream.
Could English National Ballet take up Forsythe under its next director Tamara Rojo? Now there's a thought.
In October 2001 I visited Ballett Frankfurt's base in the Oper Frankfurt, on the north bank of the Main river, to find out from Forsythe about the two full-length ballet productions he was about to show in London, Artifact and Eidos: Telos. I asked him what Artifact was.
Forsythe drops the curtain mid-action, like an eyelid casting doubt on the view, or just saying, I'm tired, give me something else now
Share this article
Subscribe to theartsdesk.com
Thank you for continuing to read our work on theartsdesk.com. For unlimited access to every article in its entirety, including our archive of more than 10,000 pieces, we're asking for £2.95 per month or £25 per year. We feel it's a very good deal, and hope you do too.
To take an annual subscription now simply click here.
And if you're looking for that extra gift for a friend or family member, why not treat them to a theartsdesk.com gift subscription?