Sadler's Wells Theatre, 2012 Season |

Dance reviews, news & interviews
Sadler's Wells Theatre, 2012 Season
Updated listings for London's dance theatre in the Olympic season
Wednesday, 11 January 2012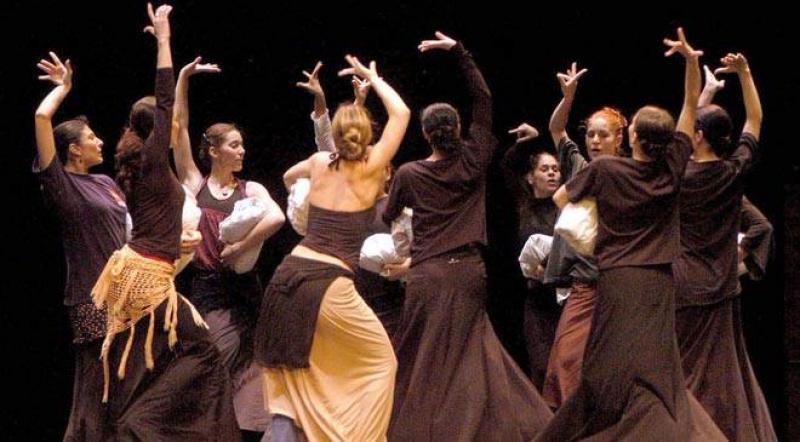 People protest: Antonio Gades's flamenco version of 'Fuenteovejuna' (14-16 February)
Who would imagine that the search for new dance audiences would result in a cascade of fairy tales and dramas at Sadler's Wells, the focus for hip eyes on culture? But it is so - The Sleeping Beauty, Snow White and a Hans Christian Andersen folk tale all appear this year (following dear old Nutcracker over the Christmas period), though in radical new versions. Matthew Bourne has been commissioned to produce a new Sleeping Beauty for winter 2012, in the line of his previous classic rewrites Swan Lake, Cinderella and Nutcracker!. The Pet Shop Boys/Javier de Frutos creation based on Andersen's folk tale The Most Incredible Thing comes back for a new run, and radical French choreographer Angelin Preljocaj shows his new Snow White. Another familiar tale, A Streetcar Named Desire, receives balletic treatment by Scottish Ballet.
Bourne and the late Pina Bausch will be given Olympic-profile celebrations in a year when the venue hopes to conceal reduced circumstances with style as the world's eyes focus on London. The hugely popular Bourne marks the 25th anniversary year of his company, New Adventures, with two other evenings this year featuring revivals of key earlier works including the innovative Play Without Words, Spitfire and Town and Country.
The ambitious staging of 10 of Bausch's dance-theatre productions in partnership with the Barbican Centre is the other major event in a season that also presents a slim programme of new work, by Russell Maliphant, Rambert's Mark Baldwin, Richard Alston, an evening of new male ballet directed by Ivan Putrov, and an intriguing east-London rewrite of a Bollywood-style musical.
Akram Khan's superb solo show DESH returns (though the spring showing is cancelled due to his injury), and there are also repeat viewings for Sadler's Wells associate artists Wayne McGregor and the BalletBoyz. Back to the UK come public favourites Nederlands Dans Theater 2 (the youth wing of the venerable Dutch contemporary company) and Danza Contemporanea de Cuba, buttressed by the international participants expected to join those popular annual gatherings, Breakin' Convention and the London Flamenco Festival.
Sadler's Wells reports that its audience has doubled since 2004 - in the 2010-11 season more than 700,000 people bought tickets for 899 performances of 91 productions in the Sadler's Wells operation, which includes the Lilian Baylis Studio and the Peacock Theatre, Kingsway.


SPRING 2012
27-29 January, 2012, Sadler's Wells: ballet star Ivan Putrov stages a mixed bill about male dancing, Men in Motion, also featuring the Royal Ballet's Sergei Polunin (Putrov pictured left © Sam Taylor-Wood).

31 January-19 February, Peacock Theatre: UMOJA brings together 30 young singers, dancers, drummers and musicians for a celebration of South African song and dance.

7-19 February, Sadler's Wells: The annual Flamenco Festival London will feature artists including Latin Grammy Award-winning Vicente Amigo, gypsy flamenco dancer Manuela Carrasco and the great Rafael Amargo, and includes commemoration of Federico Garcia Lorca's death 75 years ago.
7 February: Flamenco guitarist Vicente Amigo in Paseo de Gracia.
8 & 9 February: gypsy dancer Manuela Carrasco presents her show Suspiro Flamenco.
10 February: Olga Pericet Company presents Rosa, Metal, Ceniza (Rose, Metal, Ash).
11 & 12 February: Flamenco gala, Bailando a Lorca (Dancing to Lorca) commemorating the 75th anniversary of the writer and flamenco supporter Federico Farcia Lorca's death, with a cast of flamenco stars headed by Rafaela Carrasco.
13 February: Guitarist Gerardo Núñez, known for cross-cultural collaborations, is joined in Travesía by dancer Carmen Cortés.
14-16 February: Antonio Gades Company's celebrated folk-dance-drama interpretation of Lope de Vega's Fuenteovejuna (see main picture).

17 & 18 February: Dancer Rafael Amargo performs Poet in New York, based on a poem by Federico García Lorca with 1930s-inspired video and imagery.
19 February: Flamenco cantor José Mercé returns to Sadler's Wells for the first time since 2003 with a programme of hits from half a million albums.

2 & 3 February, Sadler's Wells: Triple bill in the British Dance Edition, the biannual showcase of the best of British dance, of Wayne McGregor's Random Dance, Candoco Dance Company and Hofesh Shechter Company performing FAR, Trisha Brown's Set and Reset/Reset restaged for Candoco, and Shechter's The Art of Not Looking Back.
5 February, Sadler's Wells: As part of British Dance Edition, Russell Maliphant presents his new dance piece, The Rodin Project, inspired by the works of the French sculptor, Auguste Rodin.
February, Sadler's Wells: Akram Khan's 2011 solo work, DESH, postponed due to injury. See October.

29 February-1 March, Sadler's Wells: Richard Alston Dance Company performs a mixed programme with a new work danced to Benjamin Britten's maste