American Ballet Theatre, Prog 2, Sadler's Wells |

Dance reviews, news & interviews
American Ballet Theatre, Prog 2, Sadler's Wells
What a difference a change of programme makes
Wednesday, 02 February 2011
The corps in 'Theme and Variations'
Jardin aux Lilas is one of ABT's great calling cards, and it was danced with great seriousness of purpose and devotion by an admirably schooled cast. This short ballet, to "Poème" by Chausson (admirably played by a pick-up orchestra), is one of psychology rather than action. In an Edwardian garden, Caroline (the distinguished Julie Kent, as youthful as when she joined the company 25 years ago), is about to marry a man she doesn't love. She has a brief meeting with the man she does love (Cory Stearns, well cast); in turn, her fiancé, a stuffed shirt, is approached by his now-discarded mistress. A certain amount of brow-clutching takes place (pictured below, a fine double brow-clutch from the ballet), and then society goes on as society has always gone on, Caroline leaves to marry as planned the next day, and the man she loves remains behind, alone.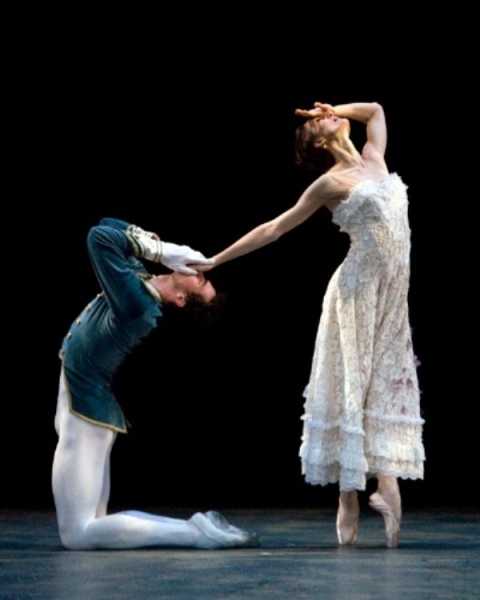 Jardin is Janus-faced: it is at one and the same time terribly moving and a work of complete hokum. The choreography is restrained, verging on inhibited: low lifts, small steps, all movement above the knee frozen, except for the unexpected deep backbends, which therefore become startling. The set, by Peter Cazalet, is delicately restrained in an indigo range of tones. (The lighting, uncredited, is also potent.) Yet the scenario could come from any barnstorming melodrama of the previous century.
The characters both embody Tudor's desire for psychological truth, and are cartoonishly delineated: the discarded mistress is clearly going to come to a bad end, as she wears a purple feather in her hair; the fiancé – in stock melodrama style, credited as The Man She Must Marry – is just as obviously incapable of understanding his beautiful Caroline because he is wearing a frock coat when all the other men are in dashing Ruritanian uniforms. And so on. Yet the magic works, the spell is not broken, and when the curtain falls, the audience barely breathes.
Theme and Variations (main picture, above) suffered from an underpowered principal pairing: Gillian Murphy and David Hallberg both underwhelmed. Neither appears to have any ability to listen to the music, which is playing, after all, for a reason, and thus they have no ability to be moved (literally and figuratively) by it. Both, too, are a little stolid, a little slow, and Murphy in particular blurs her steps when she moves at speed.
Xiomara Reyes showed similar problems in the show-stopper that is the Tchaikovsky Pas de Deux: unmusical (almost anti-musical), she fails to shape a phrase, and so, as Balanchine and Tchaikovsky ratchet up the tempo, she is left gallantly coming up from behind, not really the position you want to be in. She also has the great (mis-)fortune to be dancing with Herman Cornejo, a dazzling technician, and a fine musical presence to boot (not a pairing one sees very often): fortune because she was carried along in his wake; misfortune because she could only look lesser. Cornejo is an astonishing virtuoso, performing leaps of great height and complexity, and yet maintaining a crystalline clarity. But that's not what makes him a great dancer. What makes him a great dancer is his legato, singing line, his ability to take a step, then a series of steps, and bend and shape them to the tempo of the music, to create a breathless space where movement and sound are fused.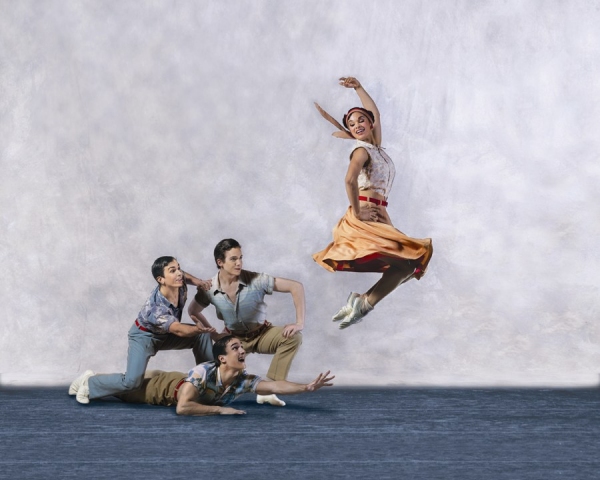 And that, too, is what Paul Taylor has done in his 1991 piece, Company B (pictured left), which ABT has been performing for a couple of years now. It suits them wonderfully well, and they triumph in it. On paper, a piece to the World War Two songs of the Andrews Sisters is a feel-good, leave-'em-stamping-in-the-aisles finale. But Taylor, that great contrarian, is not willing to do something that obvious. Instead, a series of nine peppy songs brings us all the fun and can-do-ness of the Forties. They also, without remotely hammering home the point, tells us that these cheerful children are going off to die.
Nothing is straightforward in this piece. It opens with the dancers in shadow, a white space with black shapes moving gently across, hips swinging slightly to the rhythm, but nothing more. Then the lights come up, and in Santo Loquasto's autumn-khaki palette, the company takes off. Roddy Doble and Marian Butler do a vivid "Pennsylvania Polka