War and Peace, Theatre Royal, Glasgow |

Classical music reviews, news & interviews
War and Peace, Theatre Royal, Glasgow
Students champion Prokofiev's first version of his great Tolstoyan epic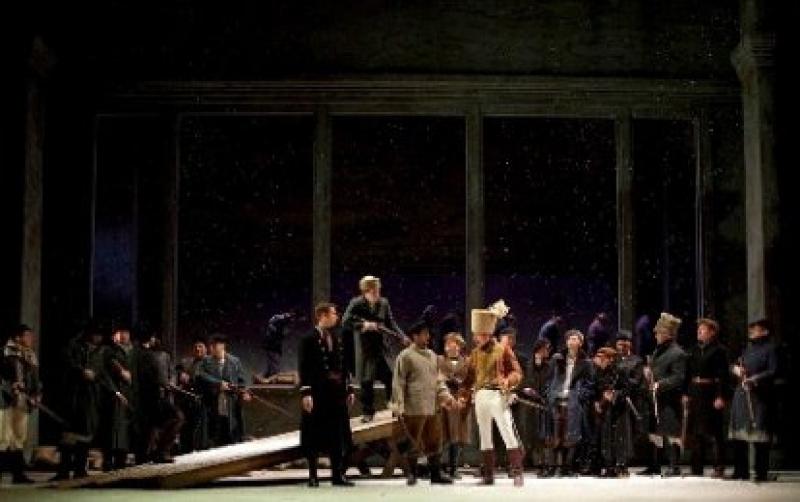 A direct victory: music students present a revelatory first version of Prokofiev's masterpiece
Two hundred costumes, over 60 solo roles and the world premiere of a great operatic composer's first thoughts: it's a task which would daunt the best-resourced opera company in the world. The fact that Prokofiev's initial, 11-scene meditation on Tolstoy's War and Peace was launched last night by students with slow-burn but ultimately total confidence, an orchestral collaboration with established professionals and a fusion of production with design at the very highest level could only send us out in to the streets of Glasgow echoing the Russian soldiers' final cries of "Ura!"
The most burning question which only the end of a by no means overlong evening could answer had to be, does this initial version work? Have the labours of the Royal Scottish Academy of Music and Drama's Dr Rita McAllister, doyenne of Prokofiev studies, to guess imaginatively at Prokofiev's full scoring for several hundred bars and to make several crucial decisions on reconstruction been rewarded? Was it worth the RSAMD's time assembling the resources to mount a co-production with the Rostov State Rachmaninov Conservatoire and to spend six weeks of intensive rehearsal with experienced director Irina Brown?
Let me stall with a Tolstoyan digression on musical history. Prokofiev was clearly fired up to his first selective take on the most problematic adaptation of a novel in operatic history. Germany's surprise invasion of Russia as the background to his own love for a woman half his age - paralleled by Tolstoy's marriage and the novel's key relationship between the world-weary Prince Andrey Bolkonsky and the teenage Natasha Rostova - gave wings to his work in the early 1940s. Six scenes of a very troubled peace, in the shape of the impetuous Natasha's near-destruction by insidious forces during her fiancé's absence, gave way to five tableaux of war-torn Russia in 1812. These were the major sticking point with Soviet committees in 1942-3: they needed to be ballasted with a very unTolstoyan view of the Russian people as the linchpin of the first Great Patriotic War.
It's a misconception, however, that Prokofiev merely glorified the masses and wrote only compromised music in his two later scenes and his numerous additions and deletions throughout the later stages of work on the opera. Inevitably the urtext does not embrace some of his finest, if most Tchaikovskyan inspirations. Glasgow spectators not already familiar with Tolstoy's novel would have missed the character set-ups of the New Year's Eve ball at which Cinderella-Natasha properly meets her prince and the great melody of General Kutuzov's aria in the last scene to be added, the war council at Fili.  What they gained was a dramatic urgency and shape which recent Mariinsky, Bastille and English National Opera productions have all had to curtail and hack about in the interests of accommodating the expanded baggy monster in a single evening.
For us Prokofiev lovers, there are revelations in the original. The already well-Sovietised view of war features some sharper-edged peasant banter in the scene before Borodino, offset by a painful musical depiction of the French army's slow death by winter march on the retreat from Moscow. Something was certainly lost In its later replacement by an effective cinematic snowstorm and showbiz-like partisans' victory. For these original insights alone I'd have reckoned my trip to Glasgow worthwhile.
But the RSAMD's hard work made it a fine achievement by any standards. The moment when a production flames into life after a tentative start is hard to pinpoint, but it was keenly sensed last night. Full engagement was slow to kindle, after a potpourri-overture cleverly accompanying 1941 cinemagoers watching newsreels of the German invasion unfold; Brown established the historical parallels even more decisively than Tim Albery in his ENO production, which had begun with the blast of the massive choral epigraph (another, relatively early addition). At first, Michel de Souza's handsomely sung Andrey seemed too one-dimensional to register a mature change of heart, the bit parts a little too stiff in their difficult speech-melodic conversation - trying to get the Russian right, having to keep an eye on the conductor - to reach the heart of Prokofiev's instant character-sketches.
Maria Kozlova's Natasha (pictured right; photo by Ken Dundas), though, set exactly the right note of youthful vivacity, vividly developing into adolescent turmoil and with the high-lying passages easily and flexibly delivered - though there's time for the voice to bloom still further.
It's tricky, too, for young students to master an easy stage presence for the opera's many oldsters, though Rebecca Afonwy-Jones proved outstanding in Russian diction and characterisation as the redoubtable Madame Akhrossimova, at her wits' end with her would-be-absconding charge Natasha. Here the perfect balance between the two singers showed the communication of Prokofiev's truthful one-to-ones at its edge-of-seat best.
Some of the casting could not hope to run true to the ideal physiognomy of Tolstoy's rounded human beings. Sergey Mankovsky made a rather plump seducer, not without the vocal wit for Prokofiev's brilliant delineation of the self-satisfied Anatol, and might have been a more appropriate Pierre Bezukhov than tall, handsome Dmitry Ivanchey. Neither, though, could hope to have developed the right heroic-tenor ring at their age; that strength comes later. Still, Ivanchev warmed to the desperation of Pierre the would-be assassin