theartsdesk Q&A: Conductor Ilan Volkov |

reviews, news & interviews
theartsdesk Q&A: Conductor Ilan Volkov
theartsdesk Q&A: Conductor Ilan Volkov
The conductor on his career, contemporary music and coughing during concerts
Shaken and stirred: Ilan Volkov is a musical contrarian on a mission to shake the foundations of classical music
Relentlessly energetic, opinionated, and never less than passionate about music-making, Ilan Volkov is a close as you get to a prodigy in the world of conducting. Appointed as Young Conductor in association with the Northern Sinfonia at just 19, at 28 Volkov became the youngest ever chief conductor of a BBC orchestra, and almost 10 years later still continues his relationship with the BBC Scottish Symphony Orchestra as their Principal Guest Conductor. Most recently appointed as Music Director and Chief Conductor of the Iceland Symphony Orchestra, and with a growing schedule of international appearances both in the concert hall and opera house, Volkov may be entering the mainstream hierarchy of conductors, but is far from abandoning those progressive, contrarian instincts that have defined his work to date.
It's typical of Volkov that one of the projects closest to his heart is the tiny alternative classical venue Levontin 7 that he has set up in Tel Aviv with two friends. Comprising just "a basement and a bar", it has become both a laboratory and an incubator for the kind of experimental performance scenarios and programming the conductor is increasingly championing in his work with orchestras. The latest fruit of these experiments is the Tectonics Festival Volkov debuted in Reykjavik this spring, and which will continue as an annual event not only in Iceland but in Glasgow and ultimately internationally, as Volkov builds new partnerships with cities and their orchestras.
It's not my job to help listeners, it's to show them what's out there
As befits the conductor who once confessed that he'd like to spend the next 20 years doing only pieces that are new to him, Tectonics perches at the extreme edge of classical concert-hall repertoire. Focusing on the experimental music of the past half-century, Volkov's programmes champion the orchestral repertoire of composers such as John Cage who are best known to a tiny minority of specialists for a tiny proportion of their smaller works. In each city it visits Tectonics also takes on a distinctively local colour, celebrating the work of national composers, particularly living ones, and involving young musicians and smaller ensemble projects alongside large-scale events.
Taking a night off from conducting, Volkov appears next week at King's Place both as violinist with his improvising trio Mines, and also as curator of an evening of new music that will include works by Morton Feldman and Christian Wolff, as well as fellow performers John Tilbury and Volkov's own partner Maya Dunietz. It's a bold and irreverent approach to programming typical of the conductor, and one that increasingly spills over into his orchestral work. Volkov talks to theartsdesk about this love of experimental music, his inner geek, and why coughing during concerts can be a good thing.
ALEXANDRA COGHLAN: Your new festival is called Tectonics – a name with some quite violent, destructive resonances. Was that intentional?
ILAN VOLKOV: I think we need to be a bit destructive in our thinking about the orchestra as a musical structure in order to renew it. An earthquake is not only destructive, it's a force for renewal and change, a radical shift that happens both across large spans of time and in a moment. I'm interested in new art-forms, the most radical artists. It's interesting for me to work with people who are changing the scene. We're taking a trip with this festival that refuses to accept the basic ground rules of classical music; it's about the clash between the old world and the new world, and how an orchestra which is a very beautiful, old-fashioned organisation and machine that still has so much to offer, can develop.
Do you think Iceland as a nation and the Iceland Symphony Orchestra are particularly receptive to these innovations?
This is an amazing moment in the history of Iceland because of the huge difficulties they are experiencing. They had an earthquake, not physically, but the whole country was jolted, and they are now rethinking everything. They are criticising themselves, and thinking about why the crash happened, so this is a really interesting moment to make art that is addressing those same questions, that is rethinking why we do things, how we deal with notation, instruments, and even the body of the performer.
The festival places a lot of emphasis on local Icelandic performers and composers, as well as young musicians. What role do they play within Tectonics?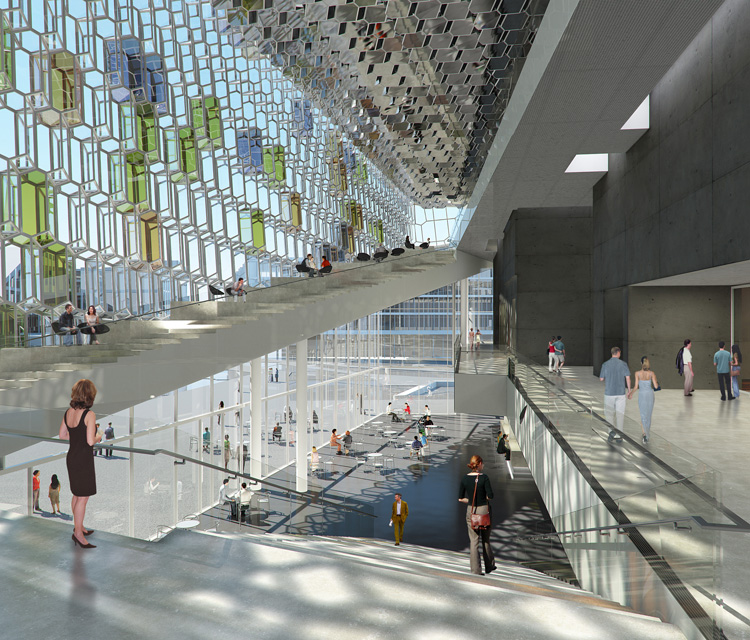 The ISO have this incredible new home, the Harpa concert hall, but if they don't invite people in then they will never come. For me it's very important that the orchestra understand that they have a responsibility, not only in the youth projects that they do, but also to local composers and young people who are not directly involved in classical performance. If you play music on the streets you don't have any responsibility to anyone, you just have to survive, but if you have a home like Harpa (pictured above right) then you have to share it; you have to give it away. Why should people care about what we do here if we don't include them, if we don't talk to them, explain to them? For me using local artists is a hugely important part of the festival. There is talent here enough, so why should I waste so much money on flights to bring in artists from outside, when I could use it to commission new works here? That's the same attitude I will have in Glasgow, and wherever this festival will find partners. Depending on which orchestras or ensembles I work with the festival could be huge or very small, but it must always be challenging and interesting. I'm not just interested in grandiose projects like this with three or four concert halls and hundreds of performers.
Subscribe to theartsdesk.com
Thank you for continuing to read our work on theartsdesk.com. For unlimited access to every article in its entirety, including our archive of more than 10,000 pieces, we're asking for £2.95 per month or £25 per year. We feel it's a very good deal, and hope you do too.
To take an annual subscription now simply click here.
And if you're looking for that extra gift for a friend or family member, why not treat them to a theartsdesk.com gift subscription?