Best of 2012: Top 12 Classical CDs |

Classical music reviews, news & interviews
Best of 2012: Top 12 Classical CDs
Debussy or didgeridu? We recommend the year's finest releases
Saturday, 15 December 2012
Debussy: Préludes, Trois Nocturnes Prélude à l'après-midi d'une faune Alexei Lubimov (with Alexei Zuev) (ECM)
Alexei Lubimov's handsomely recorded Debussy Préludes are persuasively played, making these elusive pieces far more than picturesque miniatures. Even better are the arrangements for two pianos of Debussy's Trois Nocturnes and Prélude à l'après-midi d'une faune, where Lubimov is joined by Alexei Zuev. Both so good that you forget the better-known orchestral versions. Lubimov plays a pair of restored vintage pianos made by Steinway and Bechstein; Debussy apparently preferring their sound to the lighter, translucent timbre of French instruments.
Lutosławski: Orchestral Works II Louis Lortie, BBC SO/Gardner (Chandos)
Chandos's ongoing Lutosławski discs have been consistently enthralling. Edward Gardner and the BBC SO let us wallow in the rapturous, lucid orchestral timbres conjured up by this most fastidious of composers, as well as highlighting their steely compositional rigour. Anyone who thinks that the symphony is dead should investigate Lutosławski's compact Symphony no 4. 22 eventful minutes which look fondly back over the 20th century while always sounding fiercely contemporary. Like Sibelius's 7th, it's a brilliant late work. Louis Lortie plays the composer's compelling Piano Concerto and there's also the pre-WW2 orchestral Symphonic Variations.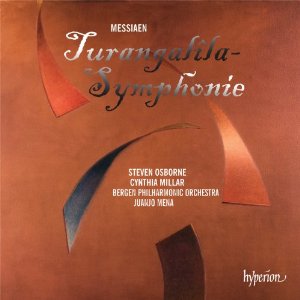 Messiaen: Turangalîla-Symphonie Steven Osborne (piano), Cynthia Millar (ondes martenot), Bergen Philharmonic Orchestra/Juanjo Mena (Hyperion)
Possibly the best recording of this sprawling, joyous work available – brilliantly played and with wonderful soloists. Cynthia Millar's ondes Martenot swoops and swoons as you'd hope, but Hyperion's engineering also lets us hear the startling flatulent rasps that this peculiar electronic instrument emits in its lowest register. Steven Osborne's terrifying piano obbligato is as good as you'd hope. But most credit is owed to Juanjo Menha's fearless Bergen Philharmonic, who nail Messiaen's style to perfection. It's all here – love, death, pathos, humour. The riper chord progressions could have been doodled by Gershwin. Other passages sound like the noodlings of a cocktail bar pianist. And the whole is so, so convincing – a uniquely optimistic, bold musical statement that, in a performance as good as this one, will convince you that the world isn't such a bad place after all.
Tchaikovsky: Symphonies 4 and 5 London Philharmonic Orchestra/Vladimir Jurowski (LPO)
A recent arrival; stunning, well-engineered live performances of two over-played, under-appreciated works. Both sound freshly minted here, conjuring up memories of scratchy, fiery Mravinsky recordings from the Cold War era. Vladimir Jurowski's London Philharmonic Orchestra play as if possessed – strings making a dark, husky sound with winds and brass alternately shrill and seductive. Listen to the oboe solo in the slow movement of the Fourth, and the way in which Jurowski tears into the Finale. Tchaikosvky's Fifth emerges as the weaker, baggier piece, though Jurowski does wonderful things with the work. There's a sense of menace in the first movement's trudging 6/8 rhythms, and the symphony's big horn solo will melt the coldest of hearts.
Share this article
We at The Arts Desk hope that you have been enjoying our coverage of the arts. If you like what you're reading, do please consider making a donation. A contribution from you will help us to continue providing the high-quality arts writing that won us the Best Specialist Journalism Website award at the 2012 Online Media Awards. To make a one-off contribution click Donate or to set up a regular standing order click Subscribe.
With thanks and best wishes from all at The Arts Desk