Vermeer's Women: Secrets and Silence, Fitzwilliam Museum, Cambridge |

reviews, news & interviews
Vermeer's Women: Secrets and Silence, Fitzwilliam Museum, Cambridge
Vermeer's Women: Secrets and Silence, Fitzwilliam Museum, Cambridge
An unmissable exhibition that will haunt and enchant, delight and seduce in abundance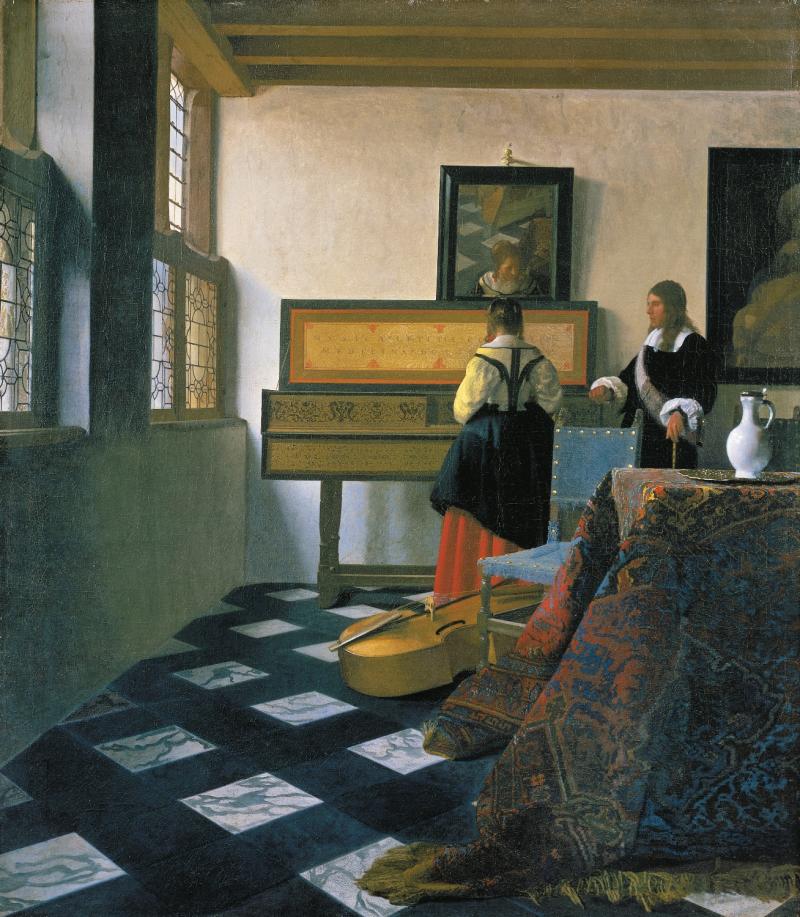 Vermeer's 'The Music Lesson', 1662-3
The home, and women's place within it, gained considerable importance for artists of the Dutch Golden Age. Artists such as Johannes Vermeer, Pieter de Hooch, Nicholaes Maes and Gerrit Dou are among those who placed women at the centre of the well-ordered domestic realm. They featured as servants and mistresses, nursing mothers and coquettish girls, or as serious young women dedicated to the pursuits of home-making and suitable leisure.
After years of conflict and uncertainty, the Dutch Republic emerged in 1648 and the home, the retreat of the newly powerful middle class, seemed naturally to become the symbol for stability and safety. The nation's prosperity was reflected there.
In this serene and cosseting vision of the home, Vermeer's Women: Secrets and Silence gives a starring role to the self-contained and reflective young women painted by Vermeer. Yet only four of his paintings are featured (only 34 paintings in total are known to be by him). Three of the featured paintings show women at a virginal, the fourth intricately weaving lace. At just 23.9 x 20.5 cm, The Lacemaker, c1670 (gallery image 14), is tiny and jewel-like, and it's definitely something of a coup for the Fitzwilliam to receive it on loan from the Louvre, since it's the first time the painting has visited the UK.
I'd suggest that the scene may well depict a grieving mother and her deceased child
The young woman in The Lacemaker, so neatly dressed and coiffured, possesses an air of impenetrable concentration. Her eyes and head are lowered as her fingers carefully work the thread with her coloured bobbins. It's a very spare and simple scene, softly delineated, with the foreground objects and the subject's face a little out of focus. This was a technique Vermeer used to draw us further into the picture, though the perspective is already very shallow, which further enforces the quiet sense of intimacy. Yet the scene is also painted with a high degree of detail, mirroring the woman's intricate, detailed work.
An earlier Vermeer, The Music Lesson, c1662-3 (main picture), is, with its grand and expansive setting, a rather different painting. Composed of ridged geometries, it is far more sharply focused. The checked black-and-white floor leads us to the two figures at the end of the room: a woman with her back to us playing her virginal and a man accompanying her, perhaps singing. Placed just above her head is a mirror, and we note with surprise that the young woman's reflection shows that her face is turned to the side, towards her apparent suitor. Meanwhile, a trailing rug, a chair and a viola da gamba all line up to form a partial barrier between us and these harmonious two. On this occasion no intimacy is invited between viewer and subject, because an intimacy is being forged between the two in the picture to which an audience may not be privy.
The Vermeers are captivating, yet there are 14 other artists in this glorious and beguiling exhibition. Many are equally striking and capture a variety of different moods. De Hooch's courtyard paintings (pictured right: The Courtyard of a House in Delft, 1658) convey a sense of tranquility and order in their modest domestic settings, making them feel safe and reassuring. Dou's rather theatrical settings are, by contrast, filled with luxurious detail and are boldly sensual. Unlike Vermeer's young woman at her virginal, Dou's young woman in his elaborate Woman at her Toilet, 1667 (gallery image 6), daringly catches our eye in the mirror as she bends her head to fasten an earring, as if to extend an invitation to come hither.
The theme of flirtation is taken up in Maes's The Eavesdropper, 1655-6 (gallery image 7), with its conspiratorial servant drawing attention to the unsuspecting lovers in the adjoining room. Amused, she holds a finger to her lips: it is both pointing in the lovers' direction and issuing an instruction to keep quiet. Whatever the internal dramas acted out in each of these paintings, they are infused with an air of silence and secrecy.
Undoubtedly, one of the strangest, most enigmatic paintings to which I felt particularly drawn was Jacobus Vrel's Woman at a Window, Waving at a Girl, c1650 (gallery image 12). Here a woman with her back to us is perched on the edge of a precariously balanced chair. Her head is covered and her right hand - the only flesh revealed - touches the window pane towards which she is eagerly leaning. On the other side, rising somewhat spectrally in the darkness, is the face of a very young child (the glass is pitch-black). The woman is reaching out, but the child remains untouchable.
What is the relationship between the woman and child, and just what is this perplexing picture saying? We know almost nothing of the identity of this artist - he may have been an amateur - so we find no clues there. Yet the picture undeniably engenders a sense of unease; you may even imagine that there's something decidedly supernatural about it. I'd tentatively suggest that the scene may well depict a grieving mother and her deceased child.
This unmissable exhibition - certainly my highlight of the year so far - invites you to many quiet spaces, varied in mood and tone. These are paintings that will haunt and enchant you, and delight and seduce in abundance, long after you've paid your visit.
Click on the images to enlarge
[bg|/ART/Fisun_Guner/VermeersWomen]
1. Johannes Vermeer, Young Woman Seated at her Virginal, c1670, New York private collection
2. Esaias Boursse, Woman at a Spinning Wheel, 1661, Rijksmuseum, Amsterdam
3. Pieter de Hooch, The Courtyard of a House in Delft, 1658, National Gallery, London
4. Gerard ter Borch, Woman Sewing by a Candle, c1656, Royal Picture Gallery, The Hague
5. Quiringh van Brekelenkam, Confidential Conversation, 1661, Rijksmuseum, Amsterdam,
6. Gerrit Dou, Woman at her Toilet, 1667, Museum Boijimans van Beuningen, Rotterdam
7. Nicolaes Maes, The Eavesdropper, c1655-6, Apsley House, London
8. Johannes Vermeer, A Young Woman Seated at a Virginal, c1670, National Gallery, London
9. Gerard ter Borch, Woman Reading a Letter, 1665, Sinebrychoff Museum, Helsinki
10. Gerrit Dou, Woman at a Window, 1663, Fitzwilliam Museum, Cambridge
11. Jan Steen, Woman at her Toilet, c1661-5, Rijksmuseum, Amsterdam
12. Jacobus Vrel, Woman at a Window, Waving at a Girl, Fondation Custodia, Paris
13. Gerard ter Borch, Woman Washing her Hands, c1665, Staatliche Kunstammlungen, Dresden
14. Johannes Vermeer, The Lacemaker, c1670, Musée du Louvre
The young woman in The Lacemaker, so neatly dressed and coiffured, possesses an air of impenetrable concentration
Explore topics
Share this article