The Miniaturist, BBC One review - a lovely supernatural soap |

reviews, news & interviews
The Miniaturist, BBC One review - a lovely supernatural soap
The Miniaturist, BBC One review - a lovely supernatural soap
Jessie Burton's novel is ravishingly visualised with 21st century highlights
Thursday, 28 December 2017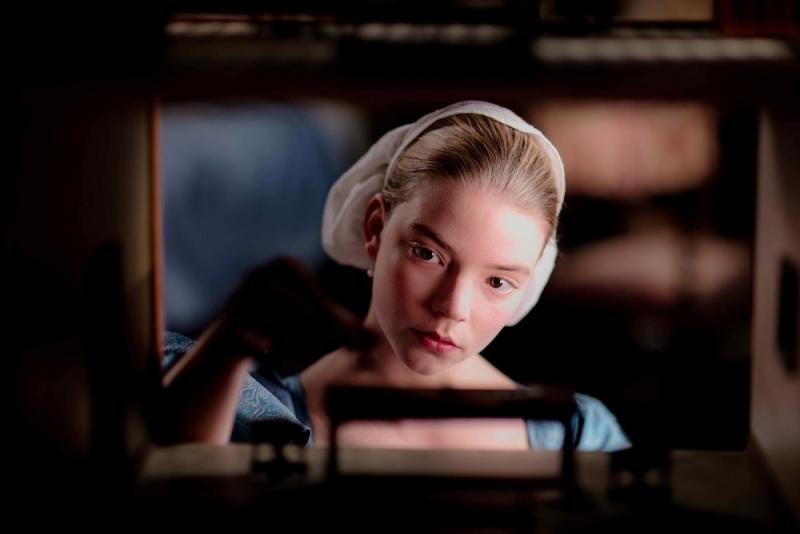 Convincingly Dutch: Anya Taylor-Joy in 'The Miniaturist'
Simon Schama called the Netherlands' century of success an "embarrassment of riches". The thrust of Jessie Burton's lavishly hyped debut novel The Miniaturist is that the Dutch felt guilty about their good fortune, and denied themselves the right to enjoy sugar, spice, and all things nice. The money went on surface things, on finery and furniture.
The splendid look of a conflicted culture was beautifully reproduced in
BBC One's
adaptation
.
The miniaturist of the title supplies the newly married Nella Oortman with delicately realised figurines and ornaments to decorate a cabinet-sized copy of her new home. The task of the drama's designers was to do much the same: to visualise an exact replica of the Amsterdam household which the book conjured up in words. The interiors and costumes were a ravishing homage to Vermeer and Rembrandt, in checked monochrome floors, and explosions of colour in Nella's wardrobe and the black-clad parade of citizenry. The production design was by Taff Batley, the costume designs were by Joanna Eatwell, and the cinematographer was Gavin Finney. Inspired by the real Petronella Oortman's doll's house in the Rijksmuseum, they must have gone to work walking on air. To look at, this was a major achievement.
Whether the novel was faithfully realised as a drama is a separate question. Like, presumably, a majority of viewers I am at the disadvantage of not having read Burton's book, but the success of such a venture cannot be measured merely in how little it offends the sensibilities of devotees. The story puts 17th-century Calvinism on trial in a 21st-century court. Nella (Anya Taylor-Joy) arrives as a chattel bride in the household of Johannes Brandt (Alex Hassell), a merchant who, though she is young and lovely and wears dresses with an ever more plunging neckline, refuses to touch her. Instead, in a house where pleasure has been banished by Johannes's joyless sister Marin (Romola Garai), he gives her the cabinet as what turns out to be a compensation. (Pictured above: Alex Hassell, Romola Garai and Anya Taylor-Joy)
"What am I to do with it?" she asks. "You'll think of something." Denied the chance to play house for real, she does it in miniature. And yet long after she stops ordering small items of décor with which to ornament it, they keep arriving in mysterious packages that seem to predict the household's future, while encouraging notes offer the promise of a feminist utopia: "Every woman is the architect of her own fortune"; "Things can change."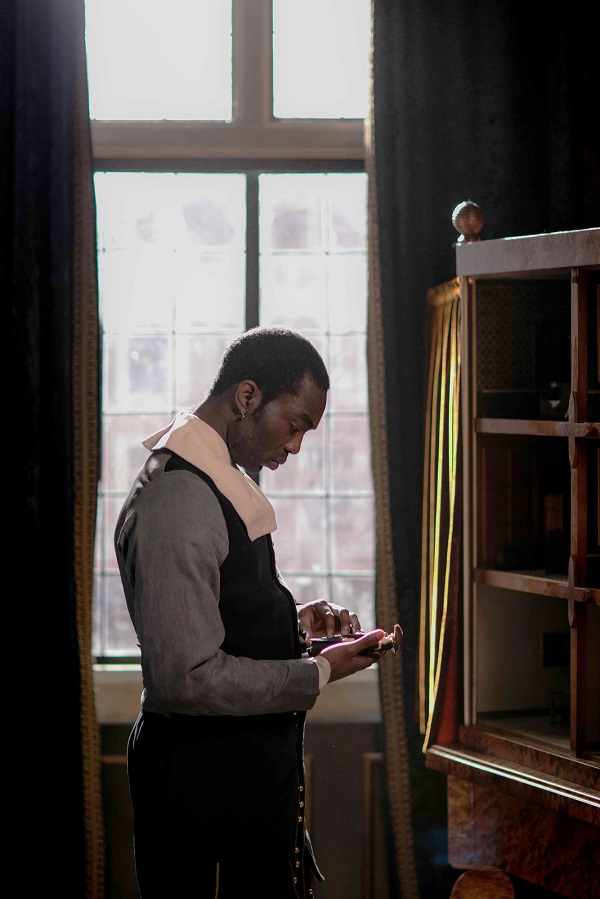 Burton's plot, soapily rich in shocking reveals, felt well attuned to the demands of drama. The scales kept falling from Nella's eyes as she discovered hidden truths, rooted in desire and repression, about her husband, her sister-in-law and finally their African servant Otto (Paapa Essiedu, pictured right). Theirs was an isolated capsule of tolerance, for homosexuality, for racial equality, for social mobility. Every new surprise seemed to stiffen Nella's latent spine so that by the end this shrinking violet, who first eavesdrops on the stairs like a curious child, grew bold enough to offer barefaced bribes to the incorruptible church.
The impulse to give intolerance a bloody nose was not the only up-to-date element. So were the glottal stops which tumbled from the two leading ladies, and the self-help bromides that peppered the speech of Johannes: "Citizens of Amsterdam, we are better than this"; "I will not apologise for who I am."
Writer-director John Brownlow created a haunting atmosphere of secrecy and menace, shooting through doorways and curtains. The cast animated his lovingly detailed montages so that it was as if canvases were brought to life with the splash of messy emotions. Garai had the longest journey to go on from cold termagant to tragic lover. Taylor-Joy looked convincingly Dutch apart from the blonde highlights, and Alex Hassell's baleful eyes spoke volumes.
It wasn't immediately apparent to the uninitiated that the story would take on a supernatural element. The almost albino miniaturist (Emily Berrington), eventually confronted, was able to explain some but not all of her uncanny knack for soothsaying. "Everyone wants answers but I have none," she said. Dramatically this felt like an undercooked pay-off for the two-and-a-half hours spent immersed in Nella's house-within-a-house. It was a jarring misstep in a drama which, in a timely fashion, wishfully wagged a retroactive finger at the sins of history.
The almost albino miniaturist was able to explain some but not all of her uncanny knack for soothsaying
rating
Explore topics
Share this article