theartsdesk in Copenhagen: Degas' Method, Ny Carlsberg Glyptotek |

reviews, news & interviews
theartsdesk in Copenhagen: Degas' Method, Ny Carlsberg Glyptotek
theartsdesk in Copenhagen: Degas' Method, Ny Carlsberg Glyptotek
An exhibition that manages to find new things to say about a familar artist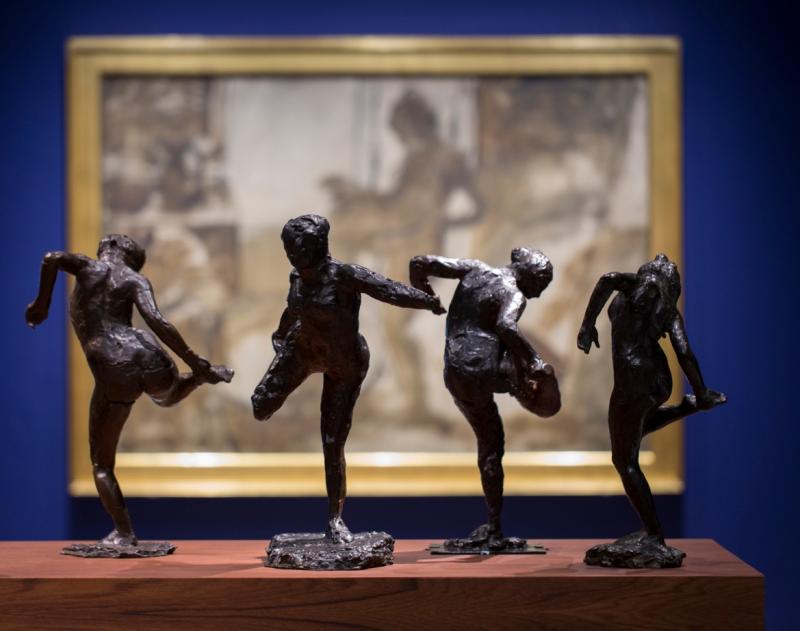 Degas, Bronze Dancers, against Nude Woman Drying Herself, 1885
Ny Carlsberg Glyptotek is famous for its collection of antiquities: Egyptian carvings, Greek statues and Roman sculpture form the heart of its collection. Indeed, its collection of Roman portrait busts are among the finest in the world. But the 19th century also has a strong sculptural presence.
The double-bust of the founder of the museum Carl Jacobsen and his by then dead wife, Otillia – her ghostly arm placed protectively on his shoulder as she hovers behind him – might well be the most disconcerting. But amid the neoclassical marble statuary from lesser-known 19
th
-century Danes, there's an array of Rodins and the complete set of bronze casts of Degas' sculptures, originally executed in wax, clay and plaster.
The Glyptotek is among only four museums in the world to possess a complete set of Degas' sculptures, which were all cast posthumously in the early 1920s, after the artist's death in 1917. This includes the only sculpture that was exhibited during his lifetime, The Little Dancer Aged Fourteen Years (pictured below right). The three-quarter life-size wax figure of a young ballet student at the Paris Opera, was shown at the Sixth Impressionist exhibition in 1881.
His paintings couldn't suggest a mood further from the intimate kinship of Toulouse Lautrec's depictions of prostitutes
She is often considered the first assemblage, since Degas dressed her in clothing made of real fabrics – cream-coloured silk for the bodice, tulle and gauze for the tutu, and fabric slippers. In an unprecedented touch of realism, Degas also gave her real hair tied with a ribbon. The wax original is now in Washington's National Gallery of Art, but when it was first displayed, though critics acknowledged how startlingly life-like it was, it received a mostly negative response. They decried her less than delicate, unidealised features – here was a working-class girl, one of the so-called "little rats" of the Paris Opera, whose coarse features and low forehead made some even suggest that she resembled a monkey, a remark more shocking to us today than the work could ever be. Today its popularity ensures that it forms something of a centrepiece of an exhibition looking across Degas' output in different media.
Degas' Method, curated by Line Clausen Pedersen, a full-time curator at the Glyptotek, has included all of Degas' casts in this superb exhibition examining the artist's technique and process: the horses, dancers and, in the intimate act of washing or drying, his many bathers.
These expressive figures, which depict the abiding subjects of Degas' career, should best be viewed as in-the-round sketches, with Degas working out various problems through their execution. Resisting the Impressionist's credo of describing the fleeting impression, he once said that "No art was ever less spontaneous than mine," and as we find him returning again and again to these small sculptural works, manipulating his figures into difficult poses and exploring muscular tensions, we note how true this is. It must also be noted that it was composition not anatomy and its accurate description which obsessed Degas, for we see him take liberties with the latter: a leg not quite placed where it should be to make anatomical sense, or a body extended to interact with another for greater effect.
Here The Little Dancer is surrounded by crayon and pencil sketches by Degas and those who influenced him. Works on paper that he himself owned include those by Daumier, the satirist, Delacroix, the spontaneous master of seductive colour, and, of course, Ingres, the master of line. Delacroix and Ingres present a fascinating juxtaposition, and Degas' art, with his colour-saturated pastel works, appears to bridge the two apparently polar tendencies. Daumier, meanwhile, is that great master of narrative, as well as a superb draftsman. As we are reminded in this exhibition, more than his fellow Impressionists Degas emphasised the importance of tradition, of copying and learning from those who proceeded him. He saw himself as not breaking art-historical tradition but continuing it. "I don't have a method," he once said, "I just study other Old Masters".
Strong on his graphic works, Degas's Method has a selection of sketches and prints that appear to deviate from the somewhat cold, even cruel gaze with which we associate him. When we look at a Degas nude, we do not expect to detect empathy; his paintings couldn't suggest a mood further from the intimate kinship of Toulouse Lautrec's depictions of prostitutes. Like them, we might see that Lautrec too felt an outsider from respectable society. Not so Degas.
But one small monotype print by Degas, Courtesans, 1876-77, shows a stockinged nude with her legs waving in the air, in a giddy tumble. The atmosphere is heady and close, and it has a distinctly erotic air. Degas's younger brother René is said to have destroyed 70 pornographic sketches that were found at the time of the artist's death, and though one cannot describe Courtesans as a particularly explicit work – hardly in the manner of Rodin's quick sketches of female genitalia, or Turner's drawings of couples having sex – it does invite you to see another side to this artist, and to perhaps draw different conclusions.
Clausen Pedersen has deviated from the usual treatment of the artist, whose work has hardly been short of surveys promising a new angle. Most recently, for UK audiences, was the Royal Academy's Degas and the Ballet: Picturing Movement, in 2011, which examined one facet of his output. But instead of exploring Degas' work in terms of motif, as the RA's exhibition did, Degas' Method overlooks thematic categories and media to explore the way in which each medium feeds into another across motifs. We are free to explore a cross-pollination of ideas.
Though this is hardly radical as a way of thinking about the overall arc of any artist's career, one benefit it does bestow is a chance to explore rarely seen works which happen to fall outside popular categories, and to also look at the way the same motif develops over time in works decades apart.
The Steeplechase: The Fallen Jockey, 1866 (reworked 1880-81 and c.1897) (pictured right) is one such work rarely seen in anthologies of the artist. Depicting a radically foreshortened figure, who's either injured or dead, this is an extremely odd painting, whose various parts don't quite cohere. This is perhaps not surprising, since he returned to the painting over a period of decades, evidently unable to resolve the work. The space the figures occupy, including the horse nearest the jockey, presumably the one he's fallen from, are oddly aligned, and the jockey appears to be levitating rather than lying on the grass. The jockey's serene face and pink tunic are executed to a high finish, whereas the rest of the painting appears sketchy. He clearly revised the positions of the figures numerous times.
One room in the exhibition goes deeper into this process of rethinking and revising, with infra-red and x-ray analysis of Dancers Practising in the Foyer, 1880. And then there's the greater surprise of finding late landscapes such as the delicately rendered Rocky Coast, 1890-91, a genre that Degas seems as far removed from as Monet is embedded in.
Degas was in a unique position among artists: he was financially independent, and since there was no financial imperative to sell his work, two-thirds of his production actually remained in the studio. He lived surrounded by his works, as well as the works of artists he admired and sought to emulate. We see him revisiting not just motifs but the same paintings obsessively.
And then there are simply the paintings themselves to revel in and admire, such as the shimmeringly seductive Yellow Dancers (In the Wings), 1874-76 This is a gorgeous, and thoughtful, exhibition that manages to discover new things to say about the artist. That in itself is quite a feat.
More than his fellow Impressionists Degas emphasised the importance of tradition
Explore topics
Share this article