Soutine's Portraits, Courtauld Gallery review - a superb, unsettling show |

reviews, news & interviews
Soutine's Portraits, Courtauld Gallery review - a superb, unsettling show
Soutine's Portraits, Courtauld Gallery review - a superb, unsettling show
Humanity writ large in cooks, waiters and bellboys by French-Russian portraitist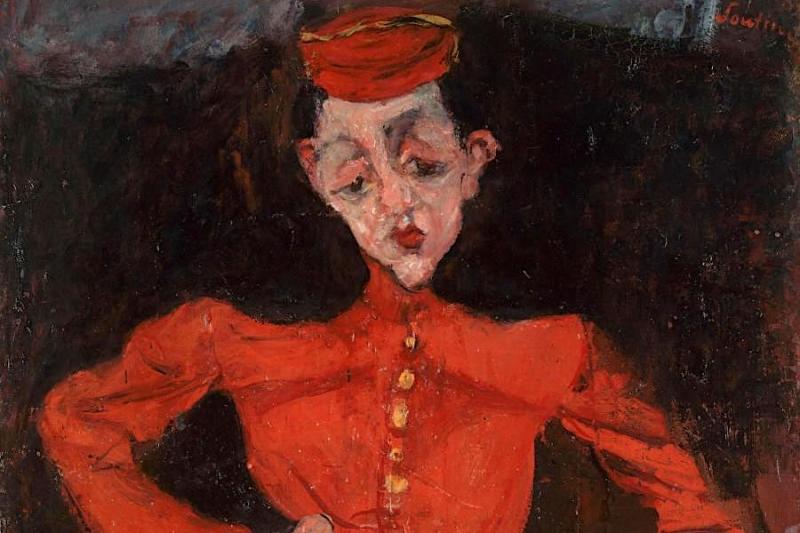 Flagrant sexuality: Chaïm Soutine's Bellboy, c. 1925
This is the latest in a line of beautifully curated, closely focused exhibitions that the Courtauld Gallery does so well. Its subject is the great Russian-French painter Chaim Soutine (1893-1943) who, remarkably, has not had a UK exhibition devoted to his work for 35 years.
More specifically, the show draws together a series of Soutine's
portraits
of modern workers, largely men and women working in the hospitality trades, many identified by their uniforms (such as bellboy reds or kitchen whites): hotel page boys, valets and room-attendants; cooks and pastry chefs; waiters and maids.
For those who admire Soutine, it is usually his extraordinary series of hung beef carcasses – raw, bloody, with limbs splayed like flayed martyrs – that come first to mind. It is tempting initially to view his portraits in the same light. An early portrait of a Butcher's Boy, c.1919-20 (pictured below right, © Courtauld Gallery, private collection), uses the blood-red of the butcher's curtain (which protected the meat from flies), the slash and burn of paint, and the bloody raw materiality of flesh. But the majority of these portraits seem to speak more of Chaim's intense identification with immigrants and outsiders, as well as his passionate interest in creating a vital new chapter in the history of portraiture.
Soutine brings his various characters to life in a deeply subjective manner. His approach is often described as visceral: an early champion described his writhing paintings of landscapes, faces and the like as giving off "a profound heat". It is often impossible to determine whether Soutine is expressing his own intensity and sensitivity through an identification with his various sitters, or commenting on their complex reality, or focusing on their role as a working type within a grand art-historical tradition, or revealing his frustration with the process of painting a living model – or indeed a mixture of all four.
A waiting maid's homely face with small pinched mouth and pointed chin has the stooped head and exaggeratedly large, downcast eyes that Soutine often uses to suggest a melancholic and unfathomable interior world. She wears her apron as a badge of office and also a yoke of servitude, but Soutine's main delight is in painting the apron bib's whites with its streaks of colour. Nearby, a portrait of a boy in uniform, with arched eyebrows and assertive gaze, shows how brazen a youth can feel when he dons such garb. But another portrait of a thin valet, with an air of meek gentleness, large elfin ears, a full mouth and slightly cross eyes, has a profoundly moving presence while also speaking eloquently of the influence of the soulful portraits of the Spanish Old Master El Greco.
Two female portraits of a cook show how Soutine used old-master portrait formats and his own reaction to the fashion for sentimental portrayals of working people to up-end a tradition that had for too long had it both ways (pictured right, The Little Pastry Cook, 1927 © Courtauld Gallery, Lewis Collection). They depict the same model, and use the full-length format that was usually reserved for grand sitters, but Soutine, through compressing the space and tilting the figure, captures something of the oppression of the soul. They are almost painful in their depiction of the twisted face, drooping eye, clasped hands, and poignant femininity, glimpsed in the thin legs and pointed shoes.
A series of four paintings of a red-haired Head Waiter/Valet/Room Service Waiter, c.1927, illustrates a different set of creative challenges. In the first portrait, one can imagine Soutine saying to the model: "Give me a contemptuous head waiter …" The second portrait (Valet) is less assertive; the model seems to droop before us as his hands flatten to his thighs, his features drip and the brilliant waistcoat bulges awkwardly like the unbound breasts of an old woman. In the third portrait, which becomes almost an angry caricature of both the subject and Soutine's mannerisms, the subject looms towards the painter. We know from X-rays that Soutine lacerated the original canvas in frustration. He explained to a friend how important it was for him to take his time, but how the model could tire quickly and assume a stupid expression. Irritation would then escalate into a state of agony: "I become unnerved, I grind my teeth, and sometimes it gets to the point where I scream, I slash the canvas, and everything goes to hell and I fall down on the floor." (Pictured below: Valet, c.1927 © Courtauld Gallery, Lewis Collection)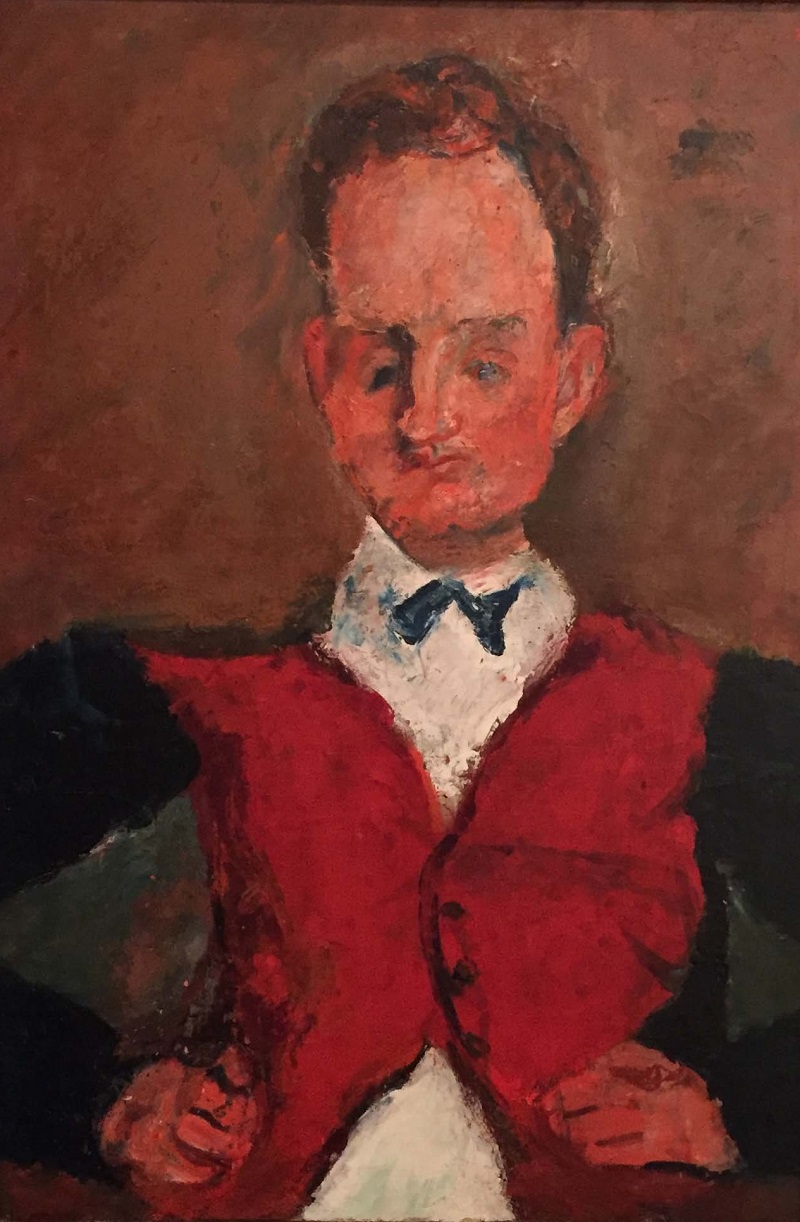 A startling portrait entitled Page Boy at Maxim's, c.1927, seems to contrast the wretched state of this servile youth (his large hand proffered in hope of a tip) with the opulent papal red of his uniform with its shiny gold buttons. The gaunt face, black eyes and emaciated form beneath the jacket and cap reveal a modern man of sorrows. A more extreme portrait of a Bellboy, c.1925 (main picture), boasts the same garish red uniform, but poses the figure in a way that is strident and unsettling: the large misshapen reddened ears that stick out like jug handles are echoed by the lopsided wings of the shoulders, the ballooning thrust of hands on hips, and the spread-eagled legs. Even more affecting is the flagrant sexuality of the pose coupled with the awkwardness of the boy's demeanour.
Soutine, an immigrant from Lithuania, had himself arrived penniless in Paris in 1913, determined to make it as a painter. In these portraits of mostly immigrant workers, together with the Old Masters in the Louvre, he found the subject and the inspiration that were to transform his fortunes. Among the first of these portraits was that of a Pastry Cook. c.1919-20, which so impressed the American collector Dr Albert Barnes that he immediately bought more than 50 of Soutine's pictures. His purchase made Soutine rich, and the painters' later American retrospective in 1950 featured another extravagantly dressed and painted Pastry Cook, c.1922-3, that would have a huge influence on painters like Willem De Kooning. Now, we too can appreciate how Soutine's portraiture gets under the skin.