Picasso and Paper, Royal Academy review - the most versatile of materials |

reviews, news & interviews
Picasso and Paper, Royal Academy review - the most versatile of materials
Picasso and Paper, Royal Academy review - the most versatile of materials
A fascinating subject that proves too unwieldy for a single exhibition
Thursday, 30 January 2020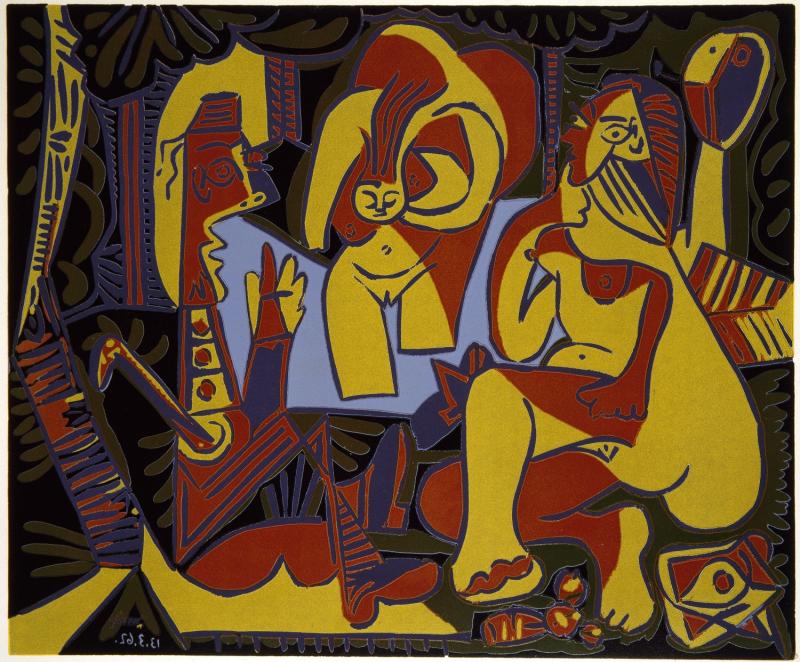 Picassso, 'Le Déjeuner sur l'herbe' after Manet I, Mougins, 1962
Even more than most, Picasso exhibitions need a focus: he was so prolific and diverse that the alternative is neither practical nor comprehensible.
As topics go, Picasso's works on paper, it turns out, is not nearly focused enough, and the
Royal Academy
's exhibition includes quantities of
drawings
, prints, paintings and paper cut-outs, all means by which Picasso organised and developed his thoughts, of which he had very many.
Drawings are uniquely revealing, and a room dedicated to the preparatory works for Les Demoiselles d'Avignon, 1907, a painting often credited as the first utterance of cubism, highlights two things: the extent of Picasso's engagement with African sculpture, and the certainty with which the final composition was arrived at. His preparations for the work were extensive and he sketched figures in postures quite different to those seen in the final painting. Even so, these studies were not undirected, and the familiar outlines of the painting as we know it can be seen in his sketchbooks, some time before he began work on the canvas.
When it came to Guernica, 30 years later, the agonised figure of the horse provided the starting point in a series of drawings begun just a week after the bombing of the little Basque town on 26 April 1936. In these remarkably accomplished studies (pictured right: Study for the Horse Head (I). Sketch for 'Guernica', Paris, 2 May 1937) the horse embodies pain, anguish and alarm: its emotional and physical presence is immense, and perhaps, on reflection, it is rather diminished in its final form. Certainly, it is an interesting if perennial observation that paintings in their polished, considered finality can lack the thrilling immediacy of a drawing.
If these preliminary studies offer satisfying insight into Picasso's working methods, other ostensibly related drawings are perplexingly disparate. Studies of the circus, made during his early years in Paris, are as fickle as a breeze, switching style from one sheet to the next. A metalpoint drawing of a horse, its contours rounded just as Leonardo would do, its mane and tail described in silvery fronds, contrasts with a sparse, hieratic pen and ink drawing of circus performers. Thick and thin lines alone suggest light and shade and three dimensions, the finely detailed head of the central male figure the only stylistic link to the horse. Gouache washes add an entirely different character to a third group, in which precise line gives way to evocative colour. Is he exercising his facility with line? Trying out different strategies of expression? Practising, or showing off? If you can get close to any of them – a serious problem now, and taken to ludicrous extremes in exhibitions of works on paper – you might be able to consider this fruitfully.
Picasso's relationship with his artistic antecedents is explored more closely in a room dedicated to the period between roughly 1954 and 1962, when he made extended series of responses to two monuments of 19th century painting, Delacroix's Femmes d'Alger dans leur appartement, 1834, and Le Déjeuner sur l'herbe by Edouard Manet, 1862–63. In prints and drawings, paintings and paper cut outs he explores these paintings in detail and in general, and the results are as much analysis as invention (main picture: Le Déjeuner sur l'herbe after Manet I, Mougins, 1962). The cut paper figures derived from Le Déjeuner sur l'herbe (pictured below left: Head of a Woman, Mougins, 1962) suggest Picasso's frustration with the essential flatness of painting and the earliest works here - paper cut outs of a dove and a dog, made by the artist at age nine or ten - suggest that these limitations were evident to him even as a child. Though flat, the cut outs demonstrate a sculptor's instinct, and the sharp points of hair around the dog's muzzle and chest are as tactile as they are descriptive.
Paper would provide a sculptural material on a grand scale in 1917, when Picasso was commissioned by Jean Cocteau to design costumes and sets for Parade, a ballet written for Diaghilev's Ballets Russes, with a score by Erik Satie. Versatile enough to fashion a skyscraper costume for Cocteau's avant-garde production, paper was equally the starting point for monumental sculptures like the series of bronze female heads made in 1931-2, inspired by his lover, Marie-Thérèse Walter One of these is here, prompting us to see the sculptural imperative at work in two sets of drawings, in which he shapes and reshapes Marie-Thérèse's head as if moulding clay.
It's a vast exhibition, that places the unfamiliar alongside the familiar: as surveys go, it's comprehensive. But the immense scale and range of Picasso's output is overwhelming, and there is not always a thread to follow. So rich is the material that each room contains the makings of a show in itself, and really its that kind of focus that Picasso demands.
Paintings in their polished, considered finality can lack the thrilling immediacy of a drawing
rating
Explore topics
Share this article