Mixing it Up, Hayward Gallery review - a glorious celebration of diversity |

reviews, news & interviews
Mixing it Up, Hayward Gallery review - a glorious celebration of diversity
Mixing it Up, Hayward Gallery review - a glorious celebration of diversity
Anything goes, from paint on canvas to toothpaste and hair gel under plexiglass
Wednesday, 22 September 2021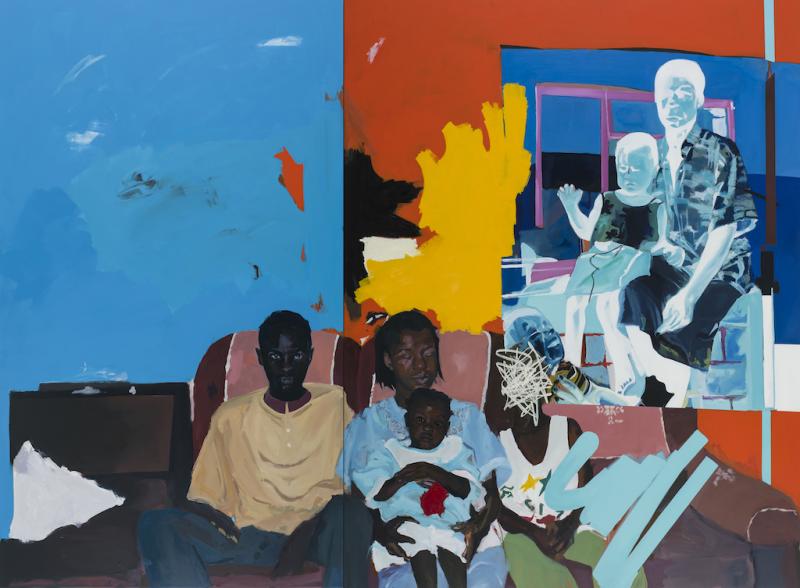 Family Portrait, 2017 by Kudzanai-Violet Hwami
The 31 artists in Mixing it Up all live in this country, but a third of them were born elsewhere – in countries including Belgium, China, Columbia, Germany, Iraq, Zambia and Zimbabwe – and they've brought with them immeasurable cultural riches.
The exhibition is like a snapshot of pre-
Brexit
Britain, a reflection of the days before we changed from being a relatively friendly, open society into a grumpy, insular backwater.
The Hayward Gallery show is gloriously inclusive in terms of age (the youngest are 28, the oldest is 87), gender (more than half are women) and genres. There are no -isms being defended from conflicting ideologies; no battles are being fought over what painting should or should not be. In fact, anything goes – from paint on canvas to toothpaste, hair gel and vaseline under plexiglass.
And the work varies in scale from pocketbook-sized canvases to wall-sized friezes and from detailed observations of the external world to fluent gestural outpourings of pure energy. The result is a celebration of painting's potential as a medium that can express anything from private emotions and intimate concerns to global issues and collective trauma.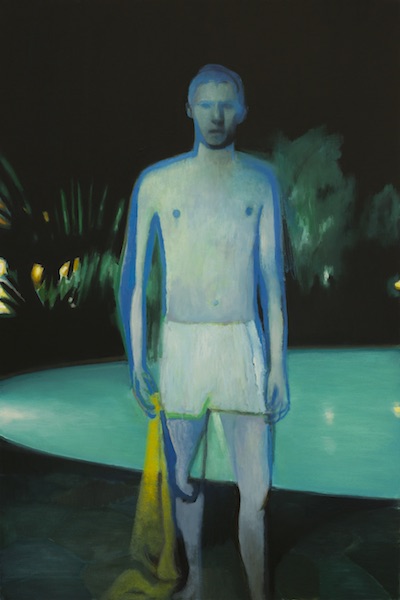 Such a free-for-all could have produced a disastrous mish mash, a wearying trawl through it all, but the quality of the work is so high and the individual voices so strong that you come away feeling energised, motivated and inspired. Where did I put that brush? Maybe I could use oil stick instead of acrylic?
With such a wealth of creativity on offer it might seem invidious to single anyone out, yet some people stand out for me. It's especially pleasing, I find, to have one's preferences challenged. I'm not a fan of detailed realism, for instance, yet I was bowled over by Jonathan Wateridge's painting of two men having drinks on a patio. The artist builds sets and hires actors to portray scenes he then paints with such subtlety and commitment they have the presence and mystery of a film still. Recently, though, he switched to oddly stiff and flattened depictions of people seen by moonlight. The shift is so extreme that it's hard to adjust one's eyes, but returning for a second look, I found the awkwardness of these ghostly figures strangely compelling (pictured above right: Night Swimmer, 2021).
Graham Little's powers of observation are so acute and his ability to translate what he sees into pencil or gouache on paper so mesmerising that he stops you in your tracks. In Dead Fox, 2017 he outlines every detail of death's stillness and finality, while the accompanying diagram is like a philosophical footnote measuring the duration of a life, as well as the length of a body. Little's Blue Bulb Lady, 2019 (pictured below left) leans on a table in front of a black curtain. The formal setting and the attention given to each exquisite detail confer on her the dignity and gravitas either of royalty, or a saint with her numerous attributes.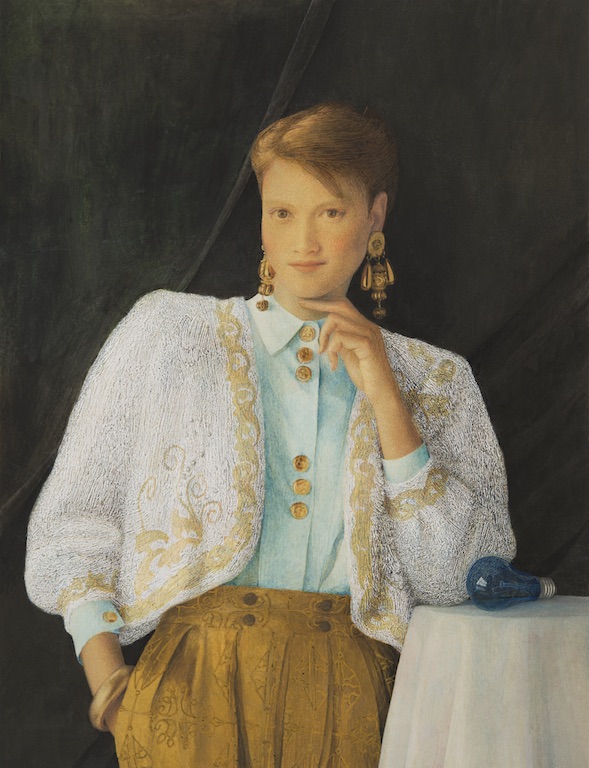 In Family Portrait (2017) Kudzanai-Violet Hwami portrays a mother and her children sitting on a sofa (main picture); but this is not a happy occasion. In fact, the tension is palpable. The mother has her eyes closed as though shutting out the present. Her son's eyes are open but there's a numbness to his fixed stare and her daughter's face has been violently obliterate by white scribbles. Only the child on her lap seems able to relax, probably because she is too young to recall the events that have scarred the others. Hovering behind the group, like the negative of a haunting memory, is the picture of a mother and child solemnly waiving farewell to a howling infant. The visual equivalent of that howl is to be found in the vivid yellow brush marks daubed across the red background and the flash of red penetrating the blue wall like a dagger. The trauma of departure and the dislocation of arrival in an alien land is thereby inscribed in every detail of this articulate painting.
Mohammed Sami's paintings similarly address the nightmare of enforced exile. The sinister shadows, fading wall colours and mouldering carpet of Infection II, 2021 weave a narrative of fear, corruption and decay while, reflected in the mirror of this dingy interior, is the raised arm of the Saddam Hussein's statue. More evocative still is the single image of a child's empty swing outlined in green against a blood red sky to create a bleak symbol of hurried exodus.
Sophie von Hellermann seems to revisit traditional myths and legends. The woman in Hope and History, 2021 looks like a distressed Valkyrie; her winged helmet has been replaced by a large bird swooping down on her with a dramatic flurry of wings. Her Tropical Island, 2019 has the expected palm tree and loan figure but, rather than basking under a clear blue sky, this arid patch of ochre soil cowers beneath a swirl of rainbow colours suggestive of climate chaos and its attendant disasters.
The exhibition is hung extremely well in groupings that are clearly thought out, but one room is especially successful. The space is dominated by Oscar Murillo's Manifestation 1919-20 (pictured above on the right), a series of bombastic gestural abstractions whose vehement slashes and scribbles of black, blue and red evoke the energy and clamour of street protest. He shares the room with Jadé Fadojutimi, whose kaleidoscopic webs of deep colour are reminiscent, in their dense tangles, of rainforest vegetation, and Rachel Jones whose patchworks of bright scribblings are the most joyous paintings I think I've ever seen.
Lick your teeth, they so clutch, 2021 (pictured above on the left) is a series inspired by teeth and the gold, silver and diamond grills sometimes adorning them. Her vivid colours make me think of plaque stained by disclosing tablets to reveal the guilty secrets hidden within one's mouth. There's irony in this. It's as though Jones were celebrating the pleasures of rich food and drink while warning you of the dangers of over indulgence – as you feast your eyes on her anarchic cross hatchings. Her pictures are so complex they offer inexhaustible delights, yet you can't get enough of them. All you want is more… and yet more.
You come away feeling energised, motivated and inspired
rating
Explore topics
Share this article