Ellen Altfest, MK Gallery |

reviews, news & interviews
Ellen Altfest, MK Gallery
Ellen Altfest, MK Gallery
An artist out of step with much of the art of her times paints canvases as charged as altar panels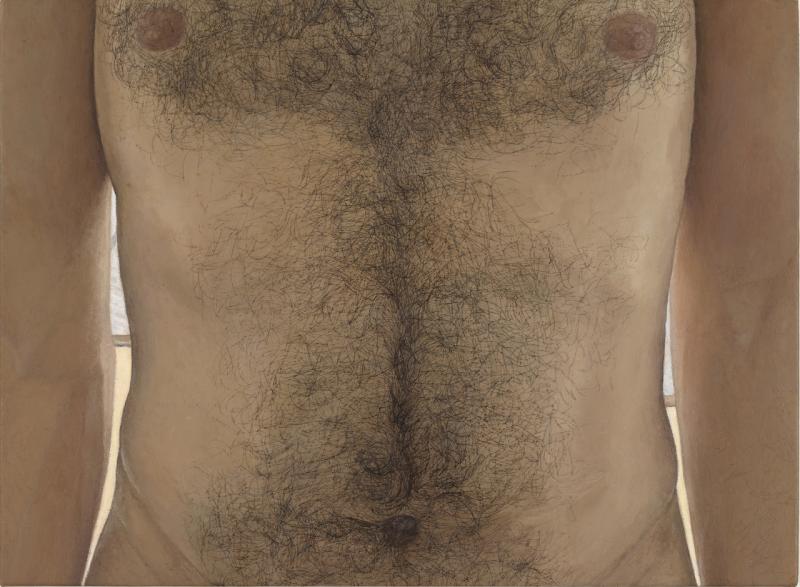 Torso, 2011
MK Gallery has a knack for showcasing mid-career artists before any other public space and this is Ellen Altfest's first survey in the UK. There are 22 paintings here which, given their demands on her time, represent a significant proportion of the 44-year old's output to date. Most of the pieces come from private collections, representing her commercial success with White Cube. And while the blue chip gallery showed her in the modest setting of Hoxton Square, these works couldn't be further from the epic installations which appear to characterise the gallery's new space in Bermondsey.
With her slow working methods and slow-burn appeal, Altfest is out of step with much of the art of our times. Her small paintings do indeed take many months and, should you try to swipe back or forth, they will elude you. Her details are often finer than pixels. Her canvases are, up close, as charged up as altar panels. And she brings an intensity to her work which calls for presence and patience from her audience.
The New York artist's traditional subjects are still life and the male body and, after selecting a drôle crop – her trade mark – imagination is expunged from her work. There is nothing gestural to signal painterly heroics; the artist effaces herself through the rigours of close observation. And yet, thanks to the superhuman focus and physical endurance required to make each painting, this is the most heroic of shows.
It culminates in a luminescent painting of a lower leg which took many months in the Texan desert; in a contribution to the book accompanying the show, the model Dan Keane reveals that sitting still for so many hours has given him permanent damage in the pelvic region. This is art for which one must suffer; it's old-fashioned that way. Altfest's interest in anatomy is akin to that of an old master; Keane's blue veins throb beneath the pallor of his skin and bodily hair. And yet the artist is equally interested in the dry grass on which his leg rests. Peripheral vision is equally studied.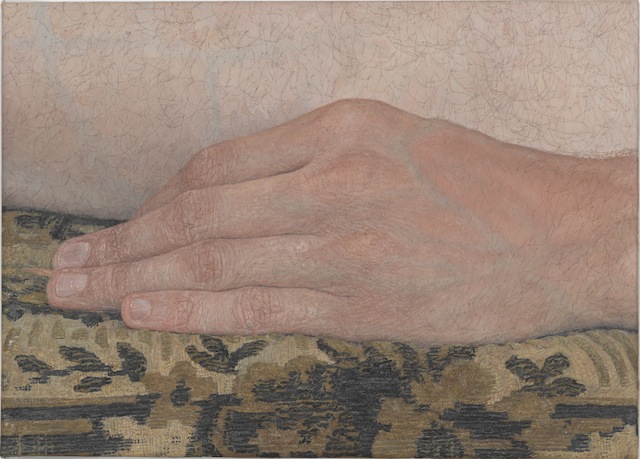 The artist has been painting the male body for a decade now. Works like The Hand, 2011 (pictured above), The Torso, 2011 (main picture), The Butt, 2007 and The Penis, 2006 are all disconcerting crops of faceless male sitters. By fragmenting the nude in this way, Altfest offers a riposte to the surrealist René Magritte, whose notorious L'Evidence Eternelle,1930, breaks down a female nude into five related panels. Some violence is suggested in the vision of both artists, but whereas the late Belgian sexualises his subject, the close attentions of Altfest are more ambivalent and perhaps more kindly. In Composition, 2015, she even appears to have tucked her model in, under a blanket.
It is however a show of two halves and the New Yorker's interest in parts of the body can be traced back to some formative years painting from nature. If you're only familiar with the fleshiness of her nudes, you may be surprised and delighted by the bright greens, tangled greys and mottled browns of her still lifes and views en plein air. As a way of rendering a faithful account of what she sees in the world, Altfest seems more interested in colour than line. Natural forms are often teased out through varying shades, which the effect is of a three-dimensional patchwork with depth in layers.
These are larger paintings and the complexity is stunning. Look for long enough and you may find your vision swimming up and down the canvas as the leaves appear to ripple. There is an unlikely strain of Op art here, a result of astonishing detail and vibrant greens. Altfest has looked closer at foliage and bark than you might have thought possible. She makes her painterly antecedents look like mere stylists and rejects the technical advances of photorealism in favour of astonishing eye-to-hand co-ordination.
Her largest work in this show is Tumbleweed, 2005 (pictured below), which fills a 106x132cm canvas with a large bale of the weed. From a corner of her studio, this dead plant now entangles the eye with a mess of strands so involved and so crisply depicted that it seems miraculous. Lacking any focal point, it is denser than the real thing. And once again Altfest reminds us of how cursory the civilian gaze can be and how many short cuts we take while looking, or even making art. Altfest has been compared with Jackson Pollock, whose action paintings do evoke a Gordian Knot to equal Tumbleweed. But though the effect may be similar, their approaches could not differ more. If Pollock freed the painter from their brush, Altfest represents a life sentence.
But the painter is of course more than an endurance athlete. Her meditation on the ball of weed is a meditation on mystery and what remained hidden. Her logs evoke lizard-like gestalt forms. Her trees come to express human forms and perhaps even sentience. Three vertical branches array themselves like the mythical Graces. She paints a rock next to a foot and gives the stone just as much life. She alludes to Brancusi with a sculptural array of gourds. Courbet's famous L'Origine du Monde,1866, is reflected in a male armpit.
And in a classic art historical trope, Altfest paints the view from a window. However, Studio Window at Night , 2003, puts a personal spin on tradition. Yes, we can look through this window at the rosy lights of a promising evening. The brownstone buildings and bridgeheads suggest New York, which as we know never sleeps. But the visual interest on this night is in the flaked paint and rotted wood of the sash window frame. The view fades into obscurity as we examine the cropping device, which is in disrepair and decay. This is a painting about painting, as all great paintings can also be.
The same could be said of her 2011 painting of a hand, that appendage of the painterly and plastic arts. Tightly cropped, isolated, rendered in excruciating detail, it could be the last word on dexterity (even if, to complicate matters, this is a left hand). So where representation is concerned, one feels with Altfest that we have, slowly, surely, reached the end of the line. After which point, you won't be able to look at your own hand in quite the same way.
Altfest has looked closer at foliage and bark than you might have thought possible
Explore topics
Share this article