Cutting Edge: Modernist British Printmaking, Dulwich Picture Gallery review - a cut above |

reviews, news & interviews
Cutting Edge: Modernist British Printmaking, Dulwich Picture Gallery review - a cut above
Cutting Edge: Modernist British Printmaking, Dulwich Picture Gallery review - a cut above
Excellent exhibition sheds light on linocuts of neglected Grosvenor School Modernists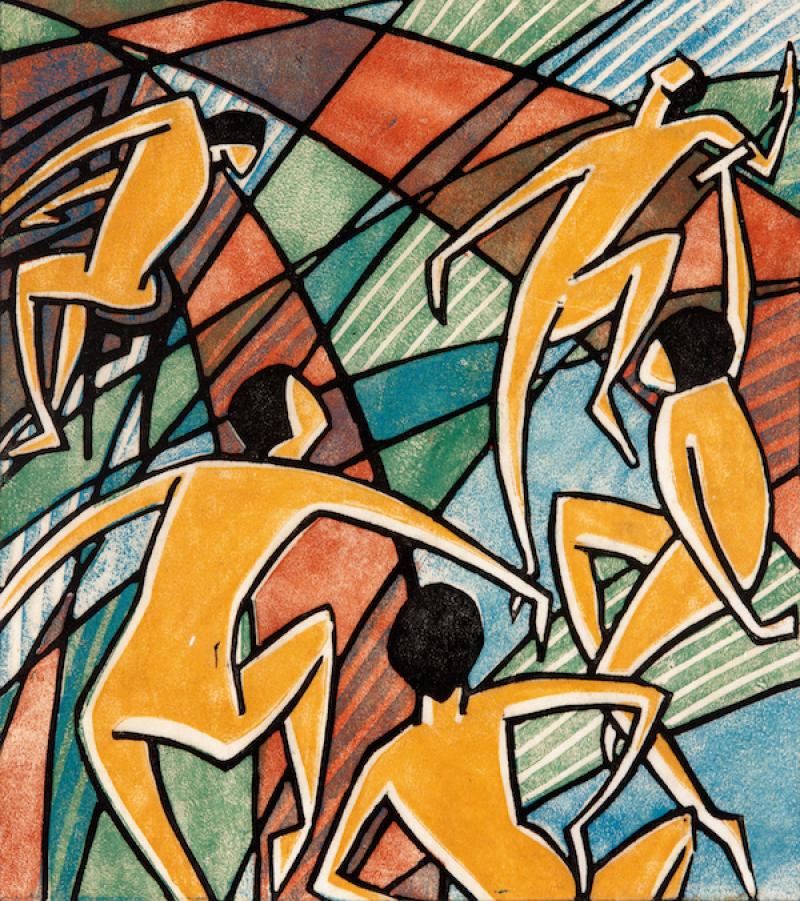 Falling into lino: Dorrit Black's 'Music', 1927-28
Under a turbulent sky racked with jagged clouds suggesting bolts of lightning, pale figures hurl themselves into a spitting expanse of water. Swathed in white towels, other figures mingle with the pink bodies, seeming to process along the pier as if towards a baptism. Swimmers' vigorous arms overtop their submerged heads; on land, no individual face is distinguished. As if exuberance could tip at any time into anarchy, a sense of threat pervades the depiction of communal leisure.
By the time the Second World War broke out, the invincible boys depicted in Claude Flight's linocut,
Boys Bathing
, 1935, would be old enough to fight. As such, the unsettling nature of the print could be considered a dark prefiguration of the onset of war.
Yet much could be said in a similar vein about many of the prints on display at Cutting Edge, the Dulwich Picture Gallery's new exhibition focussing on the linocut work of the Grosvenor School artists. The school, which was founded in 1925 by Iain Macnab, became a crucible for British Modernism, which drew on Futurism, Vorticism and Cubism to treat everyday subjects in a manner that suggested speed, movement and even sound. Macnab recruited Sybil Andrews as secretary, and invited Andrew Power to give classes architectural drawing and Claude Flight to teach linocutting — all artists whose work features in the show alongside that of school's students. As technology improved and the modern world speeded up, it is perhaps only in retrospect that a sense of disquiet can be discerned in prints that at the time depicted the vanguard of change — the furore of jazz, new types of sport and leisure, and people at work. What is clear, though, is the centrality of collective social experiences and a focus on the body and machinery.
The exhibition opens with a stark monochrome lithograph by Paul Nash of a blasted landscape (Void of War, 1918), a sombre drypoint — Returning to the Trenches, 1916 — by Christopher Richard Wynne Nevinson, and a stunning wood engraving by Edward Wadsworth of ships camouflaged with a pattern of his design (Camouflaged Ships in Dry Docks ("Dazzle Ships"), 1918. The early influences of linocut are clear — not least as Nevinson was both closely associated with Filippo Marinetti, the founder of Italian Futurism, and was a student with Flight at Heatherly's School of Art in St John's Wood. What distinguished linocut from its precursors was the ease with which materials could be found or improvised (an umbrella rib would do as well as a proper gouge) and their cheapness (linoleum having been designed as a cheap surface that could be easily laid and cleaned). Like photography and film, it was a new art form — unlike them, it demanded very little expense or specialist equipment. It was democratic. And colourful.
Rooms are divided thematically into sport, the countryside, movement, public transport and posters. This allows for direct comparison between different artists' approaches and showcases the diverse ways lino was treated as a medium.
In this context, Lill Tschudi's prints are especially striking. The Swiss artist was only 18 when she arrived to study at the Grosvenor School in December 1929 but her attentiveness to bodily expression and meaningful composition was already adept. In Fixing the Wires, 1932, two men brace themselves in slings on either side of a pylon top bristling with transformers. One seems to be making his way down carefully while the one nearest with his back to us is still at work, slender white wire arcs attesting to the rest of his task and the accuracy with which Tschudi has laid the multiple print layers. The progression of work is implicit, as is the men's reliance on each other. In Jeu de Boules, 1934, companionable competition is expressed through carefully observed hip tilts and easy postures. The weight of the balls held by the men appear to pull down their arms and shoulders, and in a decorative and imaginative flourish, Tschudi has patterned the balls with concentric rings so their visual busyness contrasts against the blocs of colour that compise jackets and playing area. The centre of social attention becomes the visual pivot which brings the print together.
Cyril Power, by contrast, was more interested in buildings — though as a practising architect this should be no surprise. One of his notebooks in a vitrine displays annotations on a preparatory sketch for his print Tube Station, 1927, arrows indicating the placement of lights and patches of shadows — almost as if he were reverse designing the staircase in paint. In his finished print of The Eight, 1930 (pictured above left), the compositional dynamism is ramped up (in comparison to the preparatory sketch) by inverting the direction of the oars' draw and omitting the cox completely. Likewise, in The Tube Train, 1934, people appear like vaudeville characters: an air of jaundice hangs about their exaggeratedly sharp features and in their similar, cramped poses, they appear more like ribs of the carriage than individuals. On the other hand, a run of prints of sporting events along one wall shows a more nuanced appreciation of the body — curlicued, elfin limbs flying out to lend weight to speed and shape to design.
Nevertheless, in an age of speed, vehicles were both a luxury and an artistic preoccupation. In Speed Trial, 1932, Power conveys velocity by turning the car's wheels into candycane-swirled ovals and pitching back its perspective as if — like to a slow-shuttered camera — the artist's eye cannot catch it in its correct proportions when in movement. Claude Flight's Brooklands, 1929, sends horizontal licks of lilac and yellow flame along the cars' runners like skirreted sparks. Printed on exquisite Japanese tissue paper, it's as if the printed colour floats above its silky skin. In Sybil Andrews' Speedway, 1934 (pictured above right), three riders on single gear motorbikes without brakes curve round a corner — while at the time it was entertainment, the goggled eyes of the riders, their identical postures and semi-military formation now appear sinister.
It is almost impossible to view these prints without considering how brief was the period of peace between the two world wars. With this in mind, even the most effusive prints become sombre. The exquisite Under Piccadilly, 1934, by Greengrass for instance, captures as many stories as there are commuters and depicts the tube station only a few years before it saw use as an air raid shelter. But while the work of the Grosvenor School largely fell out of favour by the 1940s, the London Transport posters which finish the exhibition are probably some of the most widely viewed examples of British Modernist art. This exhibition makes a strong case for continuing to draw attention to their work and acknowledging their influence on later artists.
In an age of speed, vehicles were both a luxury and an artistic preoccupation
rating
Share this article