Collected through Love: The Michael Woodford Bequest |

reviews, news & interviews
Collected through Love: The Michael Woodford Bequest
Collected through Love: The Michael Woodford Bequest
Pallant House Gallery's artistic director introduces an unlikely collector of modern art
Suzanne Valadon, 'Untitled (three figures in a landscape)', 1940
Art collectors are rarely what one might expect. Everyone has their particular enthusiasms, quirks and foibles, which make their collections unique and reflective of their tastes. In my career as a curator I have learnt never to have preconceptions when visiting collectors. The best pictures can often be found in the most modest of homes. Nothing can beat the buzz of encountering an iconic artwork in the most unlikely of settings. It is a lesson in how important it is not to make judgements about individuals before meeting them properly.
Such was the case with Michael Woodford, perhaps one of the most unlikely collectors that I have met. In 2003, soon after arriving at Pallant House Gallery as Assistant Curator I curated a modest exhibition of the work of Graham Sutherland for the artist's centenary. An enthusiast for Sutherland's work, Michael visited the Gallery for the first time to see the show, although he had long known of the Hussey Bequest. Inspired by his visit he wrote to the Gallery explaining: "I possess a small but interesting and impressive (I think so!) collection of 20th century art. I've long thought that I would like to bequeath it to a local gallery, which is perhaps lacking such, so that displayed, many more might get that same pleasure which I alone enjoy, or that same pleasure which I too derive from public collections."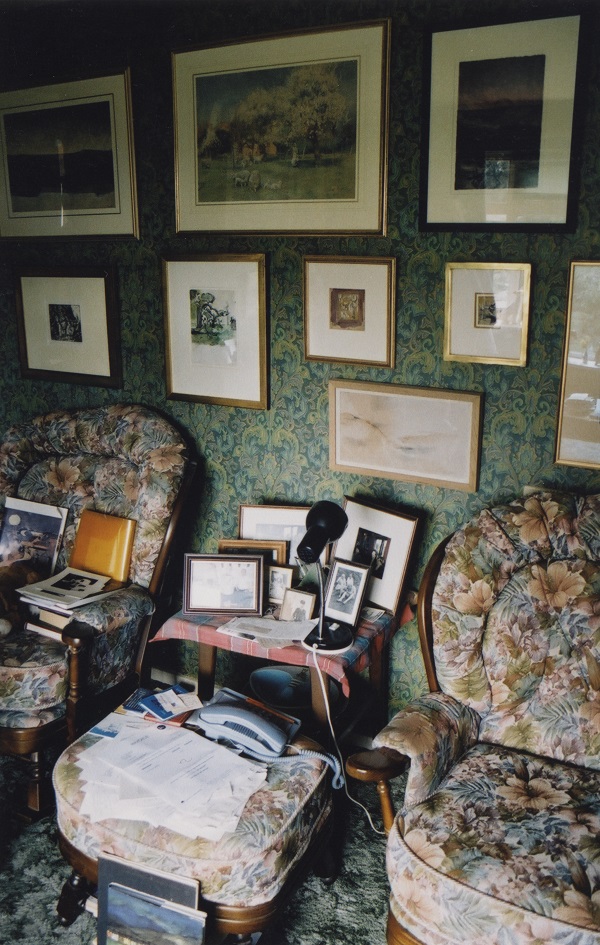 Some time afterwards our then curator Frances Guy and I went to visit him at his home in Kent (pictured right). It was not at all what I had imagined to be the home of a modern British art collector: a former council maisonette on an estate, lined with green floral wallpaper, equally floral carpets and furniture, and the stuff of life on every surface. But covering this wallpaper were notable etchings, linocuts and watercolours by various modern artists, including Sutherland, Victor Pasmore, Henri Matisse, Pablo Picasso, Michael Ayrton, Alan Reynolds, Suzanne Valadon and Gerald Leslie Brockhurst.
The incongruous setting for these pictures reflected the seemingly unlikely story of Michael Woodford himself as an art collector. He was not a conventionally wealthy man. In fact, he had begun his career as a rubbish collector, before becoming the school caretaker in Cranbrook in Kent. But he possessed a passion for art. As well as visiting exhibitions of his favourite artists around the country, and collecting more than 700 art books, he was an amateur artist and would go on painting trips to Wales, showing his artworks in local exhibitions and even designing stained glass windows for a chapel in Cranbrook. He was what might be known as a popular local "character" who also played the trumpet in a jazz band.
A friend of the abstract artist Alan Reynolds, who lived in the same town, Michael (or Louis, as he was known to his friends) collected not only his later rigorously abstract drawings and wood engravings, but also two of the artist's early lyrical Neo-Romantic watercolours of the Kentish landscape from the 1950s (pictured below: Sunrise, 1957). The Neo-Romantic artist Graham Sutherland was an artistic hero, and Michael collected works from across his career. These include a group of important early pastoral etchings: The Village, 1925, Pecken Wood, 1925, and St Mary Hatch, 1926, inspired by the visionary scenes of Samuel Palmer, and the 1930s etching and aquatint Clegy-Boia II, 1938, which marked the change in the artist's work from such precision to a more expressive response to the landscape. He also acquired later drawings and watercolours by Sutherland, such as a 1937 watercolour of Pembrokeshire, a study for his Festival of Britain mural The Origins of the Land, 1950, and lithographs such as Articulated Forms, 1950, which complement the Gallery's holdings of 25 other works by the artist forming part of the Hussey, Kearley and David Medd Bequests.
Picasso was Michael's other great enthusiasm: in addition to around 100 books on the great master, he bequeathed a small group of late etchings including one of the artist and model from his 156 Series, 1968-72, and two of nudes from his 347 Series, 1968, his last great series of etchings. Other prints in the Michael Woodford Bequest include a linocut of a nude by Matisse entitled Pasiphaie, 1943/44, an etching of three figures in a landscape by the French Post-Impressionist artist Suzanne Valadon (Main picture), an abstract etching by Victor Pasmore, and a group of four etchings by Gerald Leslie Brockhurst, which were all created in 1920, including portraits of the artist's mother and his models Clytie and Anais.
The bequest forms a significant group of prints and drawings, and is a valuable addition to Pallant House Gallery's "collection of collections" comprising gifts and bequests from private collectors such as Walter Hussey, Charles Kearley, Colin St John Wilson and MJ Long, George and Ann Dannatt, and the Golder-Thompson Gift. Together such generous gifts enable artworks once seen in private homes to be enjoyed by future generations of the public, and they tell us about the nature of taste and the different ways in which individuals have collected art.
In one of his letters, now in the Gallery's archive, Michael expressed his pleasure that '"such a fine collection has accepted my bequest, so that in time, many others may enjoy that privilege which I currently possess". He described his artworks as "a bequest by a 'minor' collector (not a rich rock star!) collected through 'love' and when finance permitted!". It is an inspiring story, demonstrating that collecting art does not necessarily have to be the domain of a wealthy elite, but can be enjoyed – and in turn shared – by anyone.
Covering this wallpaper were notable etchings, linocuts and watercolours by various modern artists
Share this article