Bowie/Collector, Sotheby's |

reviews, news & interviews
Bowie/Collector, Sotheby's
Bowie/Collector, Sotheby's
From Tintoretto to Basquiat, a connoisseur's collection goes on show then on sale
Thursday, 03 November 2016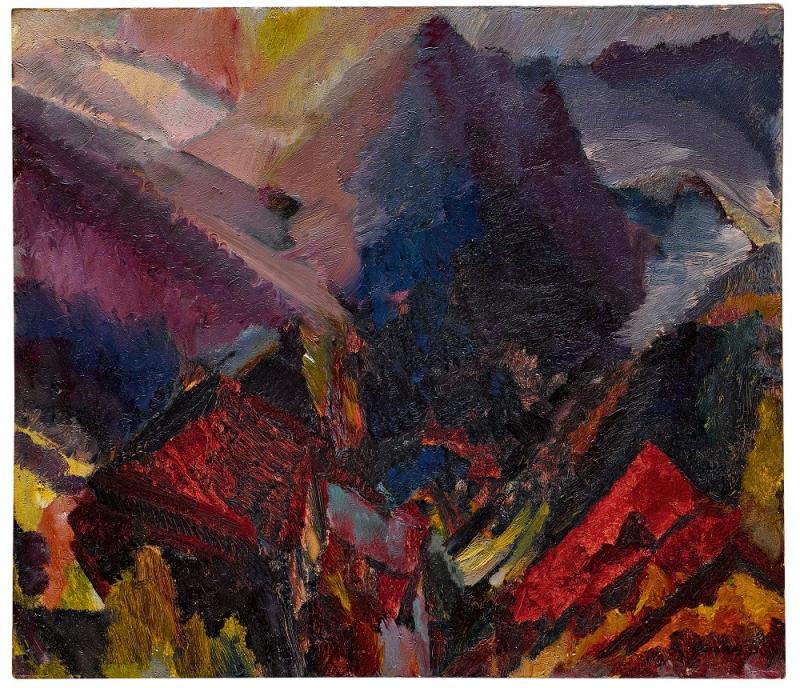 David Bomberg: 'Sunrise in the mountains, picos de asturias', 1935
David Bowie needs no introduction, yet he kept one aspect of his life largely hidden away: his art collecting. Now Sotheby's, which is auctioning off around 400 items of his private art collection in a three-part sale on 10 and 11 November, is holding a very special exhibition, lasting just 10 days.
The exhibition and the extensive catalogues that accompany the sale provide an exceptional opportunity to see the works together before they are dispersed and to look at how much the collection reflects the man (and sometimes his music).
As you would expect from someone of Bowie's range of burning intellectual interests, style, voracious curiosity, and sense of fun (as well as his keen engagement with art and the art world), the collection is wonderfully eclectic. There are "Aladdin Sane" splashy moments – two Damien Hirst "Spin Paintings" (one of which, Beautiful, hall, space-boy painting, Hirst and Bowie collaborated on) – but even these show Bowie's fascination with process, as well as an ability to live in the here and now.
At the other end of the spectrum, we have the most surprising aspect of Bowie's world: a moving slow-burn array of the murky-coloured, the unfashionable, and the overlooked – paintings, ceramics and small-scale sculpture of the British post-war period. Bowie cared passionately about his Britishness, looking back to the world he grew up in (from his childhood in Brixton) as well as to the no-frills art of his parents' generation (his mum and dad were from Yorkshire/Lancashire).
In many of these understated works there is a deep valuing of place (Bowie, for instance, collected the St Ives School) and a celebration of the ordinary yet quietly radical. From Bernard Leach's ceramics and Winifred Nicholson's luminous St Ives Harbour, to Leon Kossoff's Dalston Junction, 1973 (pictured above) and John Bellany's Fisherman in the Snow (Port Seton, Scotland), the works reminded me of Grayson Perry's title for the show he curated some years ago from the Arts Council Collection: Unpopular Culture.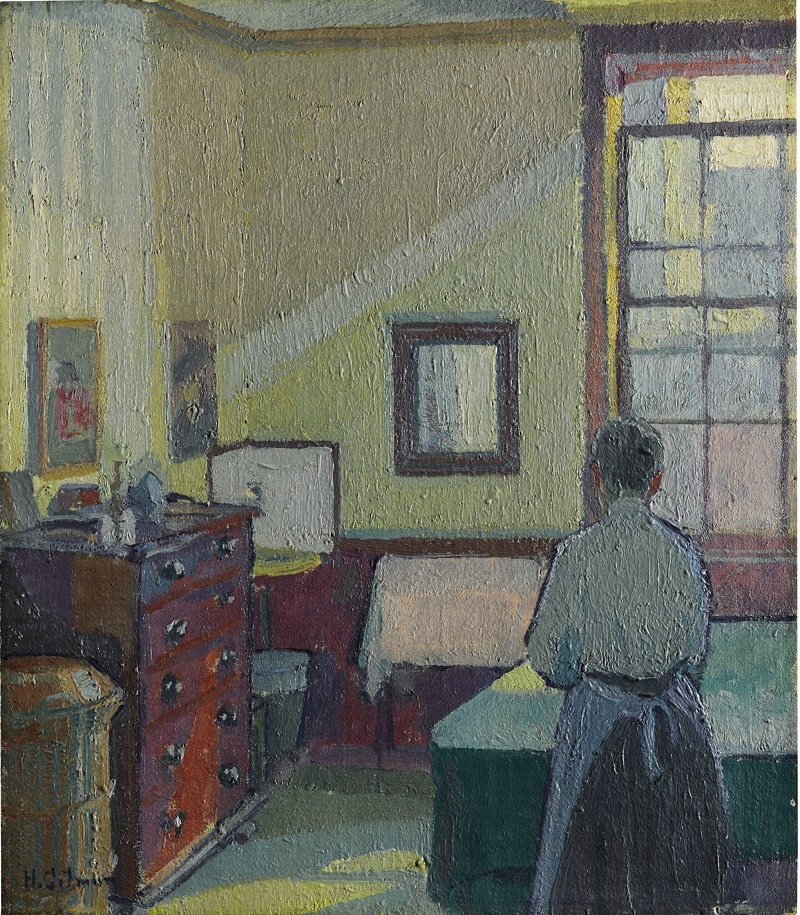 There is a lovely 1917 Harold Gilman, in which faded French colours (like those of Vuillard) are combined with the suburban working-class subject of an English charlady – Interior (Mrs Mounter) (pictured right). Even Bowie's collection of German Expressionists, a passion developed during his bohemian years in West Berlin (1976-8), shows him avoiding the obvious: his focus here is predominantly on the woodcuts of Erich Heckel. He was apparently keen that his taste shouldn't be identified with the more popular and elegant works of Egon Schiele, preferring Heckel's more deliberate primitivism.
Not surprisingly, Bowie also looked to work that was "new" and surprising – pieces that embody adventurousness, playfulness, or are revolutionary in their approach and directness of expression. His inquisitive mind embraced contemporary South African art and "Outsider" artists from the Gugging Institute in Vienna, as well as well-known pioneers of Surrealism (Duchamp, Picabia) and the wacky designs of the Memphis Milano collective. A large portion of the collection (and a separate sale) is devoted to the latter, led by Ettore Sottsass – vibrant pieces that were snapped up by collectors in the early 1980s, but which Bowie started to buy when they were becoming less modish. His love of these irreverent furnishings, everyday objects, glass, and ceramics – which he lived with and used – was inspired by his first purchase of a red Olivetti typewriter, which led naturally to an exploration of the designer. For Bowie, "Sottsass had energy to burn. He gathered around him a team of very young kids … and blood began to boil" (V Magazine, 2002). It is tempting to relate this Memphis chic with the Bowie of the Let's Dance era. (Pictured below: Sottsass Carlton Room Divider, designed 1981).
Other stars of the collection include some very fine pictures by David Bomberg (main image) and Peter Lanyon, both of whom Bowie collected in depth. The most expensive item is a vibrant Jean-Michel Basquiat: Air Power – estimate £2.5 to £3.5 million. Bowie played Warhol in Julian Schnabel's 1996 biopic Basquiat a year after he purchased the work: for him, Air Power related to rock "in ways that very few other visual artists get near". But there are also more affordable pieces, ranging from a small Bernard Leach tile to a funky Andrea Branzi Gritti bookshelf. Sometimes there is a nod to a particular style and era – for instance a Tintoretto of St Catherine and an Angel – but for the most part you feel that the choices have been made by a keen intelligence, and are both knowledgeable and emotive. Bowie pored over sales catalogues, read and researched, whittled down, regarding himself as a temporary custodian of the art that he amassed. "Art was, seriously, the only thing I'd ever wanted to own," he told the New York Times in 1998. "It has always been for me a stable nourishment. I use it. It can change the way I feel in the mornings."
Anticipating the huge demand to see the collection, Sotheby's have turned the sale and exhibition into a mini-festival, with their first 24-hour all-nighter (4 November) kicking off the celebrations (including a showing of the Basquiat film). If you can't get a ticket, try admission after midnight – there is the promise of a bacon butty and a fascinating chance to see not only the big-ticket items but also some of the more reticent masterpieces of modern and post-war British art that one suspects gave Bowie his rootedness.
'Art was, seriously, the only thing I'd ever wanted to own. It can change the way I feel in the mornings'
rating
Explore topics
Share this article