Artists in Amsterdam, Dulwich Picture Gallery review - a slight but evocative sketch |

reviews, news & interviews
Artists in Amsterdam, Dulwich Picture Gallery review - a slight but evocative sketch
Artists in Amsterdam, Dulwich Picture Gallery review - a slight but evocative sketch
Amsterdam was Europe's economic hub in the 17th century, a fact reflected in its art
Wednesday, 28 August 2019
Adam Pynacker, 'Landscape with Sportsmen and Game', c.1665
Done well, a one-room exhibition can be the very best sort, a small selection of paintings allowing the focused exploration of a single topic without the diluting effect of multiple rooms and objects.
In this respect,
Artists in Amsterdam
rather misses its mark, providing neither the detail nor the scholarly insight we have come to expect from the National Gallery's Room One exhibitions.
Even so, Dulwich Picture Gallery's display is not without its merits, and it uses eight works from its extensive collection of Dutch paintings, plus one loan, to sketch an evocative, if slight impression of artistic life in 17th-century Amsterdam. Made by five artists, the works attest to the city's remarkable rise during the Dutch Golden Age. Its population doubled between 1600 and 1670, and as Europe's new economic centre it drew artists from all over the Low Countries, keen to seek their fortune in a buoyant, wealthy art market.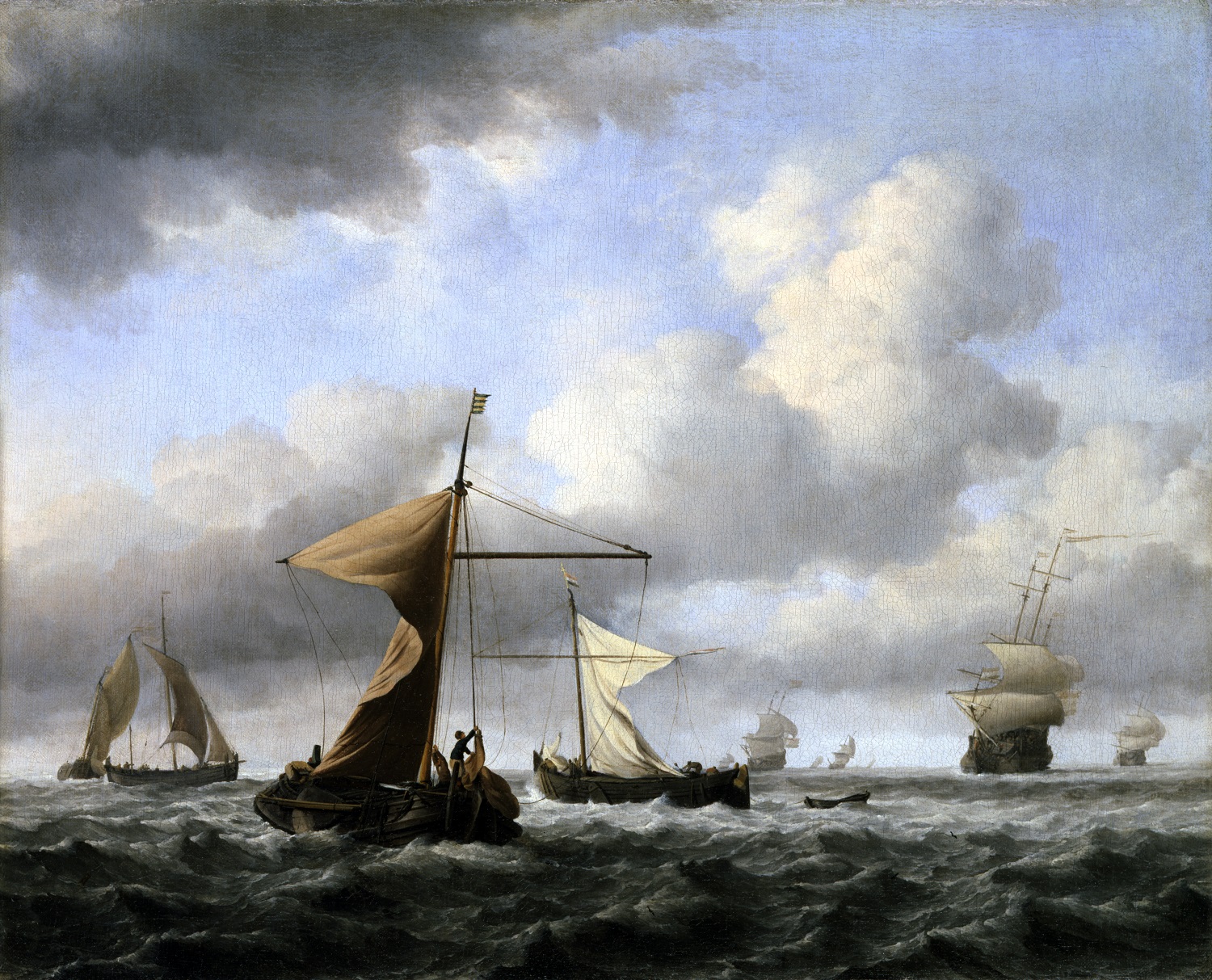 One such artist was Adam Pynacker, whose travels in Italy inspired the modestly-sized Bridge in an Italian Landscape, c. 1652-54. When Pynacker settled in Amsterdam in 1661, he adjusted his output to satisfy his nouveau riche clientele, the large-scale hunting scene that forms the exhibition's centrepiece a rather more forceful expression of wealth and status (main picture: Landscape with Sportsmen and Game, c.1665). A leisure activity associated with the gentry, hunting communicated the social ambitions of the new mercantile classes, while invoking traditional pastoral scenes that implied a learned familiarity with classical civilisation. At heart, though, it is staunchly, proudly Dutch: a weirdly miniaturised still life of dead game occupies the middle ground, a Dutch speciality that imbues earthly abundance with a melancholy acknowledgement of its transient nature.
Less showy, but just as redolent of time and place, are two small seascapes by Willem van de Velde (pictured above right: A Brisk Breeze, c.1665), who, like his father before him, specialised in maritime paintings. Such paintings held a particular appeal for a seafaring nation, made wealthy through trade, and Van de Velde had plenty of clients among Amsterdam merchants. To modern eyes, such scenes are familiar from the domestic interiors of Vermeer and de Hooch, who placed seascapes on parlour walls to provide narrative subtext by suggesting emotional turbulence, or an absent lover or husband.
Artists came and went no more or less than any other members of Amsterdam's working population. Several of the five featured artists had careers that took them all over Europe, but Jacob van Ruisdael's paintings of his native Haarlem are a reminder that in the 17th century even short distances were significant. Having moved 12 miles away to Amsterdam in order to pursue his career, Ruisdael's quaintly rustic depictions of Haarlem transport him – and us – to a different world altogether.
Artists in Amsterdam at the Dulwich Picture Gallery until 12 January 2020

Maritime paintings held a particular appeal for a seafaring nation, made wealthy through trade
rating
Explore topics
Share this article