Age of Terror: Art Since 9/11, Imperial War Museum review - affecting but incoherent |

reviews, news & interviews
Age of Terror: Art Since 9/11, Imperial War Museum review - affecting but incoherent
Age of Terror: Art Since 9/11, Imperial War Museum review - affecting but incoherent
Artistic response to terrorism works best in tiny vignettes
Wednesday, 01 November 2017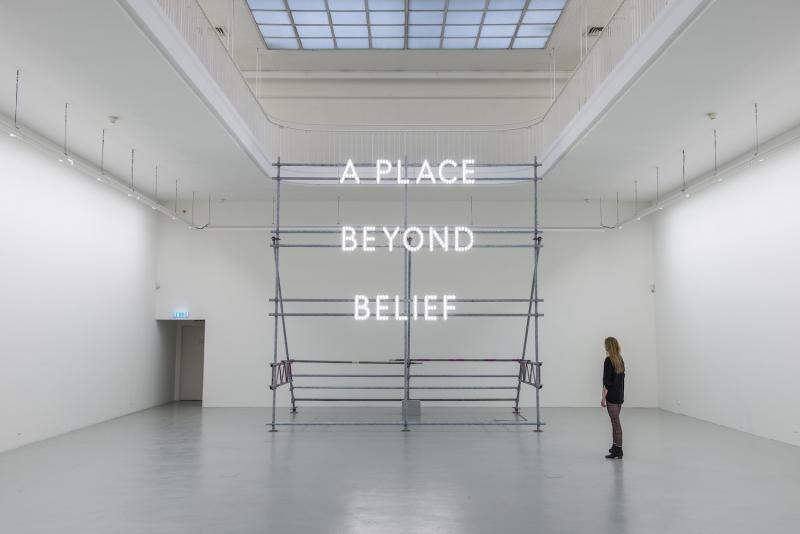 Luminous: Nathan Coley's 'A Place Beyond Belief', 2012,
The Imperial War Museum's Age of Terror: Art since 9/11 brings together art made in response to the immediate events and long-term consequences of the events of 11 September.
In the main the exhibition is more historical survey of conflict-related artistic output than engaged examination of how artists have responded to the resulting conflicts, and what coherence it achieves derives from the paint-by-colours effect of dividing it into four roughly chronological topics:
9/11
, State Control, Weapons, and Home. These divisions also make it pretty uncomfortable viewing.
Since the purpose of the artworks in each of the sections is to flesh out the allotted topic, the significance of each piece is fixed: meaning is hollowed out, questions are closed down. Propaganda works this way. But the exhibition is more haphazard than proselytising, though it offers unsettling glimpses of the easy transgression between art which carries its own meanings, and art which becomes the instrument of external meanings.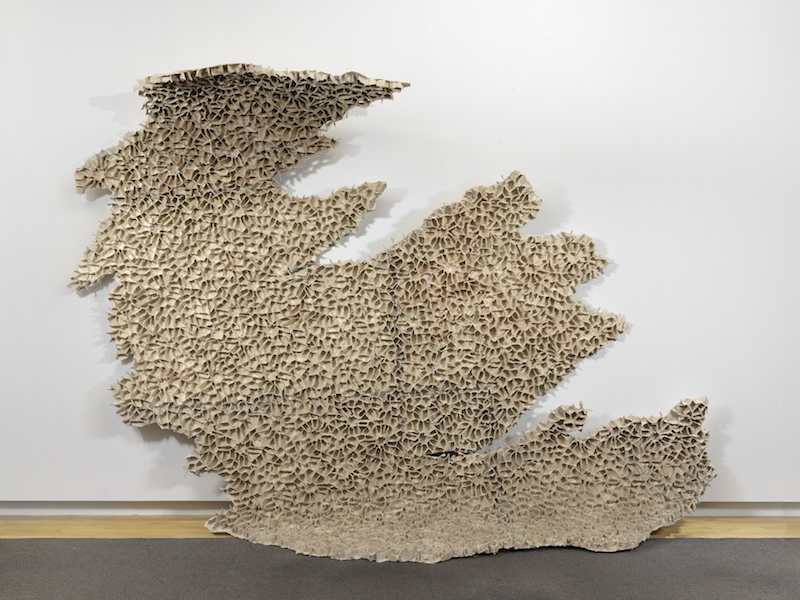 The fear of inept or malign use is a live and very real concern for contemporary artists working out of today's conflicts, yet how an exhibition which begins with the events of 9/11 concludes with Syria's intractable civil war (Hrair Sarkissian's dual screen film Homesick, 2014) is never made clear, and the inclusion of works by Taryn Simon and Ai Weiwei which speak of American gun culture and Chinese state surveillance are at best missteps and, at worst, wilful elisions.
Curatorial unease aside, many of the pieces on show are eloquent. Walid Siti's sculpture Floodland, 2017 (pictured above right), reminds us how decades of conflict erode beauty, stability, and identity, and how lives become as blasted as walls, ceilings, floors. Bomb Iraq, 2005, by Cory Arcangel references the intersection of video games and airstrikes in the context of the Gulf War and sheds light on current drone deployment policy. Iván Navarro's The Twin Towers, 2011, carefully commemorates the lives lost in the World Trade Center towers while touching on events that continue to lead us down a dark and unfathomable future.
Equally powerful are the first few rooms which deal with artists' responses to 11 September itself. A print of a painting by Gerhard Richter (September, 2009) which he considered destroying hangs opposite a vase by Grayson Perry (pictured left: Dolls at Dungeness, September 11th, 2001, 2001) — a piece as tasteless as it is honest about a day as terrible as it was surreal. Both artists ask what — if any — power art has in the context of the unspeakable. But what really stands out is New York artist Tony Oursler's documentary (9/11, 2001). Lingering shots return to empty sky where the towers once stood, and snatched video of the saddened city reeling — multicultural, multiethnic, multilingual, pluri-religious — track how the trauma that provoked donations of money, blood, time and food began to curdle into vituperation, hate.
Likewise, Nathan Coley's luminous A Place Beyond Belief, 2012, deals with the loss of what seemed a more innocent world. It references a young woman's account of how a Sikh man on the subway, affected by the palpable sense of hatred emanating from other commuters, left the subway sobbing. Deeply shaken, she concluded the city needed to "get to a place beyond belief" before it could heal.
The power of this exhibition resides not in grand statements about the impact of that day and the calamitous consequences with which we still live, but in the tiny vignettes which remind us how personal and permanent are the changes wrought by violence, conflict, and war — all the world over.
The fear of inept or malign use is a live and very real concern for contemporary artists working out of today's conflicts
rating
Share this article