57th Venice Biennale review - riveting and bewildering |

reviews, news & interviews
57th Venice Biennale review - riveting and bewildering
57th Venice Biennale review - riveting and bewildering
Extreme art trek provides enough high points to justify the foot sores
Anne Imhof's 'Faust', conceived for the German Pavilion, is a hellish piece of performance art
Riveting and bewildering, the 57th Venice Biennale has just opened its myriad doors to the public with several thousand exhibits spread across Venice and its islands. The preview days were thronged with the art world and its coterie of high and low life, with queues stretching outside the two main venues at the Giardini and the Arsenale, and people jostling to enter the national pavilions (86 in all).
A line of people waited expectantly to climb a set of steps and poke their head through an opening in the base of the Japanese Pavilion, only to find themselves, embarrassingly, the centrepiece of the main exhibit – a blasted Hiroshima landscape – with viewers circling their dislocated heads (pictured below: Turned Upside Down It's a Forest).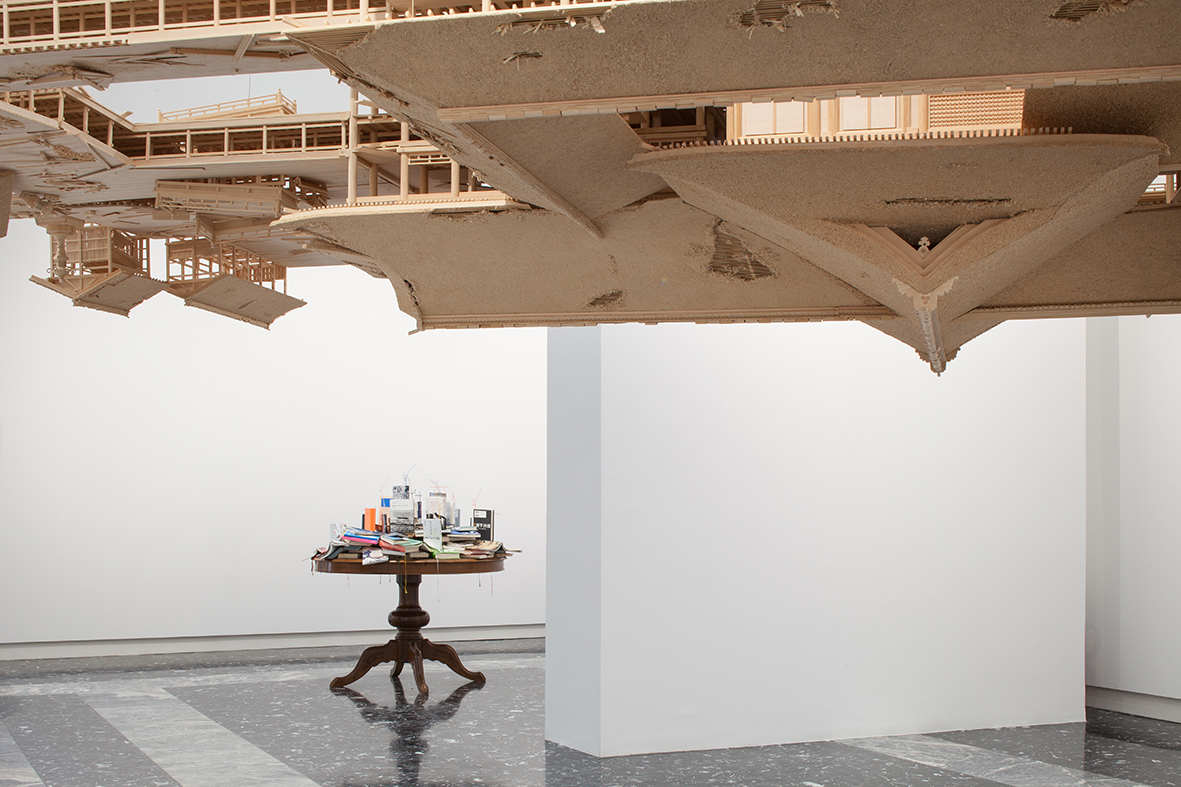 Phyllida Barlow's plain-speaking Folly (pictured below right) for the British Pavilion proved less disconcerting, with its teetering structures, joyous palette, and robust and unpretentious physicality filling every drop of space but never blocking the view. Marble columns, slabs of concrete and stone boulders are playfully suggested through plaster-coated scrim and polystyrene, evoking the visual fun of a traditional architectural folly while also displaying Barlow's down-to-earth sensuality. A relieved British contingent declared it a triumph. Mark Bradford's American Pavilion was another reliable highlight: a master of his abstract medium and political message, Bradford's works call urgently and powerfully for an America with a heart and a conscience.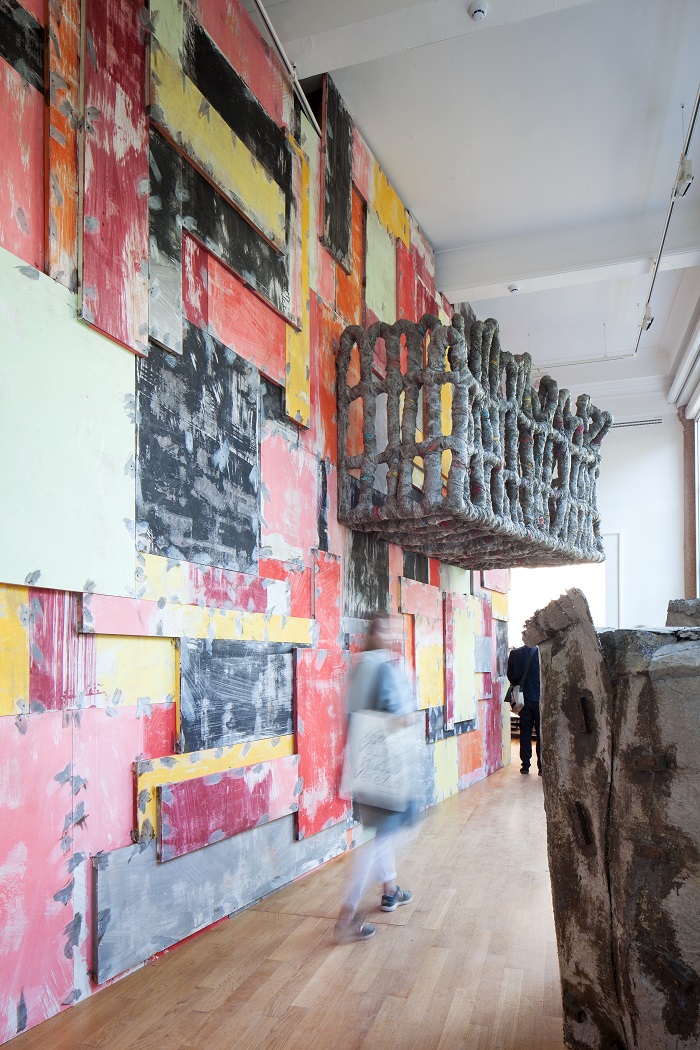 For those looking for light relief, the Finnish contribution, an installation with video and animatronic sculpture by Nathaniel Mellors and Erkka Nissinen, provides an irresistible injection of laugh-out-loud silliness. Alternatively, one can travel further afield to the Giudecca to take coffee in hand-crafted cups with two irreverent and hungry Icelandic trolls. Precious insights into other nationalities and cultures are offered aplenty, with the Korean Pavilion flamboyantly illustrating the clash of ideas between East and West. Cody Choi's paraphrase of Rodin's The Thinker – coloured Pepto-Bismol pink to show how hard it is to digest another's culture – is a case in point.
But perhaps the most arresting work – and the deserved winner of Venice's Golden Lion award for the best national participation – is Anne Imhof's Faust (main picture), conceived for the German Pavilion in the Giardini. A hellish piece of performance art, choreographed to encompass the entire pavilion, it features dancers and performers who crawl beneath the glass floors, walls and ceilings, which represent "a room, a house, a pavilion, an institution, a state" with nowhere to hide. We degrade the participants as we look down on them and dissect them with our gaze, but they also surface, contorting themselves in acts of capricious violence and resistance, following precisely rehearsed sequences or improvising within predetermined structures. Dobermans patrol the caged exterior, contributing to the sense of menace and adding to the terrific unease (pictured below). The piece speaks to our era of paranoid surveillance and the fate of the displaced and dispossessed.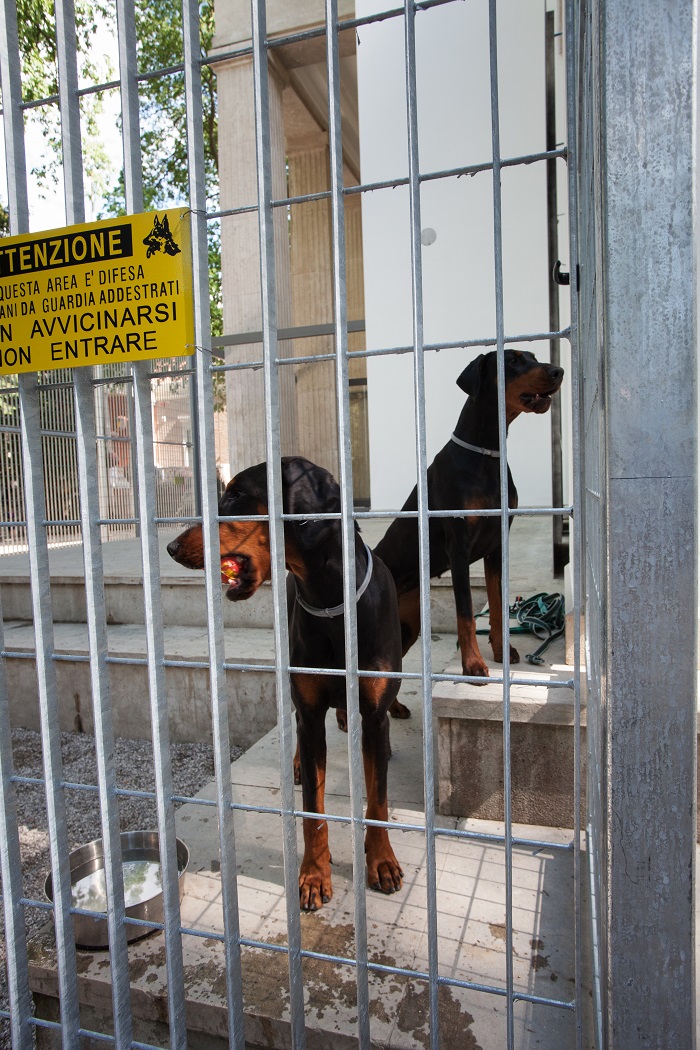 Other stand-out pavilions are those of New Zealand and Italy, both inhabiting the far reaches of the Arsenale. In the former, an early 19th century French scenic wallpaper illustrating the three Pacific voyages of British navigator James Cook has inspired Lisa Reihana's wonderful panoramic video Emissaries, which uses filmic and animation technologies and reimagines the scenes from a Pacific perspective in a series of mesmerising vignettes (pictured below). In the latter, Giorgio Andreotta Calò creates two eerie worlds in the same vast space; the lower darkened level leads to steps at the far end that disappear into an upper level. As one ascends these, another realm appears as if by magic: the huge medieval timbered roof is reflected in a monumental pool of water that occupies the length and width of the space, creating a disorientating Tintorettoesque church-like architecture above and below, and evoking the mystery of the lagoon.
While the main international exhibition, curated by Christine Macel in the Central Pavilion of the Giardini and the "seven realms" of the Arsenale, disappoints – due partly to its unprecedented size, its over-emphasis on artistic practice, and a preponderance of lesser-known artists – the collateral exhibitions, spread throughout palaces, exhibition venues and churches, provide real high points. On the Island of San Giorgio Maggiore, the iconic works of two giants of Italian modern art – Alighiero Boetti (d.1994) and Michelangelo Pistoletto – stand side by side in adjacent spaces (the Fondazione Giorgio Cini and the Abbazia di San Giorgio Maggiore). Pistoletto's exhibition One and One Makes Three comprises an installation and a retrospective, with the mirror art that he has made his own now providing the unifying element between peoples and religions.
The impressive Phillip Guston exhibition at the Gallerie dell'Accademia illuminatingly explores his powerful and often melancholic relationship with 20th century poetry, while a new Museo Fortuny exhibition, which shows how intuition has shaped art through the ages, reveals how exquisitely a show can be curated and displayed in this most bewitchingly exotic and at the same time Zen-like of palatial settings. Stealing their thunder, but not their emotional, intellectual and aesthetic impact, is Damien Hirst's colossal extravaganza of an exhibition, The Wreck of the Unbelievable, which occupies the Palazzo Grassi and the Punta Dogana. Its epic scale, its kitsch and glitz, its brash industrial and commercial model, and its insouciant wit, speak loudly and knowingly to the decadence of our times.
In contrast, two quieter exhibitions, both of which make eloquent use of their historic locations, have a more profound impact. Beverly Barkat's considered and lyrical response to the Palazzo Grimani's painterly Cinquecento palace, with its Renaissance frescoes and ancient marbles, gently dazzles as 12 vertical sail-like works (painted on both sides of semi-transparent PVC sheets and hung from floor to ceiling) respond to the light, colour and airiness of the interior architecture. Archaic, the exhibition of the Pavilion of Iraq, displayed in the disused library of the Palazzo Franchetti, is more archaeological than art historical in its inspiration. It painfully reveals the devastated state of Iraq today, with its inability to protect its archaeological artefacts as well as its current socio-political structures – which are tragically now as "archaic" as its ancient heritage. The serried ranks of museum-style glass display cases contain this fragile reality.
Particularly moving is the display case devoted to "The Scribe', with a short film by the artist/filmmaker Luay Fadhil. Fadhil's scribe is the eternal mediator between speaker and text – we view Fadhil's film alongside earlier objects, such as a 1914 photo of Jewish scribes in Babylon, or an ancient Assyrian scribe relief carved in stone. Fadhil's scribe is the vessel for the saddest of human emotions. On a busy Baghdad sidewalk, a young man seemingly dictates a simple parting message to the wife he longs for but is in the process of divorcing – it is only at the end of the film that we realise that his longing is that of the bereaved. As he leaves on his bike, pedalling his way through the dusk to deliver his missive to the cemetery, his dead wife's coat and scarf flap from the bike at the back. That poignant little film will stay with me long after the razzmatazz of this year's Biennale has died away.
The Finnish contribution provides an irresistible injection of laugh-out-loud silliness
Explore topics
Share this article
Subscribe to theartsdesk.com
Thank you for continuing to read our work on theartsdesk.com. For unlimited access to every article in its entirety, including our archive of more than 10,000 pieces, we're asking for £3.95 per month or £30 per year. We feel it's a very good deal, and hope you do too.
To take an annual subscription now simply click here.
And if you're looking for that extra gift for a friend or family member, why not treat them to a theartsdesk.com gift subscription?