The X-Files, Channel 5 |

reviews, news & interviews
The X-Files, Channel 5
The X-Files, Channel 5
Long-awaited sci-fi return gets off to a lacklustre start
Tuesday, 09 February 2016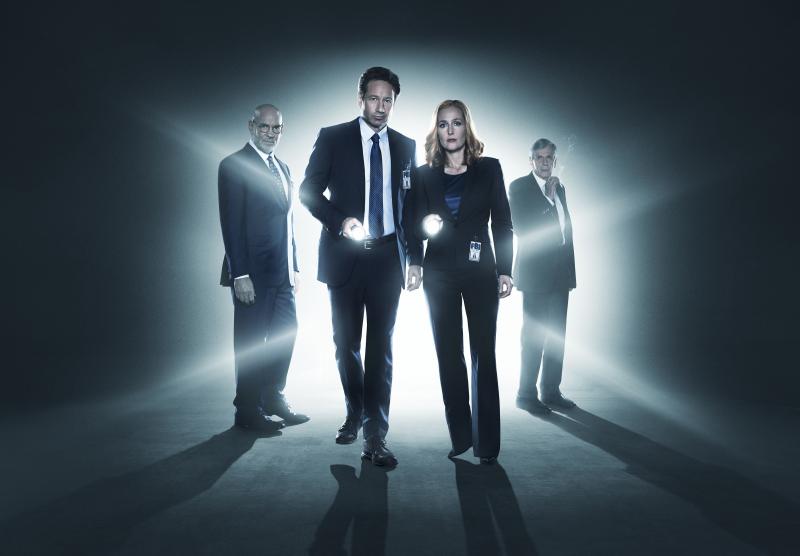 Fox Mulder (David Duchovny) and Dana Scully (Gillian Anderson) reunited in a re-opened 'X-Files'
It's 2016, and The X-Files is the most popular TV show in the world. The very idea that over 20 million people in the US would tune in to a new episode of the pioneering sci-fi drama 14 years after the last one might seem as preposterous as the conspiracy theories the show put forward in its later years, but it was probably more likely than fans in the UK hanging on for the fortnight it took for the new episodes to show up on Channel 5.
The problem, though, is how to re-introduce a show that managed to combine being a genuine pop culture phenomenon with the sort of convoluted mythology that, towards the end, turned off all but a small fraction of those viewers. It's one that the first episode of this six-part mini-series attempts to get round with a bit of classic exposition: a before-credits voiceover from Agent Mulder (David Duchovny) as a pair of disembodied hands leaf through stock photos from the 1990s, followed by a fill-in-the-blanks mind-reading session by a whimpering alien abductee. Sound ridiculous? We've not yet reached the bit where the usually sensible Dana Scully (Gillian Anderson) takes a late-night champagne-fuelled limo ride with a conservative US talk show host.
A frustrating homecoming then, although one which hints at better things to comeThere's a lot to be said for nostalgia, particularly when the subject is your all-time favourite TV show – I'm sure I wasn't the only one with shivers down her spine upon hearing the tremulous notes of Mark Snow's famous theme music – but the first episode of The X-Files the 2016 edition is pretty bad. (The mini-series gets exponentially better as it progresses and our protagonists find themselves inexplicably welcomed back into the bosom of the FBI though, so don't upset those ratings for me). It finds Scully practicing medicine again, performing the sort of operations on children with congenital birth defects that only cause blood spatters on the parts of the body not covered by hospital-issue scrubs; and Mulder condemned to a lonely life watching generic-YouTube-equivalent videos and howling at the moon. A request from talking head Tad O'Malley (Joel McHale, pictured below with Anderson and Duchovny) – whose ability to make a living from a web video series is the episode's biggest mystery of all – brings the duo back together, as they attempt to unravel a decades-old conspiracy centring on doe-eyed alien abductee Sveta (Annet Mahendru).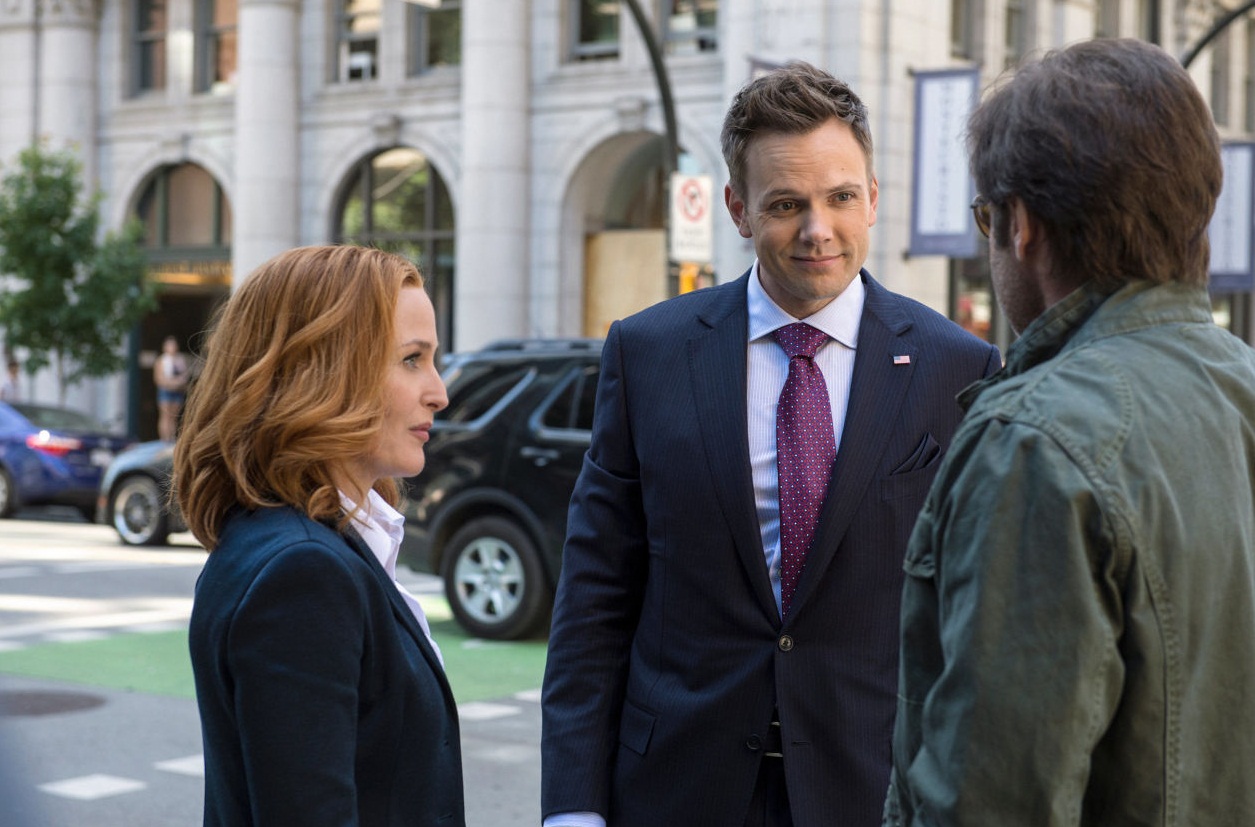 So far, so 1997: there's a mysterious, elderly informant who taunts Mulder with how little he knows; a tantalising glimpse into a familiar office with pencils embedded in the ceiling; and an impressively grizzly FBI Assistant Director Walter Skinner (Mitch Pileggi) who still hasn't got that promotion. But as the visual effects team delight in having the budget for UFO crashes, rubber-clad little green/grey men crawling through the grass and a disappearing Alien Replica Vehicle – apparently this is a thing – it's hard not to be nostalgic for the glory days of a show that was never scarier than when it merely hinted at the nasties crawling in the shadows.
On the other hand, the chemistry between show leads Anderson and Duchovny – we learn almost immediately that the domestic not-quite bliss conjured up in the 2008 movie didn't last out the decade – remains a how-to in TV pairings. The characters have aged in ways that seem true both to themselves and their relationship: she, icily competent and battle-hardened not unlike Anderson's more recent TV triumph; he, driven crazy by lack of human contact and too much internet access. Their scenes together are both tender and tense, enough to keep you rooting for them even if Scully could always have done better.
A frustrating homecoming then, although – with the titular X-Files reopened and an old foe resurrected before closing credits – one which hints at better things to come. With five hours remaining, there's plenty to play for.