Wolf Hall comes to BBC Two |

reviews, news & interviews
Wolf Hall comes to BBC Two
Wolf Hall comes to BBC Two
Hilary Mantel's historical novels journey from page to stage to screen
Damian Lewis as Henry VIII (left) and Mark Rylance as Thomas Cromwell
You read the book, you saw the play, and in January you can see the BBC's new six-part dramatisation of Wolf Hall. Cunningly adapted by screenwriter Peter Straughan and directed by Peter Kosminsky, the series promises to be both a faithful translation of Hilary Mantel's novel and an absorbingly fresh approach to the telly-isation of history.
"They're such huge books [ie Wolf Hall and companion piece Bring Up the Bodies] and so layered and epic, the first challenge was to find a kind of through-line for the drama," said Peter Straughan at a screening of the first episode. "I decided it was about revenge, which is there in the novels – though there's so much more in the novels – but it's about Thomas Cromwell setting out to avenge Cardinal Wolsey once Wolsey has fallen, and the complications that ensue."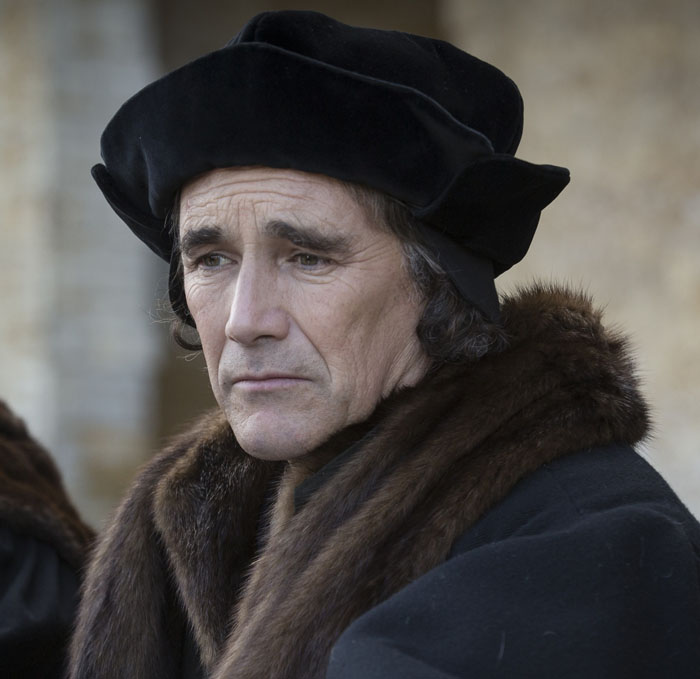 In pole position, dramatically speaking, is Mark Rylance as Cromwell (pictured right). What had attracted him to the role?
"My wife said the books were very good," Rylance deadpanned. "And I like working with Peter Kosminsky [as he did in Channel 4's The Government Inspector]. Obviously it's a wonderful part. The fact that he keeps all his thoughts and judgments close to his chest and doesn't reveal them and doesn't show very much, that seemed very challenging."
Although Damian Lewis's Henry VIII doesn't appear until the closing moments of the first episode, it immediately becomes clear that this is a shrewd and calculating individual accustomed to wielding enormous power. As Rylance put it, "in the cosmology of the period, whatever whim or desire he has, whatever he thinks is what God is thinking. He's there by God's will and if he's a bad king then the nation deserves a bad king. If he's a good king, then lucky us. That would be Cromwell's view of him – if he's wrong, God's wrong. So he's powerful in a way that we don't imagine any more."
Damian Lewis pointed out that the younger Henry was far removed from the grotesque man-mountain of popular mythology.
"A little known fact, but a good pub quiz answer, is that Henry had a 34 inch waist until his late thirties," said Lewis, "and he was a preeminent jouster, rider, hunter and sportsman of his generation. There's some contention about why he suddenly ballooned in this Elvis-like fashion, but his horse did roll on him and knock him unconscious for two hours and he was unable to be the athlete he'd previously been from that point. He ballooned to a 54 inch waist in the last 10 years of his life" (below, Claire Foy as Anne Boleyn with director Peter Kosminsky).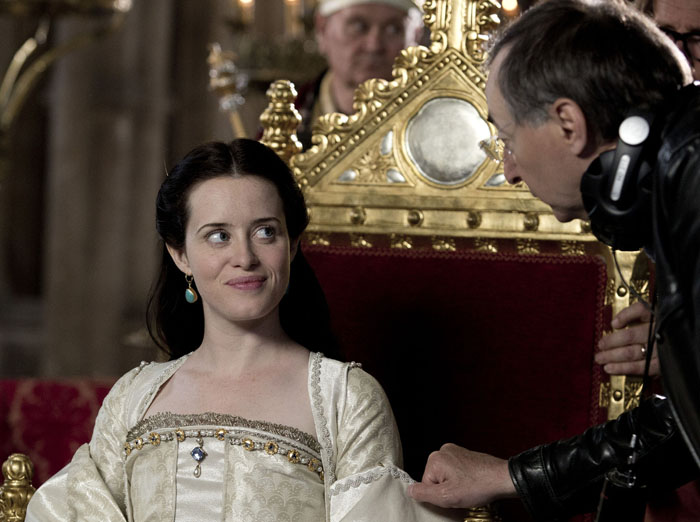 Not, one would hasten to add, that Lewis is playing the fearsome monarch in the manner of Jonathan Rhys Meyers in the lurid and romptastic The Tudors. Adds Kosminsky: "I think what Damian has achieved is to show the many facets of the man. This was a guy who as well as an athlete was an architect, who designed a number of the properties he lived in. He was a musician, he was extremely accomplished academically, he was a great linguist and he designed clothes, some of which he wore. He was to me at least the original Renaissance man."
The series already has one satisfied customer in the shape of Hilary Mantel, who has hailed "the concision and coherence of the storytelling" and "the originality of the interpretations". Of Kosminsky, she said that "he knows how politics play in human terms; he knows how to pinpoint the acute moral dilemmas that the exercise of power creates." And she has no problems with the idea of her novels being adapted for stage and screen. "The play, the film, already exists inside you. The art is to work with people who will help you relocate that inner reality and put it where others can share it." And that would be on BBC Two in the new year.
A little known fact, but a good pub quiz answer, is that Henry VIII had a 34 inch waist until his late thirties
Share this article