Trust Me, BBC One, series finale review - drama about fake doctor was also pretending
Trust Me, BBC One, series finale review - drama about fake doctor was also pretending
Jodie Whittaker star vehicle fails to answer its own questions about medical morality
Wednesday, 30 August 2017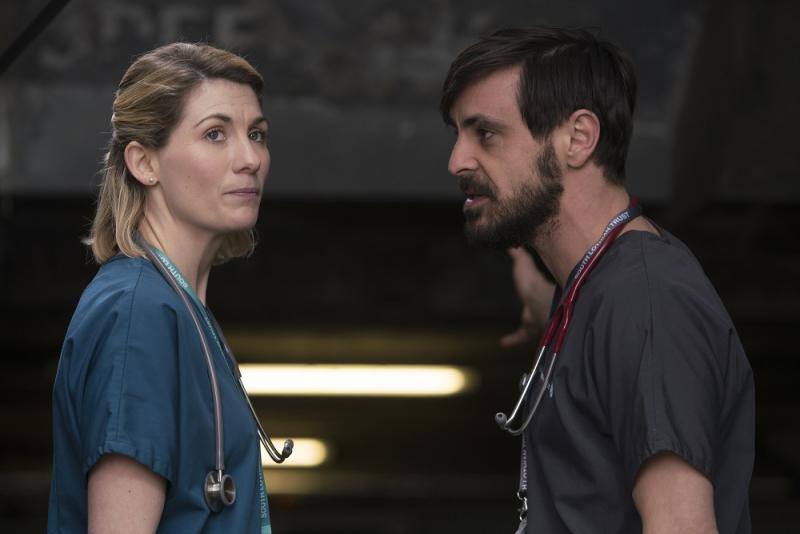 Your call, doctor: Jodie Whittaker and Emun Elliott in 'Trust Me'
Trust Me made an eponymous plea to the audience. Its implausible premise – that a nurse might steal a doctor's identity and land a job in A&E – called for your credulity.
Around the broadcast of the
drama
's first episode on
BBC One
, sundry articles sprang up in the media offering supportive evidence that just such scenarios often come to pass for real.
And yet in this medical case there was a kicker. Most impostors are motivated by some form of psychological flaw: grandiosity, narcissism, deep denial. Trust Me took a different tack: its fake doctor (played by Jodie Whittaker) was so angered by failings in the NHS that she seized the chance to prove she could do better - and maybe better her own life circumstances on the way. She wasn't quite an altruist, but she had an inner core of goodness.
Thus Sister Cath Hardacre in Sheffield became Dr Alison Sutton in Edinburgh. Her wardrobe underwent a classy makeover. Romantically she traded up from her spindly loser ex Karl (Blake Harrison, pictured below with Summer Mason) to rugged alpha-doc colleague Andy Brenner (Emun Elliott). A high-speed learner, she had an additional talent for listening to her patients' life stories, while suppressing discussion of her own.
The first two episodes pursued the expected line of enquiry, threatening Cath/Ally with exposure. The camera spent plenty of time scoping Whittaker's green-brown pupils for signs of paranoid terror. Things got so tense you'd have been forgiven for suffering a coronary on the sofa. A conclusion in which this confusingly likeable criminal ended up in prison seemed inevitable - but also, therefore, too predictable.
When Andy unveiled her true identity he decided, being both in love and impressed by her professional competence, not to shop her to the police but shield her. It was at this point that scriptwriter Dan Sefton lost interest in pursuing a logical line of dramatic enquiry, and took a giant sideways step to chase an entirely different scent: an office romance threatened by a double jeopardy in which not one but now two careers could be destroyed.
The real threat of exposure arrived in the form of Karl, who pitched up in Edinburgh wearing a gormless grin only to discover that the mother of his child was neck-deep in deception. The endgame boiled down to a tawdry love triangle and a sitting-room scuffle between two blokes with beards. In Karl the plot had the option of going full circle and returning to Sheffield, which would be boring. As the script wasn't going to clap Cath/Ally in irons, the only solution was to run Karl over with a car. Oddly for a drama about people dedicated to saving lives, Trust Me had a callous disregard for the life of one of its characters. Little Molly (well played by Summer Mason) lost a father but, a few tears later, the smile was soon back on her mother's face.
So in the end, Trust Me never confronted the premise that people probably shouldn't pretend to be doctors. Ally demonstrated her fundamental sense of honour by refusing to denounce her alcoholic colleague Bridget (Sharon Small, pictured above), whom the script let off with a period of sick leave. Omertà was seen to pay, because Ally was rewarded with Bridget's job.
Will the free pass granted to Cath/Ally offer encouragement to a new generation of impostors? Who knows? It was never less than watchable, with strong support from Lois Chimimba and Michael Abubakar as a pair of voluble nurses. But in the end Trust Me didn't seem to have anything constructive or insightful to say about the morality of medical fraudulence or the psychology of the impostor, principally because this one was just too good to be true.