Preacher, Amazon Prime Video |

reviews, news & interviews
Preacher, Amazon Prime Video
Preacher, Amazon Prime Video
Smart, funny and very violent: the Vertigo Comics classic hits the small screen
Preacher: with great power comes great responsibility…
If you're going to go toe-to-toe with Daredevil and Jessica Jones, the first two series in Netflix's supremely realised and blood-spattered depiction of Marvel Comic's Hell's Kitchen, it's as well to do it with conviction. By hosting Preacher, based on the comic book series by Garth Ennis and Steve Dillon, Amazon went in swinging – low and hard, fighting dirty from the off.
WARNING: HERE BE SPOILERS!
The series concluded on the streaming service this week, but even before it had aired there were concerns about whether it could ever do the comics justice. In fairness, the story of a man of the cloth who, along with his wise-cracking vampire mate and volatile, hard-as-nails ex, goes in search of an AWOL God, doesn't sound like the easiest package to wrap for TV. And that's before you factor in his body playing host to a divine power that gifts him the ability to make people do his bidding. The first thing that showrunner Sam Caitlin (Breaking Bad) and his co-developers Seth Rogan and Evan Goldberg got right was to scale down.
The first series compresses much while extending more from the source material in order to shore us up for the forthcoming 13-part second series. Preacher the comic is simply too high-octane to represent faithfully; there would have been no respite from the relentless bloodshed and endless gallery of relatively unconnected grotesques.
The result is that backstories are changed, narrative chopped and pace dialled down. However, it's all done with a clear goal in sight – to make Preacher the TV show, rather than simply film Preacher the comic.
In doing this, Caitlin has introduced a much more leisurely feel that allows us the chance to absorb more and let characters develop at a tempo that does them justice. So we actually see Jesse Custer's struggles with the vocation of preacher, of which there's precious little in Garth Ennis's original story, and which adds a convincing, flawed depth. Odin Quincannon, played with supreme menace by Jackie Earle Haley (pictured above), is moved from the town of Salvation to Annville, and to the front of the piece, while elements of his arc are concentrated to give us a much more detailed, and believable character – one who acts as a considerable nemesis to our all-powerful hero.
The same is true of Eugene Root (Ian Colletti, pictured below). Known in the comics simply as "Arseface", he is changed from a hapless, vengeance-seeking figure of fun into a character who displays a real degree of emotional and moral complexity. The source of much bathos, Eugene is also key to Custer's understanding of the power he now houses and how difficult it is to be a good man even when one tries.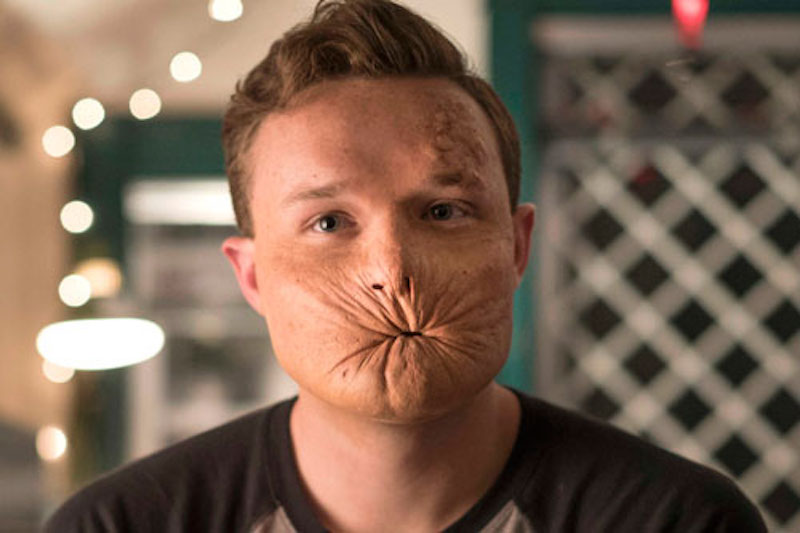 Where the series is faithful is in the spirit and the feel. The colour palette and tone of the original lend themselves well to the shadowed sidings that run parallel to the main story. The comic-book violence (of which there is much) is sometimes funny, often shocking and occasionally balletic, but it never feels dull, overplayed or without purpose. A fine example of this is the use of blood-soaked repetition while fleshing out the character of the Saint of Killers, a kind of Hellbound gun for hire, at the end of episode nine. You may also include pretty much any scene with hapless angels DeBlanc and Fiore (played with wonderful comic intellect by Tom Brooke and Anatol Yusef) in this.
Meanwhile, the three leads are near perfect in their performances. Dominic Cooper fills the role of Jesse Custer with a quiet confidence and an accent that I didn't think he was capable of after his showy, brash turn in Agent Carter. Ruth Negga, as Tulip, and Joe Gilgun, who plays the wisecracking vampire Cassidy (both pictured below), are similarly strong, giving, if anything, a more fully realised account of character than their comic-book counterparts can supply.
Given this purposeful protraction, the series finished pretty much where the comics begin, having extended and invented with confidence, style and bravery. In doing so, the cast and creators have managed not only to do right by the source material but have in many respects bested it. The changes add texture and definition, where we could so easily have been left unsatisfied and confused.
It's going to be 2017 before we find out what's on the horizon for our antiheroes as they head off in search of an absent God. But, as Jesse, Tulip and Cassidy leave behind a huge hole where a town once stood, it's not a problem – a series this good is worth waiting for.
The cast and creators have managed not only to do right by the source material but have in many respects bested it
rating
Share this article