The Paradise, Series Finale, BBC One |

reviews, news & interviews
The Paradise, Series Finale, BBC One
The Paradise, Series Finale, BBC One
Was there anything really to root for in this eight-hour adaptation of Zola?
Wednesday, 14 November 2012
The heiress and the shopgirl: Elaine Cassidy and Joanna Vanderham
The BBC has other things on its to-do list at the minute. However, once all the newly installed acting heads have been replaced by actual heads, and the matter of the ex-DG's severance pay sufficiently chewed over by the Corporation's bosom pals in the Fourth Estate and the Conservative Party, perhaps someone at TV Centre could get around to other business. The search, for example, for a costume drama capable of giving Downton Abbey a bloody nose.
It's not been a good period for period on the BBC. Since the ladies of Cranford hung up their bonnets, Upstairs Downtairs trailing oodles of pedigree has twice stepped into the ring with Julian Fellowes' lords and lackeys, and both times been carried out on a stretcher. The latest young contender ended its run last night. So what, after eight episodes, are we to make of The Paradise?
The first thing to say is that halfway through this first series a second was commissioned. No matter that after four episodes it was difficult to see quite where the whole enterprise was heading. Very loosely adapted from Zola's novel about an expanding Parisian department store, the series initially meandered about like a confused shopper in several minds.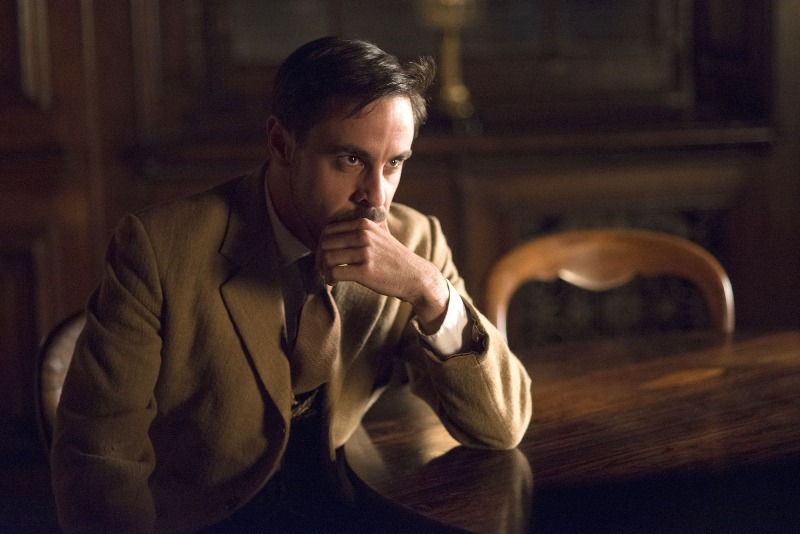 The viewers' way in to The Paradise was Denise (Joanna Vanderham), a demure young assistant in the ladies' dresswear department, but for the first five hours she did little but keep her trap shut, work resourcefully and earn the trust of the store's conflicted owner Mr Moray (Emun Elliott, pictured above right). Then in episode six, absolutely out of the blue, she announced her love for her employer. "I love you so I cannot remember my own name half the time," she claimed somewhat implausibly, before resigning her position and retreating to her uncle's shop over the road to lick her wounds. This declaration put Moray in a bit of pickle. He has spent the entire series being pursued by the memory of his late wife and by heiress Katherine Glendenning (Elaine Cassidy), who is used to getting her way.
The Paradise is not the first adaptation to cast off from the source material and chart its own path. Nor is it the first to encounter resulting navigational issues. The long saga of Moray's on-off relationship with the tempestuous and manipulative Katherine was drawn out quite as tediously as anything perpetrated on the long-suffering viewer by Matthew and Lady Mary Crawley. The difference was that, being equally unsympathetic, there was little encouragement to root for either of them. Part of the problem rests with Zola: in Moray, Elliott has had to bring to life a tricky obsessive-compulsive who seems not to know his own mind. The essential Frenchness of a character driven by complexes hasn't quite gelled with the cosy English light-entertainment setting. Meanwhile Cassidy's heroine, initially no more than coquettish, has slowly mutated into a tiresome foot-stamping monster.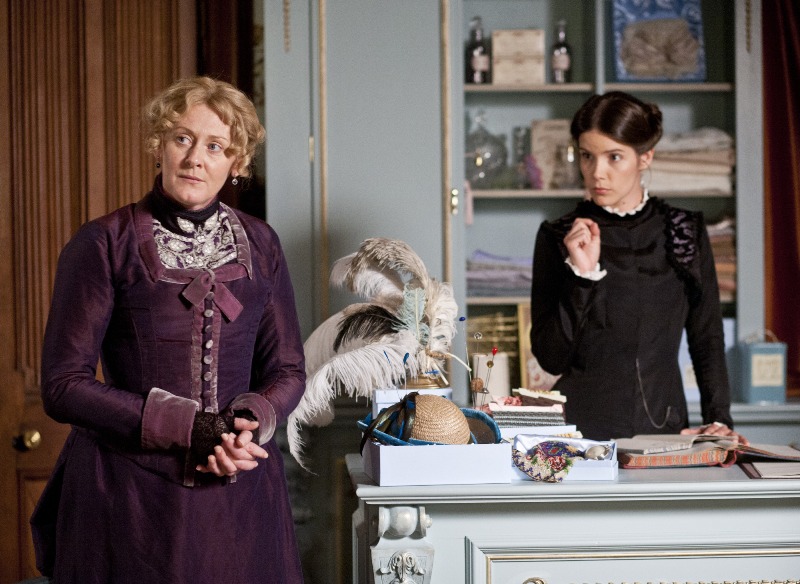 With a lack of sexual or romantic tension to raise the temperature, many of the pleasures of The Paradise have had to flourish in the margins. Sarah Lancashire as ladieswear figurehead Miss Audrey has turned in a deliciously subtle study of the middle-aged spinster petrified that life is passing her by. Last night her character, who had long since given up on romance, had her reward in the form of a reunion smooch with her old admirer. The pick of the staff was Ruby Bentall as gawky little chatterbox Pauline, who had a homespun retort for every situation, even her shrewish colleague Clara (Sonya Cassidy, pictured above left with Lancashire) still mooning after a brief dalliance with Moray. "It was one night, Clara, and it's gone. So's me milk teeth and they're not coming back."
But there were too many characters who, however much back story they were given to work with, simply didn't amount to much. Matthew McNulty, thanklessly cast as a sidekick to Moray, had no inner life of his own. "Go home," he was told in ep seven. "You have a family." Who knew? The closest the narrative came to any sort of workable villain was the one-armed, gravel-voiced store henchman Mr Jonas (David Hayman), who took the concept of absolute loyalty to The Paradise perhaps a little too far by murdering a blackmailer. By the end of the series he seemed not to have paid for his crime beyond the loss of his much cherished job.
The Paradise's eight-hour journey eventually resolved itself into an unequal tussle between love and pragmatism. Faced with a choice between a shopgirl and potential penury or a loveless marriage into untold wealth, Moray did the televisual thing and plumped for his mousy admirer. It says somewhere or other that the meek shall inherit the earth. They don't tend to fare so well at the BAFTAs.
With a lack of sexual or romantic tension to raise the temperature, many of the pleasures of The Paradise have had to flourish in the margins
Explore topics
Share this article