Merry Christmas Baby - Gregory Porter & Friends, BBC Two review - mellow becomes slo-mo |

reviews, news & interviews
Merry Christmas Baby - Gregory Porter & Friends, BBC Two review - mellow becomes slo-mo
Merry Christmas Baby - Gregory Porter & Friends, BBC Two review - mellow becomes slo-mo
Great singing from Gregory Porter but the overall effect is lacklustre
Tuesday, 25 December 2018
Nice 'n'easy: Gregory Porter with Courtney Pine
In 2017, the BBC Wales team with director Rhodri Huw filmed a Christmas show in the old 1888 Coal Exchange in Cardiff, now a hotel. Tom Jones and Beverley Knight's Gospel Christmas was an exciting and upbeat show, which ended in an electrifying "Born in Bethlehem".
Knight was jumping around as if she'd had springs fitted, the radio mic on her back somehow staying attached to her.
This year, they returned to the same building and went jazz with Merry Christmas Baby - with Gregory Porter & Friends. Instead of the hwyl and the energy, this year's Welsh seasoning, liberally applied, was hiraeth – nostalgia, longing. There was even a spot for a home-knitted carolling penguin. As the press blurb put it, the show "has all the ingredients of a joyful winter warmer, making it the perfect offering for a mellow Christmas night."
The host and the main performer was Gregory Porter. The arrangements were all by Steve Sidwell, best known for his work on Robbie Williams's swing albums. The classic Christmas classic songs mainly set a slow vibe. There was "Silent Night" and "Chestnuts Roasting...", and "Have Yourself a Merry Little Christmas" as a Porter/Jacob Collier duet. The show almost ground to a halt entirely in Jacob Collier's solo feature in Irving Berlin's "White Christmas". At the end of that song the double-Grammy-winning Finchley Wunder held on to the last "white", then melisma'd it a bit, then held it again. That single word lasted a wearying 23 seconds.
Porter was extremely comfortable at the prevailing slow tempi; his is a truly great voice. He also hosted the show with warmth and authenticity. I just found myself wishing the arrangements wouldn't take us back quite so predictably to shimmering strings and slo-mo. Donny Hathaway's "This Christmas", for example, really doesn't need to go there to find its ending.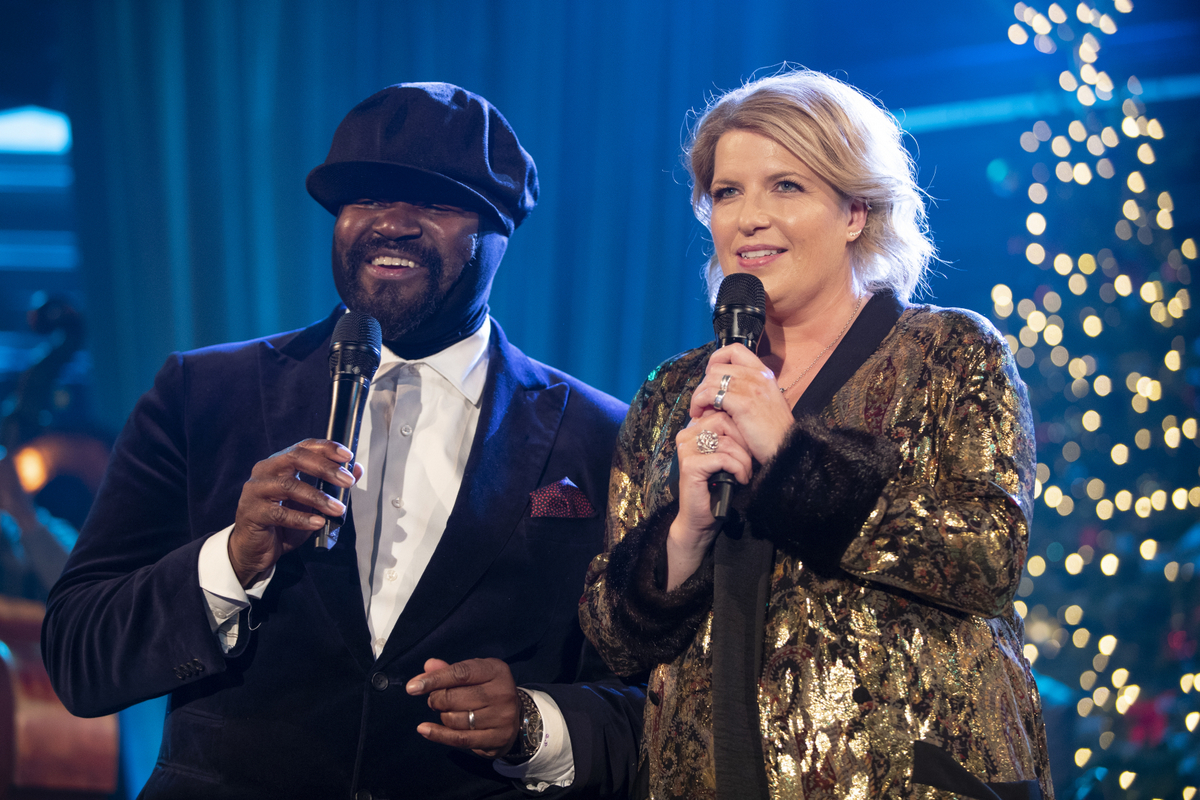 There were, however, some slow moments to treasure. Clare Teal (pictured above with Porter) sang the verse of "Winter Wonderland" ("over the ground lies a mantle of white") with Porter's regular pianist Chip Crawford, and it was stunningly good. Porter at one point launched off solo and unaccompanied into the briefest of tantalising soupçons of "Go Tell It on the Mountain". That felt like an opportunity missed; the song could have brought a different energy to the show. Among the other guests, Corinne Bailey Rae appeared first on Donny Hathaway's "This Christmas" but came across as somewhat tentative, outgunned vocally alongside duet partner Porter. She later came into her own in her solo feature, Joni Mitchell's "River".
Even at this leisurely pace, there was some dynamic musical energy in the house. Trombonist Alastair White and trumpeter Ryan Quigley both played out of their skins on their blues solos near the beginning of the show in "Merry Christmas Baby". Chip Crawford took an energetic solo on "This Christmas", and Courtney Pine made his brief solos burn brightly. And Clare Teal and Porter both had fun with "Baby It's Cold Outside", bringing characterful musicianship and role-play to this song.
This show may have done exactly what it said on the tin, but I couldn't help finding the overall effect somewhat lacklustre. I look forward to hearing Gregory Porter much more on his own terms in his new "Guest Curator" role at the Cheltenham Jazz Festival starting in 2019.