In the Long Run, Sky 1 review - bright start for multiracial comedy |

reviews, news & interviews
In the Long Run, Sky 1 review - bright start for multiracial comedy
In the Long Run, Sky 1 review - bright start for multiracial comedy
Idris Elba revisits 1980s Hackney with a deft comic touch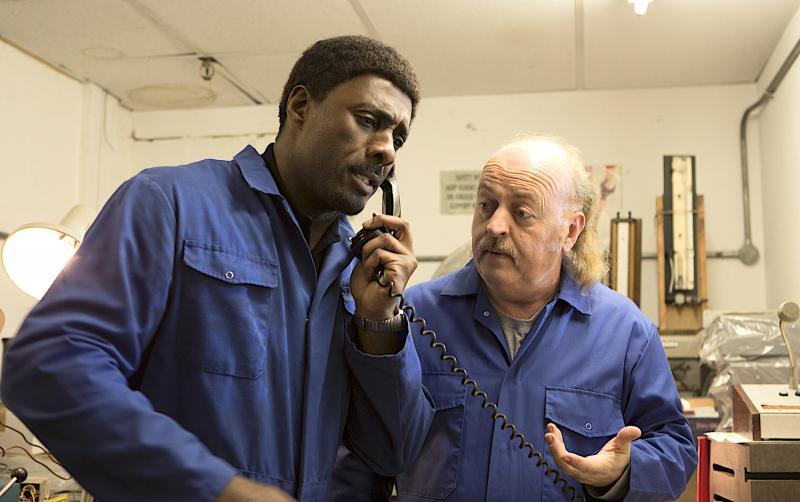 Not hackneyed: Walter (Idris Elba) and Bagpipes (Bill Bailey)
It's quite bold to create a multiracial comedy set in Hackney in the early Eighties, a not especially amusing period of riots, the Falklands War and Thatcherism. Happily, Hackney boy Idris Elba has managed it with a wry eye and a light comic touch.
This Hackney isn't the lethal drug-saturated combat zone portrayed in Top Boy, but an altogether more genial place where black, white and Asian residents rub along fairly comfortably, and manage to find ways to cope with non-PC attitudes. "We were thicker-skinned back then," Elba has commented.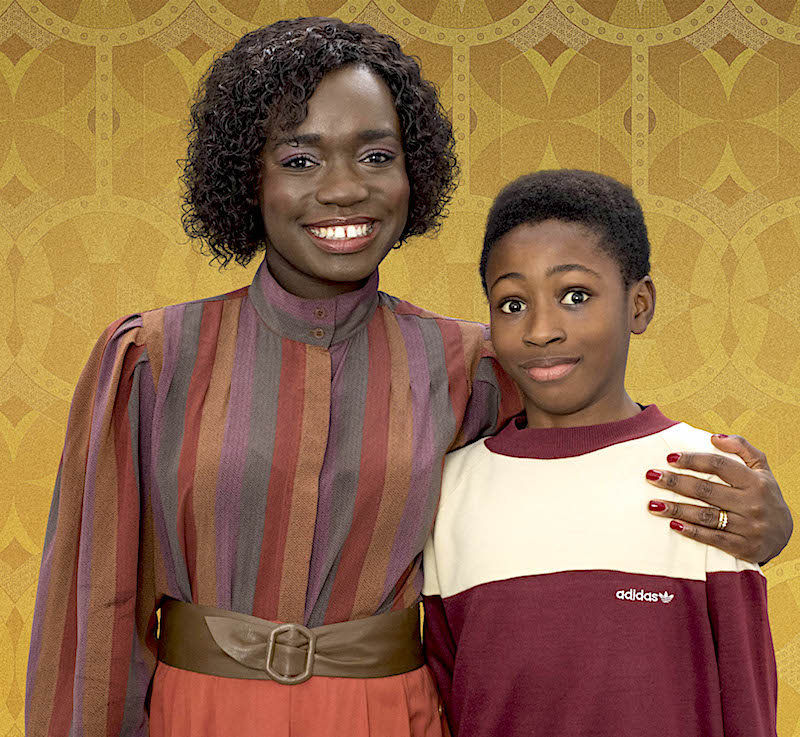 Naturally, it's Elba's character Walter Easmon who's at the centre of the action, along with his wife Agnes (Madeline Appiah) and their son Kobna (Sammy Kamara, who starred in Damilola: Our Loved Boy), a sunny character despite his sometimes life-threatening bouts of asthma (one of Elba's own real-life traits). A recurring device, neatly filling out some detail of the family's immigrant background, is Walter sitting and either reading letters from or writing to his mother in Sierra Leone. It's from her latest epistle that he receives news of the impending arrival of his younger brother Valentine, who their mother thinks will benefit from a stint in the metropolis (pictured above, Madeline Appiah and Sammy Kamara).
Sighing tolerantly, Walter acquiesces to the arrival of his ebullient sibling under the roof of his none-too-spacious council flat (the new guest means Kobna gets bumped out of his bedroom). However, while Valentine is prone to using up an indecently large percentage of the available oxygen, food, bathwater and especially alcohol, he brings rumbustious dynamism to the drama. Played with outsized self-confidence by Jimmy Akingbola (perhaps owing just a little to Eddie Murphy's farcical exchange student from Cameroon in Trading Places), he devours London in enormous chunks. He receives a bit of education about prevailing conditions from Kobna, like the moment where they're watching the Brixton riots on TV. "Sometimes the police search people's homes and accidentally kill them," Kobna explains. "The neighbours get upset and challenge them to a street fight."
No matter. Within days of arrival Valentine has landed himself a job DJing in a local pub, where he entrances the punters with his life-threatening cocktail the "Naughty Bastard", and soon finds ad hoc work as an electrician. He enlists Walter's upstairs neighbour Bagpipes (Bill Bailey, playing a man who looks like he's got an exhausting quantity of mileage on the clock) to help fit new romantic lighting to the house called "Auntys Garden". Turns out this is the local brothel, and Mags, the madame, recognises the panic-stricken Bagpipes as an old customer.
The relationship between Bagpipes and his wife Kirsty (Kellie Shirley, pictured left) is going to develop into one of the show's main structural supports. They're a textbook example of the unexamined life, and have somehow never managed to have an adult conversation about how, as a white couple, they've been bringing up a black daughter, Melissa. "You are Melissa's daddy, no matter what anybody says," Walter reassures the hangdog Bagpipes.
The formula devised by Elba in collaboration with writers Claire Downes, Stuart Lane and Ian Jarvis comprises a dollop of comedy, a dash of pathos, some smart observation and a bucket of slapstick. Not to mention a raft of Eighties pop songs on the soundtrack (Dexys, The Clash, The Cure, The Police, Eddy Grant and many more), which add their own atmospheric running commentary. Lob in a sparky and tightly-knit cast, and this may indeed go the distance.