Killing Eve, Series 2, BBC One review - the award-winning show returns |

reviews, news & interviews
Killing Eve, Series 2, BBC One review - the award-winning show returns
Killing Eve, Series 2, BBC One review - the award-winning show returns
A new writer/director makes the relationship between the spy and the assassin as fascinating as ever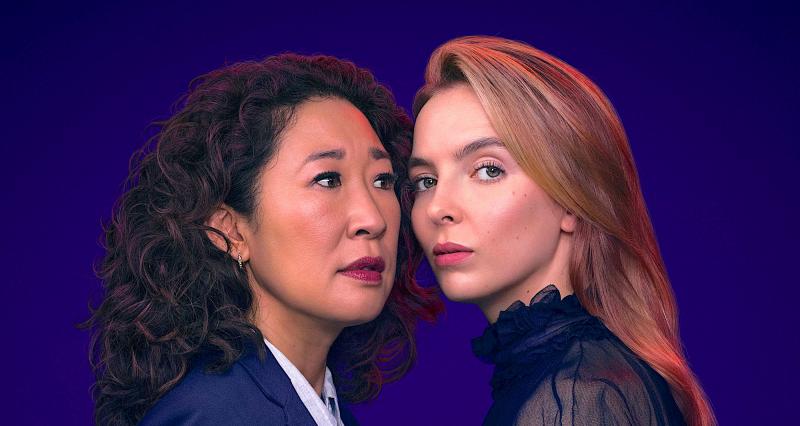 Killing her softly: Eve (Sandra Oh) and Villanelle (Jodie Comer)
At the end of the first series, MI6 spy Eve (Sandra Oh) stabs psychopathic assassin Villanelle (Jodie Comer) in the stomach as they're together on the bed in Villanelle's gorgeous Paris flat ("chic as shit" according to Eve). "I really liked you! It hurts!" cries Villanelle. Series two doesn't mess about. It starts 30 seconds later, as Eve rushes down the spiral staircase, gasping, distraught, carrying a bloody knife.
"I think I might have killed her," Eve tells her crisp boss Carolyn (Fiona Shaw), who's on the phone from London. A couple in love, the man with an engagement ring at the ready, are listening on a park bench, horrified. "Congratulations," says Eve, gazing at them as if from another galaxy. Welcome back to the dark side.
Writer-actor Emerald Fennell (a name to conjure with), who's been in Call the Midwife and will play Camilla Parker-Bowles in the third series of The Crown, has taken over as showrunner from her friend Phoebe Waller-Bridge, who remains as an executive producer. No pressure, then. But judging by the first two episodes, Killing Eve is in firm hands with Fennell.
It seems as funny, perhaps lighter and wackier (this time it's scenic Basildon, rather than Paris, Berlin or Moscow, where Villanelle ends up in episode two) with Oh, Comer and Shaw as brilliant as before, and with that same irresistibly subversive female dynamic. About time too - we've had to wait so long for this second series. It aired six months ago in the USA on BBC America, which owns the exclusive rights to show its first run. Seems wrong.
Back in London, guilt-ridden Eve is severely traumatised. Is Villanelle alive? Well, yes, obviously, but Eve doesn't know yet. Trying to be a wifey, she gets a Nigella roast chicken recipe together for well-meaning husband Niko (Owen McDonnell), who's always trying to get her to tell him what's going on. Manically chopping vast piles of carrots with an unsettlingly large knife, she bops along to Kim Wilde's "Kids in America". "I was fired, so we can go back to being normal!" she tells Niko chirpily. "You certainly seem completely normal," he says dourly, peering into the fridge. The chicken is still in there. That same evening, she's perhaps the first person ever to listen to a telemarketer and then buy a "shit-ton of expensive windows" from him. Anything's better than answering phone calls from Carolyn (who muses later, "What do people do at home?")
The action cuts between Eve and Villanelle, both temporarily flattened (though Eve is soon back in the saddle at MI6), both mutually obsessed. Villanelle has got herself to hospital via a terrified cab driver and is sharing a ward with young Gabriel (Pierre Atri, pictured below with Comer as Villanelle), who's been injured and disfigured in a car accident.
She tells him that her girlfriend stabbed her. "Women don't stab," he scoffs. "It surprised me too," says Villanelle, dreamily stroking her wound. "Sometimes when you love someone you do crazy things." Later, Gabriel tells her he wishes he'd died in the car crash and doesn't want to spend the rest of his life looking like a monster (she's the only who'll tell him the truth about his face). Be careful what you wish for, Gabriel. Or is Villanelle an angel of mercy?
At the Eurostar terminal Eve piles mounds of blue sweets into a bag, pushing away a boy who tries to scoop up a stray one. You're reminded of Villanelle in that first episode of series one, tipping an ice-cream into a little girl's lap in a café. Are the two women becoming more alike? In hospital, Villanelle craves kids' lollipops and in Basildon, she gets Julian, a man she meets in the supermarket (Julian Barratt from The Mighty Boosh) to rescue her – Comer's facility with accents amazes again as she becomes a high-pitched whiney victim, telling him that her stepfather has beaten her up – and asks him for lemon drizzle cake as soon as he's taken her to his creepy, doll-filled house. (Shades of Psycho.) Then there's Julia (Barbara Flynn), a pathologist and friend of Carolyn's, who keeps a cocktail tray in a mortuary drawer. Bourbon always helps when you're examining a murder victim.
At the end of episode two, Villanelle and Eve narrowly miss each other. Will they stalk each other throughout the series? It's too tantalising to wait to find out. All episodes are on BBC iPlayer.