Killing Eve, Series 4, BBC One review - has Villanelle found God? |

reviews, news & interviews
Killing Eve, Series 4, BBC One review - has Villanelle found God?
Killing Eve, Series 4, BBC One review - has Villanelle found God?
The final series may be hard-pushed to sustain glamour or momentum
Angel delight: Jodie Comer as Villanelle
"I've killed so many people. I don't want to do it any more, any of it." So said Villanelle (Jodie Comer) to Eve (Sandra Oh) in the last episode of the third series of Killing Eve, soon after she'd pushed Rhian Bevan, an assassin hired by the Twelve, under a train. Yeah, right, you may have thought, yawning cynically.
But lo! Series four, the final one, with new showrunner Laura Neal at the helm, proves us wrong, at least initially. Villanelle has joined a Christian church, calls herself Nelle, has moved in with the vicar, Phil (a splendidly deadpan Steve Oram), and his daughter, May (Zindzi Hudson), and is obsessed, narcissistically and psychopathically, with salvation. And there's a nasty scene involving a cat called Lucifer. So maybe she hasn't changed that much. Surprise.
Villanelle prepares loaves and fishes for dinner. "You don't have to live exactly as they did in the Bible," sighs the unimpressed Phil. "It's better for me to have a roadmap," mutters Villanelle. She's even getting baptised, in a flowing white dress that looks as if it's made of synthetic fibres.
Sadly, the born-again Nelle's wardrobe is, on the whole, dull and disappointing, which, when you think back to those magnificent outfits from bygone days, takes a lot of Killing Eve's glamour and excitement away, though Comer is still on good form and Oh remains mesmerising. But, in spite of some good jokes, you do struggle to see the point of it all. Why is Villanelle so keen to prove to Eve that she's changed? Is the hunt for the Twelve continuing in the same old way? Will Hélène (Camille Cottin, Call My Agent) do more than just "look very French"? Can momentum – and interest – be sustained?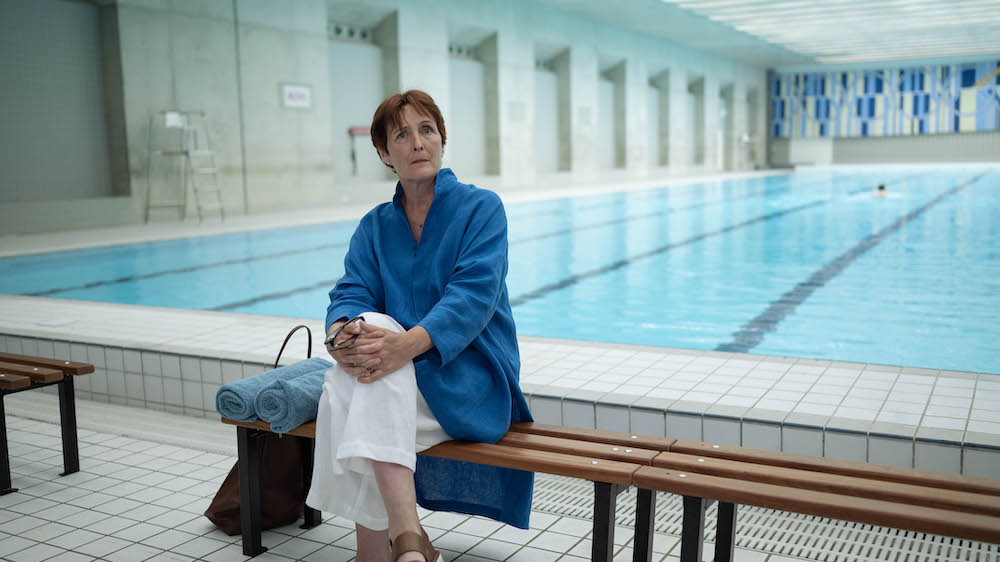 Fiona Shaw (pictured above) is as excellent as ever, though Carolyn's world has been diminished. She has been banished by MI6 to Mallorca as a cultural attaché. But she's also taken a hit when it comes to sartorial style. She's snoozing at her desk, wearing a long, plain linen dress, as an underling runs through her tedious duties for the day, which include judging a sand-sculpture competition. "I can't promise I'll do any of it, but if I do, I shan't be sober," she tells him.
Soon she defects to Moscow, with very little build-up or explanation apart from her usual search for the Twelve top brass, rendered even more urgent now by her need to find the person responsible for the death of her son, Kenny. Her Russian wardrobe doesn't improve and her surroundings in a rat-infested safehouse are even less attractive.
Everyone, it seems, has come down in the world except for Eve (pictured below). Her sexy, sparring new relationship with Yusuf (Robert Gilbert), her fellow private investigator (yes, that's her job now, and she lives in a hotel, where the aquarium features heavily) is fun, especially after those dreary days with her ex-husband, Niko, in previous series.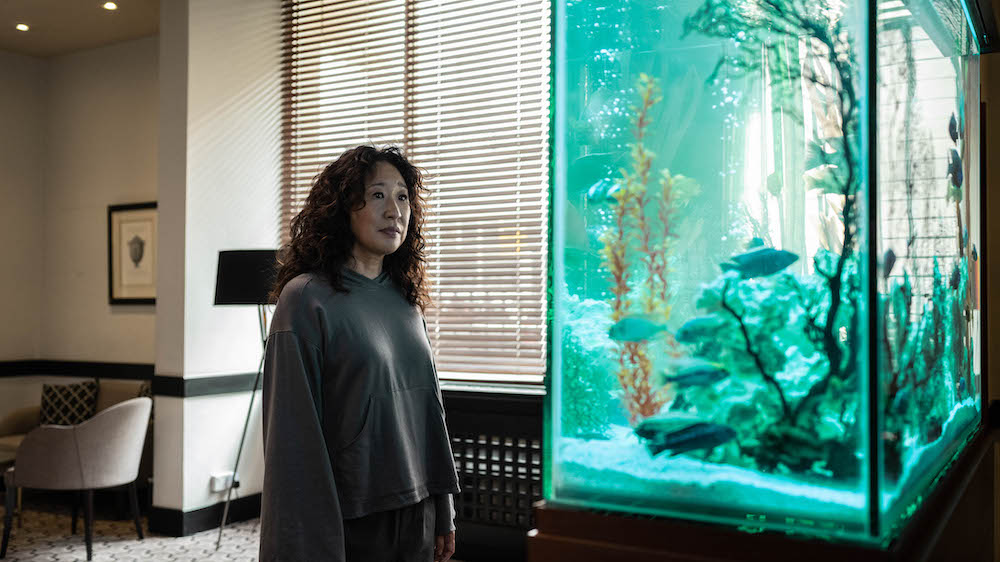 Villanelle's conversion gets more and more surreal, which does keep one's spirits up, especially with the Velvet Underground's "Jesus" playing in the background. "It would be much easier if you showed me you were real," she tells Jesus threateningly, as if she might torture him. "It's very much in your interest for me to believe in you." And so, presumably by dint of Villanelle's derangement, he does show himself, though in quite a mysterious way. Episode two ends with Villanelle's religious fervour drastically on the wane. Let's hope her clothes improve as a result.
Killing Eve is on BBC iPlayer and continues weekly on BBC One