Judi Dench: All the World's Her Stage, BBC Two |

reviews, news & interviews
Judi Dench: All the World's Her Stage, BBC Two
Judi Dench: All the World's Her Stage, BBC Two
Stellar guest list turns out to heap praises on much-loved Dame
Saturday, 31 December 2016
Judi Dench as M in 'Quantum of Solace'
The hyperbole began as soon as the voiceover did: "For most of us Judi Dench is M…" So much for Bernard Lee. The implication was that if you can remember him, then Judi Dench: All the World's Her Stage was not for you. After all, she played James Bond's boss for 17 years – until, at Daniel Craig's suggestion, the sky fell in on her in Skyfall.
Older fans of 007 – ie those watching BBC Two on a Friday evening – will have heard it all before (on Wogan, Film 97 and Desert Island Discs). Despite promising to uncover her secrets, there were no revelations in Francis Whately's tribute to the much-loved actress. Yet such was the wealth of clips this hardly mattered a jot. Whatever Dench does, in theatre, cinema or television, it's hard to take your eyes off her (Dench as Ophelia at the Old Vic, 1958, below).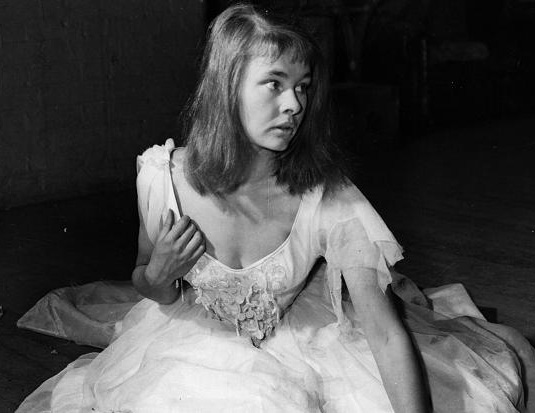 Even though her first ambition was to be a fishmonger – she nicked some kippers to prove it – this daughter of a Yorkshire GP was born to perform. She admits that she's happiest when dressing up (or stripping off). The most startling clip showed her topless as Titania. Her skill lies in using love, loss and grief – her actor husband Michael Williams died in 2001 – as "petrol" to fuel her performances.
Shakespeare –"the man who pays the rent" – is her first love and the stage her preferred medium. Indeed, her kid brother's performance as Duncan ("What bloody man is that?") is said to have first attracted her to theatre. She thought he was swearing. No one has a bad word to say about her: Trevor Nunn, John Madden, Richard Eyre, Christopher Morahan, Sean Mathias and, of course, Sam Mendes queued up to sing her praises. She has a great knack for suggesting depth of emotion while apparently doing nothing. Stephen Frears, who directed her in Philomena, was refreshingly ungushing but equally complimentary. She doesn't need directing (Dench and her contemporaries, unlike Hollywood stars, "know how to do it") which makes her a "lazy" director's dream. Indeed, they are due to make a film about Queen Victoria together (Dench as Queen Elizabeth I in Shakespeare in Love, below).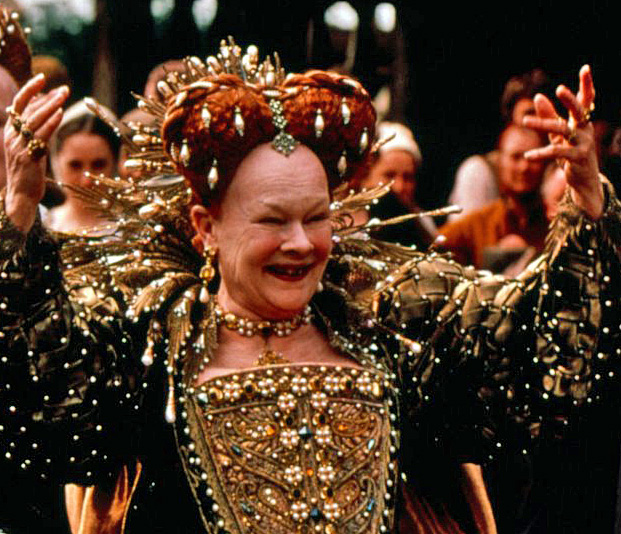 Fellow thesps paying homage to the Dame included Ann Mitchell (trenchant), Steve Coogan (bemused) and Ian McKellen (besotted): they shall kiss ass! She is notorious for not preparing for the first day of rehearsal but works instinctively and learns quickly; she has a great sense of fun; and, according to Billy Connolly, probably kills cats in her spare time. While filming Mrs Brown, the Big Yin watched her burst into tears a dozen times in succession. It seems she can turn her genius on and off at will.
Z Cars, Cabaret, A Fine Romance, As Time Goes By, Mrs Henderson Presents, Iris, Amy's View and Casino Royale: the glimpses of that genius make an hour in the company of this "private" woman pass very quickly. Perhaps she preferred to let her performances do the talking rather than answer any of Whately's questions. It would have been good to hear from her directly. Never mind though, she considers retirement "a really dirty word" so, God willing, we'll be seeing a lot more of her in future.
DAME JUDI DENCH ON THEARTSDESK
A Midsummer Night's Dream, Rose Theatre (2010). Judi Dench is a glorious Gloriana in Peter Hall's flat production
Jane Eyre (2011). Dench plays kindly housekeeper to Mr Rochester in invigorating version of the novel with Michael Fassbender and Mia Wasikowska
Skyfall (2012). Dench's M (pictured) is written out of the franchise in possibly the best ever Bond movie
The Best Exotic Marigold Hotel (2012). The Dames have it in John Madden's tale of British travellers abroad
J. Edgar (2012). Dench as Hoover's mother lacks commitment to her American accent in flawed Eastwood biopic
Philomena (2013). Judi Dench touches the heart once again in the Dame's latest bid for Oscar glory
Peter and Alice, Noël Coward Theatre (2013). Judi Dench and Ben Whishaw step through the looking glass in Michael Grandage's elegiac production of John Logan's new play
Spectre (2015). Dench's M cameos in a video message beyond the grave as Daniel Craig and Sam Mendes carry on without her
The Second Best Exotic Marigold Hotel (2015). The expats are back in that rare sequel that betters its predecessor
The Winter's Tale, Garrick Theatre (2015). Judi Dench brings gravitas to Kenneth Branagh's West End season opener
The Hollow Crown: The Wars of the Roses - Richard III (2016). Dench is a matchless veteran opposite Benedict Cumberbatch chills's crook-backed king
She has a great knack for suggesting depth of emotion while apparently doing nothing
rating
Explore topics
Share this article