Hidden, Series Finale, BBC One/ The Slap, BBC Four |

reviews, news & interviews
Hidden, Series Finale, BBC One/ The Slap, BBC Four
Hidden, Series Finale, BBC One/ The Slap, BBC Four
One goes out on a high, the other arrives with a pile of chips on its shoulder
Thursday, 27 October 2011
Been down so long it looks like up to me: Phil Glenister as Harry Venn in 'Hidden'
Many commentators have professed bafflement at the tangled layers of Hidden, as it probed into a sick and murky past while apparently dead characters came back to haunt the present. Right to the end, writer Ronan Bennett kept his cards carefully concealed, so we still don't know who was really behind the sinister "Helpdesk" and its slick dial-a-killer operating system.
Or at least it was slick at killing everybody except protagonists Harry (Phil Glenister) and Gina (Thekla Reuten), who somehow managed to wriggle away from their pursuers on a record-breaking number of occasions.
But Hidden worked because it created a steadily mounting sense of threat without getting bogged down in clunking exposition. After all, there's enough stuff going on in the newspapers that we know we'll never know the whole truth about, so why should fiction be different? It was fairly easy to grasp that Hidden was presenting us with a monstrous conspiracy that threatened to topple an enfeebled coalition government, featuring corrupt politicians, an unscrupulous media mogul (Elspeth Verney of RDO Media) and the amoral billionaire James Morpeth (played with smirking, slug-like brutishness by Matthew Marsh).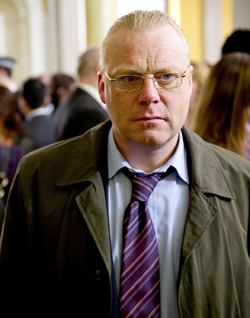 These characterisations came about as close as they could to real people without triggering a landslide of litigation. Take, for instance, Alexander Wentworth, the political candidate whom the conspirators proposed to install in place of the incumbent Brian Worsley. Wentworth (Bertie Carvel) looked a bit like Douglas Alexander, talked like Tony Blair (he even said, "I feel the hand of history on my shoulder"), and was described by Morpeth as "another plausible, ambitious PR man with a trust fund and a pretty wife".
We saw all this through the damaged lens that was Harry Venn, a man who'd been running for decades trying to escape the criminal past that had almost engulfed him back in the Eighties. In Glenister's performance he came across as desperate and lost, divided from his wife and child by an invisible barrier he couldn't understand how to cross. In a brilliantly ironic scene, Harry's true and in some ways admirable character, and his history of appalling luck, were sensitively analysed by the detective Fenton Russell (Thomas Craig, pictured above), but Harry had the nous to understand that it was just a cynical old copper's trap. In the final moments, there was just a ghost of a glimpse of a brighter future with the still-mysterious Gina.
Crocodile Dundee used to urge us all to go to Australia and chuck another shrimp on the barbie, but the one in the first episode of The Slap (cast pictured below) was a veritable holocaust of the vanities. The occasion was the 40th birthday of Hector (Jonathan LaPaglia), an affluent denizen of the Melbourne middle classes. He had it all, but none of it worked properly. His relationship with wife Aisha (Sophie Okonedo) was naggy and bad tempered, and she hasn't even found out about his affair with the 17-year-old babysitter yet. He had no rapport with his kids, especially Adam, who's addicted to computer games and eating crisps.
Maybe things would improve when all his mates came round? Afraid not. The various kids bickered and scrapped, Rhys the TV soap star was ridiculed by the drunk and miserable Gary (Anthony Hayes), and Hector's smothering Greek parents had decided the entire family was going on a holiday back to the homeland, regardless of the fact that Hector and Aisha had already booked their own trip to Bali. Hector's inability to stand up to his bossy mother was earning him a cascade of marital penalty points.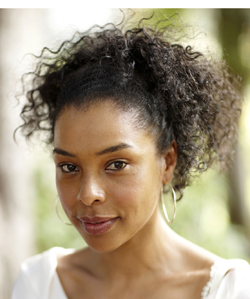 The slap of the title occurred when Hector's macho cousin Harry decided he'd had enough of Gary and Rosie's temperamental brat Hugo, who was threatening the other children with a cricket bat. Hugo's continued disobedience brought about the aforesaid slap across the face from Harry, whereupon Rosie (Melissa George) started screaming about child abuse, Gary and Harry had to be pulled apart, and the birthday celebrations disintegrated in drink-fuelled confusion. After she got home, Rosie called the cops. This slap was a blow apparently destined to be heard around the world (Sophie Okonedo, pictured right).
Derived from Christos Tsiolkas's novel, The Slap sets out to examine ethnic, political and generational tensions and relationships in contemporary Australia, where multiculturalism has happened whether everybody's happy about it or not. Each episode is from the viewpoint of a different character - and I hope they'll ditch the irritating voiceover that cut in seemingly at random in the opener - but on this first brief acquaintance, I don't know how much of this bunch I'll be able to stand.
'Hidden' presented us with a monstrous conspiracy that threatened to topple an enfeebled coalition government, featuring corrupt politicians, an unscrupulous media mogul and an amoral billionaire
Share this article