Getting On, Series 3 Finale, BBC Four |

reviews, news & interviews
Getting On, Series 3 Finale, BBC Four
Getting On, Series 3 Finale, BBC Four
The perfect conclusion to a humane comedy spoke volumes, with guest stars
Thursday, 22 November 2012
Philip and Pippa Moore discuss man boob cancer: Hugh Bonneville and Vicki Pepperdine get on in 'Getting On'
Somebody has missed a trick in not promoting Getting On to BBC Two. Where The Thick of It earned its spurs on BBC Four before graduating to a larger audience, and Gavin and Stacey made the comparable journey from BBC Three to BBC One, the sitcom set in an NHS hospital has not qualified for a transfer.
It's a great pity that it has not found a wider audience, because last night's conclusion to the third series was a masterpiece of subtle revelation and, rarer still for a sitcom, deep humanity. Beautifully crafted by writers Joanna Scanlan, Jo Brand and Vicki Pepperdine, and shot with a lyrical eye by director Susan Tully, for good measure it contained two megastar cameos.
This series has been much more densely plotted than its predecessors, meaning that last night contained something approaching actual suspense. Dr Pippa Moore (Pepperdine) has spent the series transmogrifying ever so slowly into a sympathetic character as her decree absolute came through with no small thanks to a hospital cleaner from Africa, who softened her steel carapace with indispensable legal advice. By the sixth episode, she had grotesquely reinvented herself as a cougar in corkscrew hair extensions and a little black-and-white dress, and suddenly everyone was hitting on her, including Anastasia Hille's Dr Tatty Oxford (great name, and performance). It wasn't quite clear when the reborn Dr Moore left the building for the last time if she entirely understood that she was heading for a naked lady-on-lady tryst in a hot tub. In one of the surprise guest appearances - and plot developments - she bumped into her ex (naturally called Philip) played by none other than Hugh Bonneville, who was in hospital suffering from a rare strain of man boob cancer and eager to move back into the ex-marital home.
Just as satisfactory was the comeuppance reserved for Ricky Grover's outsourced bean-counter
As for Brand's downtrodden realist Kim Wilde, while her jobless husband Dave (whom like Godot we never met) was offered work "rebuilding Iraq", she gave up on her dream of retraining as a doctor and spent much of the episode showing her delightful side to a party of visiting schoolchildren whose presence cheered up the lives of the patients no end. They were chaperoned by a pretentious art teacher (Sandra Kopp) who spent much of his time on the ward fiercely berating his assistant in German, a frightened rabbit of a woman armed with a powerdrill who didn't say a word. That she was played in absolute silence by Tilda Swinton (pictured below right) says everything about Getting On's high reputation among actors.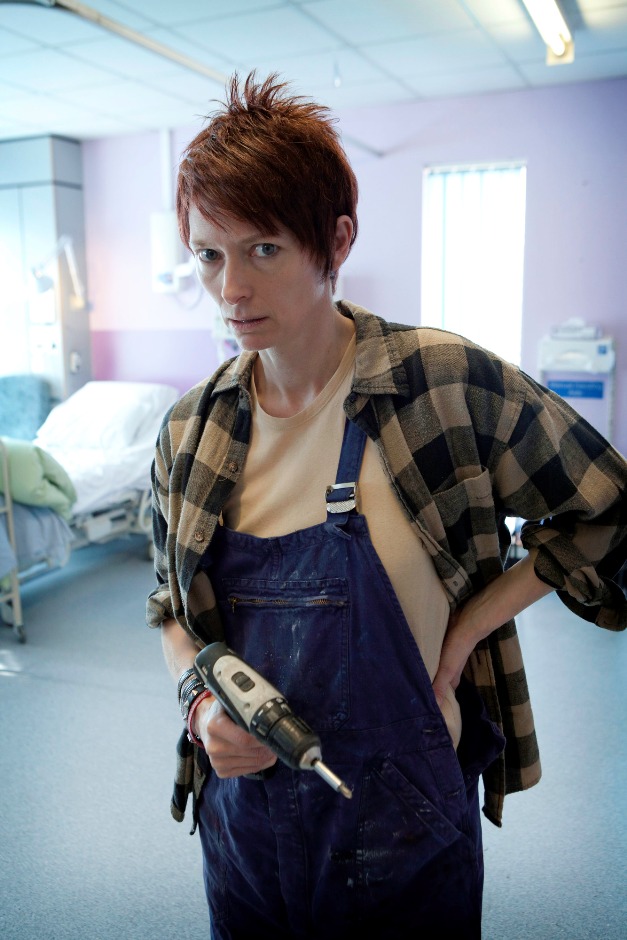 Mirabile dictu, Swinton was the only one who didn't speak, because towards the end of the episode the entirely taciturn medical student Josh (Josh Mbaka) was caught briefly chatting on his mobile about football. Just as satisfactory was the comeuppance reserved for Ricky Grover's outsourced bean-counter Hillary Loftus, last seen flying into a blind panic at the loss of his iPad (Kim had given it to a patient wrongly diagnosed as senile by Dr Moore).
Meanwhile, as the bed-ridden bit-part characters continued to die off, life and hope sprouted anew in Sister Den Flixster (Scanlan). She fell pregnant in the first episode and has spent much of the series denying, not least to herself, that she has had the miscarriage. Here, she found out that she had been carrying twins, and was still expecting. Scanlan played the discovery with pinpoint emotional accuracy.
Can we expect any more from Getting On? This series ended so perfectly that there may be nowhere else to go. The long dread shadow of Fawlty Towers, terminated with extreme taste after a round dozen episodes, still looms over knowledgeable creators of televison comedy. Getting On has had 15. Who wants more Moore?