Freddie Flintoff: Hidden Side of Sport, BBC One |

reviews, news & interviews
Freddie Flintoff: Hidden Side of Sport, BBC One
Freddie Flintoff: Hidden Side of Sport, BBC One
Former England cricket ace investigates how depression plagues top sportsmen
Thursday, 12 January 2012
Larger-than-life Flintoff found the pressure mounting when he was England captain
The recent suicide of Wales's football manager Gary Speed prompted angstful outpourings about the hidden menace of depression in top-level sport, even though there was no evidence that Speed was a sufferer. But depression clearly is an occupational hazard among sportsmen, with cricket incurring a disturbingly high rate of player suicides, and in this film former England superstar Freddie Flintoff (real name Andrew) probed into some high-profile case histories.
Boxer Ricky Hatton recalled how he'd been traumatised by being knocked out by Manny Pacquiao in 2009, and fell into a deepening spiral of depression and drink. It had taken him four months to pluck up the courage to watch a tape of the fateful bout. Celtic FC manager Neil Lennon described how, when he was a player, depression had converted him from an extrovert into an introvert who suffered sweats, shakes and loss of appetite.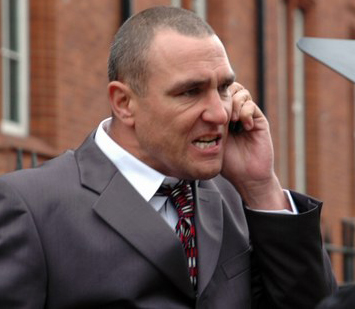 Former world number one snooker player Graham Dott is now on pills, probably permanently, following a bout of depression which saw him bursting into tears during matches and then suffering an epic losing streak. Footballer Vinnie Jones (pictured right) told Flintoff how he'd wandered off into the woods near his home with a gun, intending to shoot himself, after he'd been mauled in the media following a notorious performance in Dublin.
But far more interesting than any of this were the insights into Flintoff himself. Though apparently he was never technically diagnosed as depressive, he went careering off the rails during the disastrous 2006-07 Ashes series in Australia, in which he captained England to five successive defeats as the Australians achieved the first Ashes "whitewash" since 1921. The series was already settled by Christmas, with Australia 3-0 up, and Flintoff remembered hitting rock bottom on a tearful night out with his dad. He was, he admitted, never the same player again, although all this might have been avoided if the England selectors hadn't been so stupid as to give the captaincy to such a palpably unsuitable candidate (Neil Lennon, pictured below).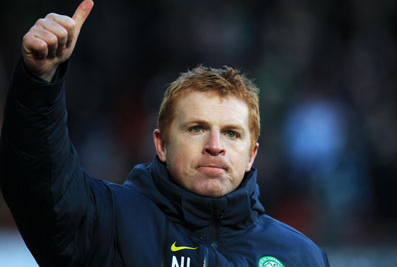 However, this was all an integral part of the story. Flintoff described how, from early in his career, he'd been encouraged to put on a front of confidence and bravado every time he walked to the wicket, even if he was feeling small and fearful within. He did it successfully enough to create the myth of himself as a swashbuckling, larger-than-life character who could laugh in the face of impossible odds. As he pointed out, this meant that he could never confess to the lads in the dressing room that he was feeling insecure or depressed, because that would have dealt a crushing blow to the team's confidence. It's probably a key to the current success of England's cricketers that the team is well balanced and no longer depends on the performances of one or two key figures.
There was no sign of batsman Marcus Trescothick, who had to give up his glittering England career because of depression, but there were revealing scenes with Flintoff and fast bowler Steve Harmison (pictured below), who acquired an unflattering reputation as a player who couldn't cope with overseas touring (he notoriously bowled the first ball of the 2006 Ashes series to Flintoff at second slip). As Harmison recalled, the more the team relied on him to be the strike bowler taking five-wicket hauls, the more he was plagued by hyperventilation, panic attacks and black moods.
Naturally, the media got a bit of stick for their build-'em-'up, knock-'em-down approach, but when Flintoff quizzed Piers Morgan about this, Morgan bluntly pointed out that the press weren't inclined to get too sentimental about sportsmen who enjoyed mass adulation and generous pay packets and then went moping about feeling sorry for themselves. And, he added, if Steve Harmison was suffering from depression in Australia, why did skipper Flintoff pick him to play? Flintoff was honest enough to admit that slimy Piers had a point.
The closest thing to a conclusion was drawn by England's former cricket psychologist Steve Bull, who observed that modern sport sucks players onto a "train-play-travel" treadmill where performing in their sport becomes their sole and obsessive interest. That's fine when it's going well, but extremely damaging to their self-esteem when it isn't. As sport continues to grow as a global entertainment spectacle showered with increasingly mad quantities of cash, the pressures can only get worse.
Piers Morgan pointed out that the press didn't get too sentimental about sportsmen who enjoyed mass adulation and generous pay packets and then went moping about feeling sorry for themselves
Explore topics
Share this article